Watch this important short 6 minute video:


Important: Those Comments Are STREAMED Live Out Of The Members Lounge. They Are 100% Authentic And Verifiable.



Good day for me :)

MON Canadiens @ BUF Sabres UNDER 5.5 WON
NAS Predators +1.0 WON (thx ZCODE!)
Nashville Predators ML WON (thx ZCODE!)
Nashville Predators - X in reg WON (Mike, thx you very much!)
Colorado ML WON (thx Steve!)
Colorado over 2,5 WON (thx Steve!)

Thx you ZCODE and all community, i love you write ups!


Oh boy, we are unstoppable!!! Stamos won again! Thank you everyone! Well done on preds zcodesystem and Mark on sharks!


+$744 for ZCode PODers! When mad February ends it's time for March madness! :)


Super day for me again, my crazy parlays "All under 5.5" and "All goes overtime nearly" nearly all won bringing me 900 bucks today (I invested around 200 only)

Haha great day again !
I hit the 4 teams parlays and also all the team deliver most of the packages. What a tough day for all the teams ! great to watch this awesome sport and make profits ! I love u guys !


Mon Tie - Won
Ducks Tie - Won
Sharks Tie - Lost
Preds Tie - Won
Preds ML - Won
Preds TTO2.5 - Won
Mon +1 - Push
Ducks +1 - Push
Mon U5.5 - Won

6-1 and 2 push.

Very pleased with that and couldn't have done it without you all.


another great night!bookies must be getting nervous...thanks zcode and fellow investors..lets keep knocking them off!!


Sharks + 1, Avs ML on for me yesterday. Good times!


i've been very successful lately.


Amazing day for me! Thank you ZCODE (full package form Rangers!), Rolando, Steve.S, Alberto, Mike, Stanley, Jonathan, Cyril, Yasen. I placed few bets with yours yesteday picks, i added few mine pickes and i went 14-5-1! What a pity that my bankroll is not big enough ;)!

LA over 2.5 WIN
LA-DET over 5 WIN
LA ML WIN
LA X in reg LOST
Wahington Capitals ML WIN
capitals x WIN
capitals game under 5.5 LOST
Florida ML WIN
Dallas ML WIN
St. Louis ML LOST
St. Louis X WIN
St. Louis game under 5,5 LOST
Panthers over 2.5 WIN
Rangers ML WIN
Rangers -1 WIN
Rangers over 2,5 WIN
boston game over 5 WIN
Capitals -1 PUSH
calgary X in reg WIN
toronto x in reg LOST



Oh boy, I am on fire! Yet another winner!


+$654 for A-league PODers!
My Kings've finally started to play some hockey! That was only the lonely bet for me last night. So we coud say I went 100% haha


What a fantastic day again :)! You are awesome guys! lets keep rocking :)!


6.3.12 +1493
7.312 +760
8.3.12 +1032
9.3.12 +1064
10.3.12 +1725
11.3.12 +2253
12.3.12 +3226
13.3.12 +3970
14.3.12 +4624


WOW, I went 9-1 yesterday !! What a great tools and support, what a great comnunity ! What else to say ? THANK YOU :)


I went 100% last night: PHI TTO won,LA ML won,LA -1 won,LA Over 5 won,WAS ML won,RANGERS ML,-1,TTO and TTU all won,MINN TTU,TOR TTU,DALL ML and PANTHERS ML,-1,TTO!!!
When I saw it I almost start crying.........thanks to all who post yesterday.

Marko, 15-0 night, that is amazing!

Another big day for Z-code.
Ranger,200 to win 109.29 won
Rangers,-1.0,200 to win 183.49 won
Washington,200 to win 176.99 won
San Jose/Calgary,over 5.0,200 to win 145.99 push
Detroit/Kings,over 5.0,200 to win 172.41 won
Total won=$642.18
That now takes me to $4,031.29 in 23 days.Thanks Z-code and to everyone who posts ideas in this forum.If anyone is thinking of giving up because this seems too hard,don't.It takes a week or two but it becomes easier the more you read all the posts.


I must say we are a group of winners.
recap:
Dallas ML winn
Blues-Hawks OT winn
Panthers Over 2.5 winn
Panthers ML winn
L.A.Kings Over 2.5. winn
Capitals ML winn
Blues-Hawks U. 5.5 .Loss
Red Wings-L.A. O 5 winn
Boston -Tamba O 5.5. winn
Boston ML Loss
Rangers ML winn
Islander O 2.5. winn
Toronto U 2.5. winn
So I am so glad 11-2

and I still use a little bankroll but it is for sure getting bigger so a ROI last night of 61.9% Wow.

NHL: WIN ML WON +200, ANA ML WON +200 = +400
NBA: PHI -2 LOSS -110, TOR +2 LOSS -110, DET +3.5 WON +100, DET ML WON +115 = -5
MLB: TOR ML WON +100, DET ML WON +100, DET -1.5 LOSS -100, WAS ML LOSS -110, SEA ML WON +100 = +90

Finished +485 for the day.


I expect very profitable week on NBA / College Basketball
Like I said my systems work in cycles and now I am on the up-trend.


Nice evening - Avs draw + Avs+1 + Jets Ml + Detroit ML(not sure why I keep trusting them) = nice profit!


So Bernard won again right? haha Amazing streak continues - 17 in a row! Bravo!


Great day for me. I hit 5/5 :)
Los Angeles Kings ML @2,01
Montreal Canadiens +1,5 @1,52
Oilers over 2,5 @1,66
Jets over 2,5 @1,67
Chicago Blackhawks at Dallas Stars UNDER 5,5 @1,78

http://zcodesystem.com/vipclub/forum/phpBB3/viewtopic.php?f=7&t=135&p=1339#p1339




2-0 nice :) Kings ML and OTT ML

Great day again thanks to Z-Code!! 4/4 Wins - DAL/CHI under 5.5, CHI +1.5, OTT/MON Under 5.5, and MON +1.5.


very good day for me as well. I was right on Ottawa, very strong oscillator signal there and they could find a power to win despite losing 1-0 whole game!


Hi Stanley I agree I got ROI of 30% last night ...
Hope you post your picks at the forum again before the nights games


4-1 today,very good night,solid profit...We won on Flames under 5.5,Oilers under 5.5,Jackets TTU 2.5 and Jets TTO 2.5...We missed only Ducks vs Preds over 5(Ducks couldnt score anything).Low score in Calgary and Edmonton as we expected,not much goals from Jackets for us.Jets lost but scored 3 goals for TTO.Move on,next day is coming! Regards for all!


Very good day for me again, 12 Wins, including 2 PODs on NHL, 5 losses , full package on MLB with new Zcode mlb-beta!

The sports are in a good balance. When MLB is going down usually I win big time on NBA/NHL like on Sunday.. When NHL fails I get my profit from MLB and basketball like yesterday :)


Thanks Mike and I am thanksfull to be a part of this 100 percent winning team and will be around as long as Zcode HI HI

Great Day!

GPDs:
MLB: Detroit -1.5 RL - WIN
NHL: Chicago -1.5 PL - WIN
NBA: Milwaukee +3.5 - WIN
Parylay: Chicago -1.5 PL and Milwaukee +3.5 - WIN

NHL PODs:
Chicago -1.5 PL - WIN
Pittsburgh -1.5 PL - WIN
Parlay: Chicago -1.5 PL and Pittsburgh -1.5 PL - WIN

Up over $700 for the day!

Wow that's a great job. I think today was my best day of the season. 7-0 is really impressive Jonathan!


Kings won big time! Stamos is in profit!

I paid my dues, another profit cashed for mr. score
TOTAL: -600 + 709 -142 + 603 + 624 = 1,194 PROFIT
http://zcodesystem.com/vipclub/forum/phpBB3/viewtopic.php?f=7&p=1724#p1724
will be drinking hard tonight. don't bet much today, games are kind of random like Mark said. Have patience and wait for the kill!


One of the best nights this year!! Both my PODS(huge bets) hit, PITT and HAWKS!!
I even got -1.5 on both,Jonny I so happy for you,you deserved this kind of profit!
Trey and Alberto thank you for MLB picks,awesome ;) :)

Won 7 out of 7 bets yesterday - very happy - thx everyone!

Good job yesterday Al like I said you're the MAN.


I posted my pics for today.You are welcome to comment about them on forum.Regards and good luck for all!


My picks qlreqdy for those interested!
February 03, 2012: From The Desks of: Ron, Mike and Steve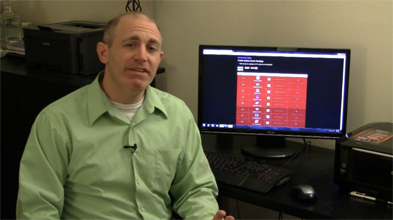 Dear Facebook Follower And Valued Beta-Tester,
After years of development and months and months of live betatesting on Facebook, we are finally ready. Z-Code has gone private.
We are closing Z-Code to the public, removing it from the sight of prying eyes (and the Las Vegas conglomerate of betting sharks that definitely did not want us to succeed) and We will use it only for the sake of our members and obviously us, avid bettors and money makers.
Not much has to be said about this system, which is the pinnacle of our developer careers (even topping Fapturbo, I'd say)... because you, dear reader, experienced it first-hand...

Never has anyone in the betting niche given out a service or product to make money first and be charged later because they knew it would not work or that theirs was a crappy product.
You know that Z-Code works because you followed us on facebook and/or saw people there make money... with STEADY GAINS!
... we wanted to prove to you upfront and LIVE that we got something SPECIAL... something that can truly make a difference in your life, even if you are no sports fan or just a work-from-home mom who wants to make extra thousands a month.
You SAW us make money day in and day out, live and uncut, over facebook... more than 10,000 fans are proof of this.
In fact, Z-Code started to grow virally and more and more people came in by word of mouth... marvellous but dangerous as well, but let me explain.
In fact, over the betatesting months, we generated huge amounts of cash for ourselves and much, much more for the betatesting group.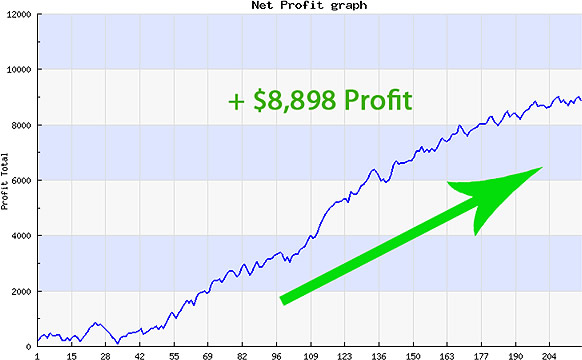 The performance was fully verified by thousands of people who followed us on facebook during the last months commenting on every win or loss.
When you are winning, you don't have to hide your results. That's why we agreed to perform a public monitoring of our results on an independent pick-monitor called Line.com as well.
During the last 2 months, we followed our system and documented all picks so anyone could verify them. We even got into the top 5 world cappers with Zcode!

Z-Code could be called a "Betting Robot" but actually it is much, much more. Let me explain.
Z-Code has been developed to provide us with winning sports predictions in:
| | | | |
| --- | --- | --- | --- |
| | | | |
| NBA (Basketball) | MLB (Baseball) | NFL (Football) | NHL (Hockey) |
Why these specific sports you ask?
First, because they are popular and therefore allow high volume betting with the bookies (above 10s of thousands of $$$ per single bet) and second, because we wanted to rake in profits all year long and not just for a season or two while having to sit out all the other action.
Coming from the currency market scene (Forex), we decided that we wanted to have an "AUTOMATED" money-making system that would choose winning picks based on a precise and powerful prediction model.
We wanted to "trade" in the sports niche just like we traded currencies in the forex market. Little did we know that all the work would pay off in such a grand way!
Sports betting is a HUGE industry! Billions of dollars float out there waiting to be grabbed and with a mathematical approach, you can get the edge needed!!

It takes into account over 80 different parameters in every game such as player conditions, injuries, home or away team, goalies, past performance, predicted future performance, trainers, events, importance of match, rivalries, feuds, and so MUCH more to calculate a very precise outcome.

Z-Code is not looking for only a winner and a loser. It seeks the "value" in each game... where you can make the most money with the smallest risk possible... therefore it predicts bets such as "how many goals will fall" or " who's going to score the most points" or "will there be more than 5 goals or less"...
seeking the value in every game and giving you the most earnings!

Z-Code is a robot!
... it`s a machine, a "code" so to speak... it has no favourite players or teams... it is ice cold and tracks performance & performance only! Handicappers that predict games tend to have favourites, even if they don`t admit it... their choices are emotional... and without 100% objectivity, you can never be as accurate as a proven prediction model... that`s why, we eat handicappers for breakfast!

After 27 months sitting in dark rooms studying algorithms and formulae... with an army of 21 programmers and paying salaries of well over $200,000 (!!) we finally hit the jackpot!
Z-CODE was born.. and we started raking in profits while putting it to the test LIVE, made available to see in front of thousands on our facebook betatester group!
It was very important to us because we wanted to PROVE, upfront without any possibility of doubt, that Z-code would make each and every single user money.
Z-Code pulls in profits on time, every time. We not only claim but prove here... and NOW that Z-Code is consistently making big gains with:
—

4 months of public betatesting on Facebook.

—

The only system fully backtested back to 1999.
Proven profitable, never having had a losing month.. NOT ONCE!

—

Doubling accounts every month proven again by,

—

2 Public verified accounts on a 3rd party monitor,
one called Mike-Tester and the other one called The Xcode (that was renamed to Zcode)
February:
64 - 51,
+$10,095 Profit. Account doubled. Click to verify
March:
109 - 105,
+$10,163 Profit. Account doubled. Click to verify
We didn't just double those test accounts once... not twice.. but 3 times just for the sake of proving our claims!! After all, talk is cheap these days.. you have to put your money where your mouth is!

Remember our 3 day journey where we commented picks of Z-Code in detail and showed people how to make money in 4 days from April 13th 2012 till April 17th ???
Download Those PDF Reports here and see for yourself how much money you would have made had you been a happy Z-Code camper!

VIP Membership with instant access to all the Winning Sports Picks!
The video tutorials showing you EXACTLY how to use the predictions & picks easy to understand even if you know nothing of sports at all.
The comprehensive Guide, FAQ & Money management System already in place. No more guesswork. The full 100% blueprint for extra income right at your fingertips
The well-trained, friendly support team lead by our support chief, Anny.
We have everything covered and eliminated every hurdle and every impediment there could possibly be!
3 steps to start making money with Z-Code System VIP club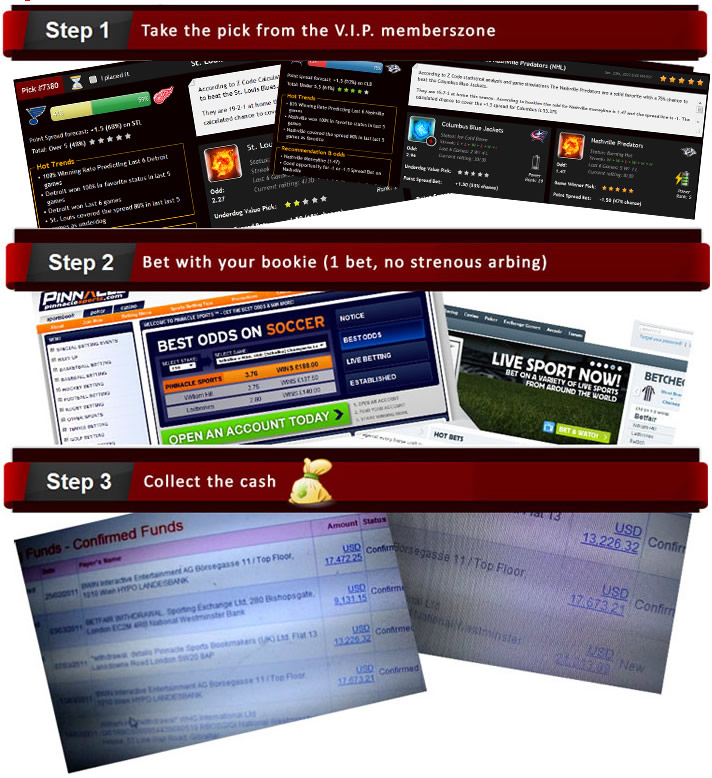 We have been working with so many of you and we enjoyed your input... but the real reason for going private is that we want US and YOU to keep profiting from this unique approach for a lifetime...


If you are looking for GAMBLING ADVICE, this is not for you! We are here to make money and help YOU WIN with us! It`s about investing into sports and reaping insane amounts of money every single month. If you like the thrill of potentially losing your bet, try blackjack or poker. We do NOT follow sports for the sake of gambling, nor are we sports fanatics... This is a business for us and strictly so...

---
However not everything is good... because it`s all about the timing...

Unfortunately, good things can not be open for everyone but an inner circle of trusted ones. As the saying goes, too many cooks ruin the soup... we must limit the membership in order to keep the odds of the bookmakers in our favour and keep milking them like the fat cows they are to us ;)
Remember, if too many people are using the same system, it will become ineffective as the odds will be influenced.
Now, you are definitely in luck and at a very important point in your life. You've got the chance to stay in the inner circle and keep making profits with Zcode, or you can leave and give your seat to another happy camper because... and this is very important
There are not enough Z-Code
Memberships For Everyone :(
In fact, it wasn`t an easy decision but in order to maintain the functionality and integrity of Z-Code we plan to close our doors as soon as we fill our spots!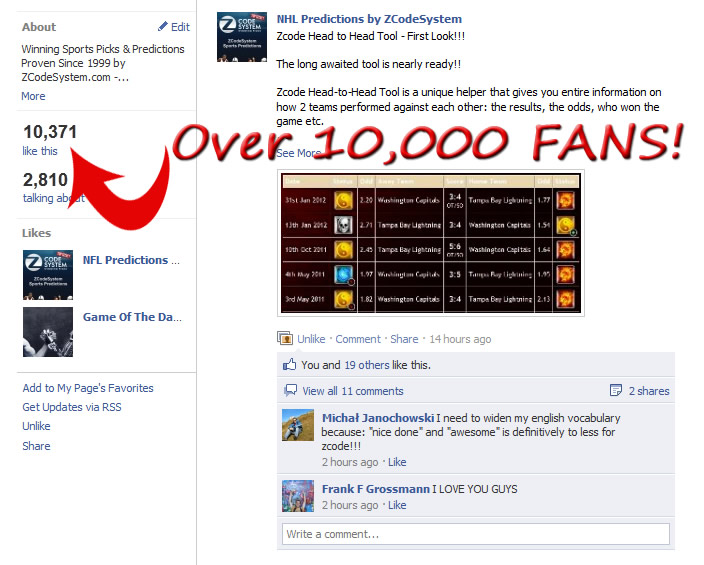 Hurry up while the doors are still open! 3654 People on the Waiting List + Over 10,000 Facebook Fans who know of Z-Code's Efficiency. You Do The Math.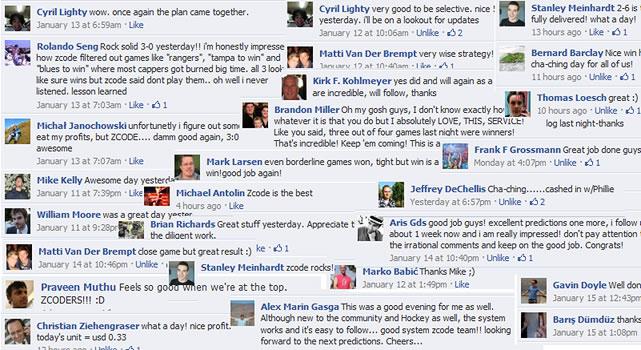 Check out what betatesters are saying about Zcode System
Check out what betatesters are saying about Zcode System
We`d love nothing more than to give Z-Code to all of you guys, but as we said before, that is simply not doable... and we sincerely apologize for that...

Success coaches teach a very important thing early on that is an important lesson for everyone and so true when it comes to personal taste.
Every one of us has personal preferences and filters emotions, ideas and concepts already on a subconscious level.
Basically, we already say NO to things on a subconscious level even before we actually think about it...
Now, what has this to do with sports?
Simple! If you are not a sports fan, you already ignore or disregard monetary gains from this direction. Basically, your subconscious tells you, "NAAAH! its sports, we don`t like sports".
But what about the MONEY? Isn`t that the driving point in this whole story? After all, we are all in it for the money... some more, some less... but what you NEED to do here is clear yourself of emotions and think rationally.
Would you rather grind your life through a boring day-job or effortlessly place a few bets in a couple of minutes a day on events you don't give a damn about?
Actually, if you don`t like sports, its even simpler because your emotions are left out of the equation, letting you follow the system and make even more money than a sports lover could do, because they tend to take sides :)
SO, the lesson here is:
Don`t frame your thinking... expand your horizon, take all the factors in consciously and make an informed decision... don't indulge in self-sabotage but instead, just focus on the goal:
Make Money From Home The Easy Way And Reward Yourself With The Most Precious Thing We've Got: TIME
Question: So how much is it going to cost?
Answer: Not nearly as much as you might think...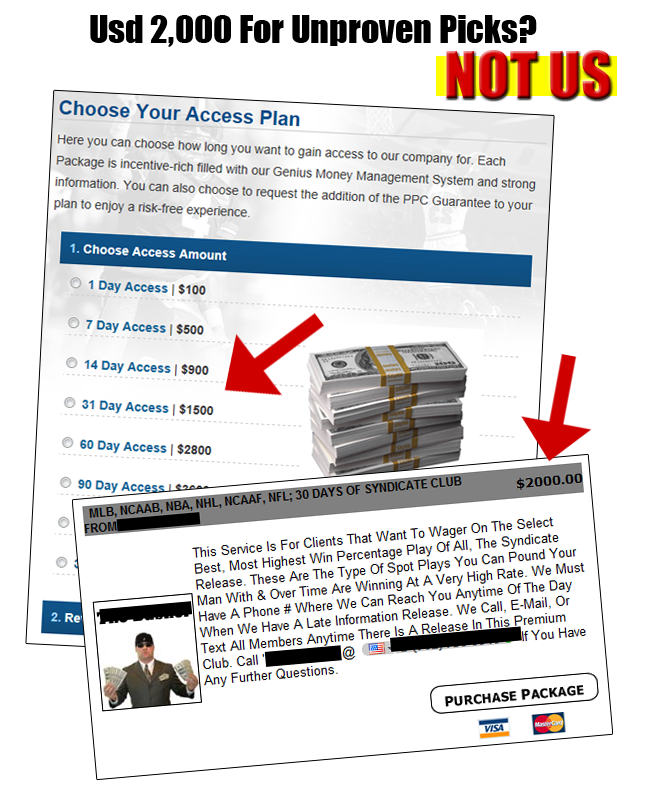 Unlike other betting services we want to profit WITH and not FROM you... that's why we do not charge insane ammounts like USD $2,000 a month even though we easily could.
We KNOW that you will be successful and rather go for a long-term happy relationship instead of a bogus rip-off, that usually consists of a scammer selling his "advice" for money instead of a highly advanced computer system such as Z-Code.
Thats why Z-code is, even though limited in copies, priced at only $198 USD / month... including all picks, all updates, forum membership, tutorial videos and community help. And not just single picks being sold at rip-off prices.
But who am I kidding? You already KNOW that, because you experienced it first hand by making money along with us over the past 2 months already. Click the link below and secure your spot before it's gone forever and someone else is enjoying your profits.
Yes, Ron, Mike and Steve, I want to Join The Z-Code
"Inner Circle" Of Sports Investors. Let me Become A Full Time Member Now!

YES! I understand I join the Z-Code private club and receive all future updates for free as a part of my membership with no extra costs. This includes NHL, NBA, MLB and NFL sport predictions & picks and future updates for life as long as I retain my membership.

YES! I understand that, should I fail to cover the monthly membership fee, my membership will be void and my seat be given to another happy camper on the waiting list (3654 as of now)

YES! I understand that Z-Code beta is an on-going development, which means the programmers always keep tweaking and improving it, so all updates will be included in my membership at no extra cost.
Please enter your e-mail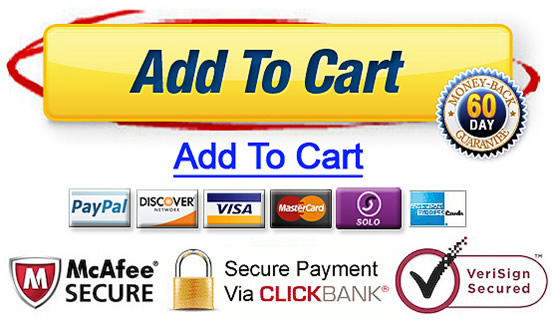 Only $198/month as long as you use it.
You can cancel any time. No problem. Full refund guarantee as well.
The Z-Code Software can be accessed right away. You will get INSTANT ACCESS right after your purchase. For any queries or questions, please feel free to email us at Support@zcodesystem.com. You will be answered asap or within 24 hours.
Steve C. & Mike
And the whole Z-Code programming team
24 programmers and support staff lead by Alex John, Alexander and Rustam: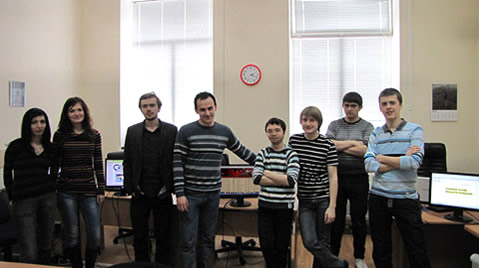 Find out more about the people behind Z-Code and our experts
Please enter your e-mail
Let Me In!
Only $198/month as long as you use it.
You can cancel any time. No problem. Full refund guarantee as well.
Ps: As soon as we sell out our private spots we will close this page. You will not be able to purchase membership for Z-Code any longer. Please understand that the availability is limited by membership count as well and we reserve the rights to close this page even earlier.
ClickBank is a registered trademark of Keynetics Inc., a Delaware corporation. www.Zcodesystem.com is not affiliated with Keynetics Inc. in any way, nor does Keynetics Inc. sponsor or approve any www.Zcodesystem.com products. Keynetics Inc. expresses no opinion as to the correctness of any of the statements made by www.Zcodesystem.com in the materials on this Web page. Any income claims are typical of top performers not all users and your results will vary. These results are as reported in testimonials from members using the Zcodesystem. Check Terms & Conditions and Disclaimer for full information. By purchasing any of our products, you agree to the Zcodesystem Terms & Conditions.