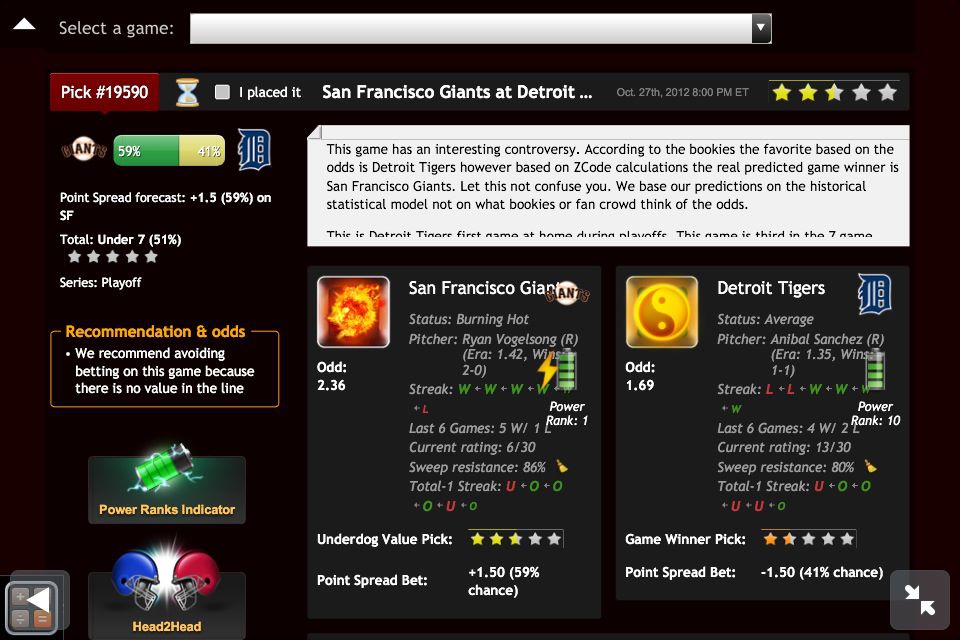 WORLD SERIES GAME THREE – DETROIT TIGERS HEAD HOME, HOST SAN FRANCISCO GIANTS – Sanchez Vs Vogelsong.
They say a series doesn't begin until the home team loses. The Giants took care of business in San Francisco, upsetting Justin Verlander and shutting down the Detroit Tigers' once mighty offense. Will the Tigers do the same as the series shifts to Detroit?
Z-Code recommends avoiding betting on this game. As always, the key to success using the many filters and tools of the Z-Code system is in discretion. With a limited number of games, it's easy to overbet. That's how the bookies win!
There are conflicting parameters and the line lacks value. Z-Code sees underdog value in the Giants again, and if you've been following Z-Code's stronger underdog signals in San Francisco you've turned a mighty profit. The computer also had a strong signal on the under in Game Two. The World Series is already profitable and there's no sense in pushing it. There's a weak signal for the Tigers to win the game at home, there is the added variable of a change in scenery, and the underdog value on the Giants is limited compared to the games that preceded this one.
Both pitchers are hot. If a stumbling Madison Bumgarner can shut down the Tigers completely, I worry about what a hot Ryan Vogelsong has in store. Anibal Sanchez has been enormously important down the stretch and in the postseason after being acquired earlier in the year. Both pitchers are doing well, it's going to be cold and nasty, and the bats will be dead. Considering nobody is really hitting, the under looks good to me. Z-Code has the over/under essentially at a coin-flip and recommends staying away.
With their backs against the walls, I like the Tigers to rebound at home. I'm sticking to my pick from the beginning of the series as the World Series heads to Detroit. Again, Z-Code has a weak signal favoring the Giants and recommends simply staying away. The computer got the best of me in Game One. Here, it says to stay away but I can't resist! It's the World Series after all, and this expert has this series headed back to San Francisco. I'm on the Tigers with medium confidence… but tempering my wager size because of the strong signal from Z-Code to stay away!
Football tomorrow, maybe we should just save our money for the NFL.
========
P.S. Upgrade to Zcode VIP Club and Unlock All Winning Picks. Instant Access.