Super Bowl LIV will kick off on Sunday, February 2 but before we get there, the NFL regular season and playoffs must be played out.  
=> Check playoff simulator here
There are some very clear pictures being painted by the NFL regular season and we can go ahead and make some educated guesses for the postseason. The New England Patriots are likely to make the playoffs as are the Baltimore Ravens. The New Orleans Saints, Seattle Seahawks, and San Francisco 49ers should all make the playoffs as well unless something unexpected occurs.

Just four weeks remain in the NFL season making it unlikely the top teams in each conference will miss the playoffs. However, there are still teams such as the Tennessee Titans, Oakland Raiders, Los Angeles Rams, and Chicago Bears still jockeying for position although they are on the outside looking in.
With the playoffs are around the corner, this week, Zcode System's NFL blog looks at the playoffs and more specifically, runs an NFL Playoff Simulation to predict the winner of Super Bowl LIV.
Super Bowl LIV simulation
For the simulation, we will take a look at three different predictions. The simulations will be completed on a low upset level, average upset level, and high upset level. So, let's first look at the playoff teams in the bracket for the NFL Playoffs. Note that the simulation is based on teams occupying the playoff places following NFL Week 13.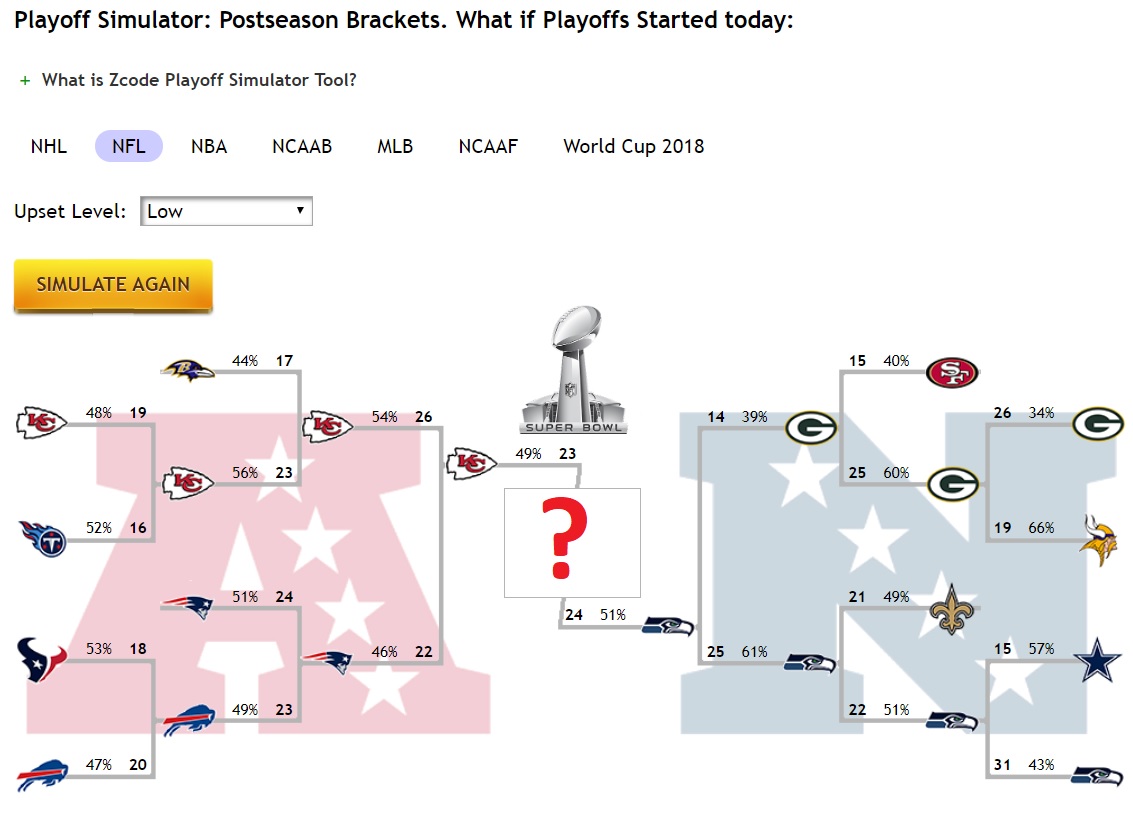 As you can see, based on a low upset level, Russell Wilson and the Seattle Seahawks are predicted to defeat the New England Patriots in the Super Bowl. The NFC Championship Game looks quite tasty with the Seahawks and Saints playing while an upset in the AFC sees Houston defeating Baltimore.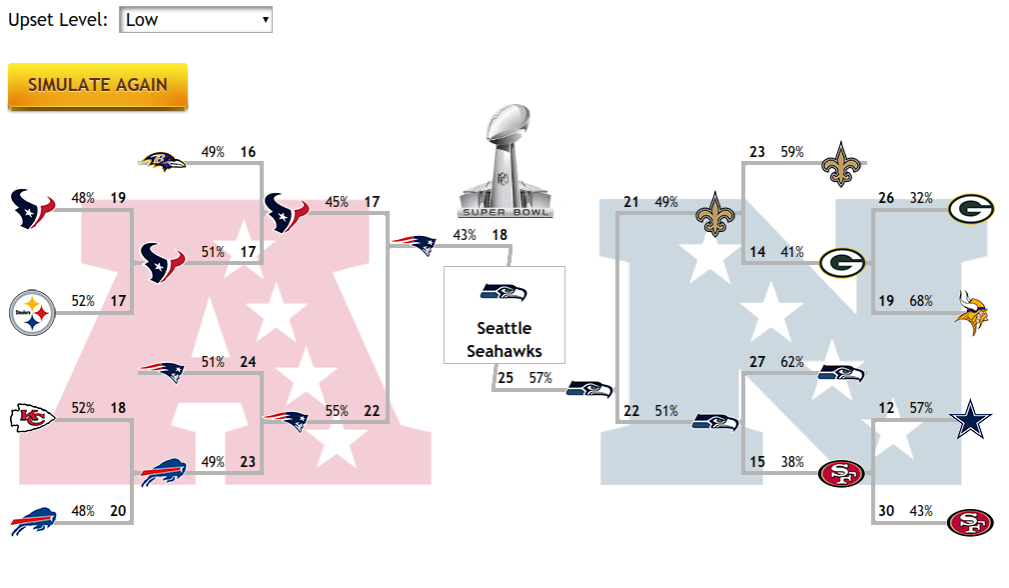 Things are changed with the upset level turned up to average. The Pittsburg Steelers are predicted to win the Super Bowl in this situation defeating the Saints. Once again, we see an exciting NFC Championship Game. However, this time it is the Saints winning against the Seahawks.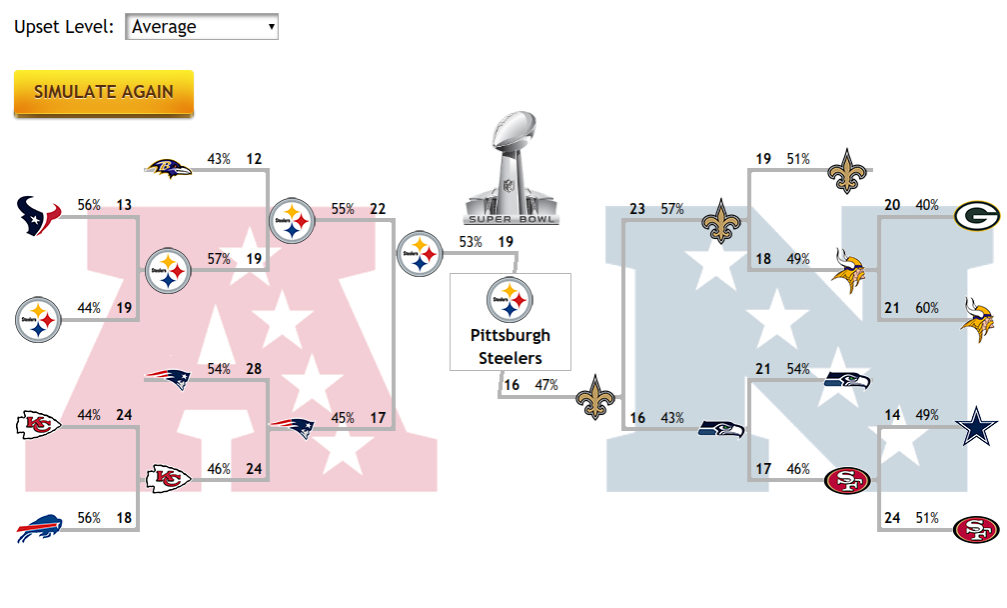 So, let's look at what happens if the upset level is turned up to high.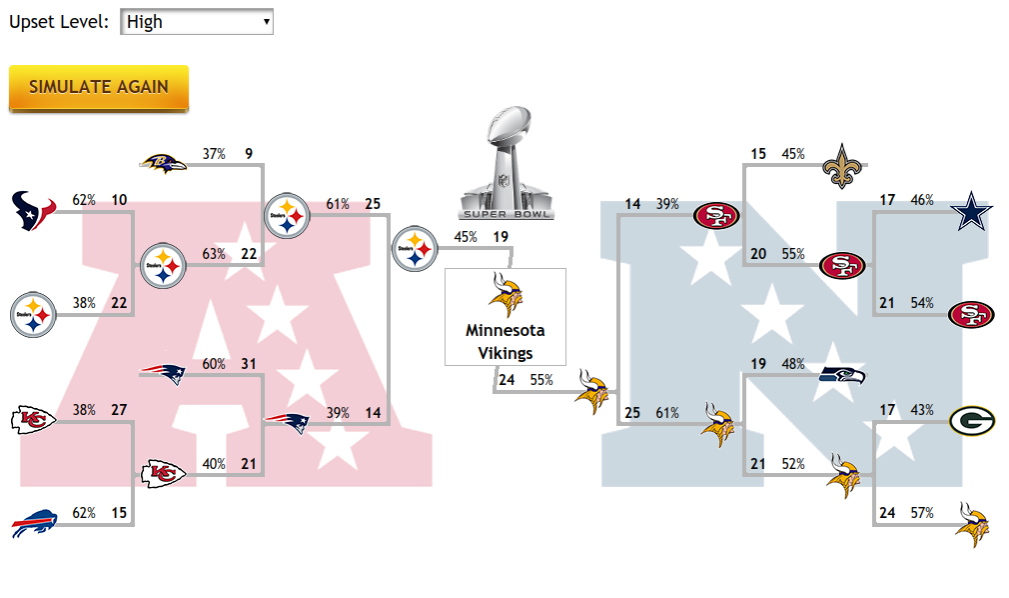 With the upset level on high, we see a Super Bowl LIV win for the Minnesota Vikings. Fans in the upper midwest will be excited about that result. Pittsburgh is once again the AFC favorite to reach the Super Bowl on an upset level of high.
Simulations matter
Zcode System's NFL Playoff Simulator tool should be used just like any other tool from the website to help you win profits betting on football. Sign up to Zcode System and you can use the NFL Playoff Simulator tool along with the other great tools at your fingertips.
Ready to follow winners? Upgrade now!
========
P.S. Upgrade to Zcode VIP Club and Unlock All Winning Picks. Instant Access.