FREE $100 CONTEST GAME: FEATURED NBA GAME – Minnesota Timberwolves at Philadelphia 76ers
The following post refers to the contest on our Facebook page.  Like it here:  https://www.facebook.com/photo.php?fbid=363052743790425&set=a.351595328269500.81702.329683797127320&type=1&theater&notif_t=like
It looks like we picked a great game for a moneyline toss up. Even though both teams were off last night, Vegas wants some extra time to think about this one. That's great, because it let's us post without giving you guys the guarantee of Z-Code support when you participate in our super awesome competition.
Simply scroll down our Facebook page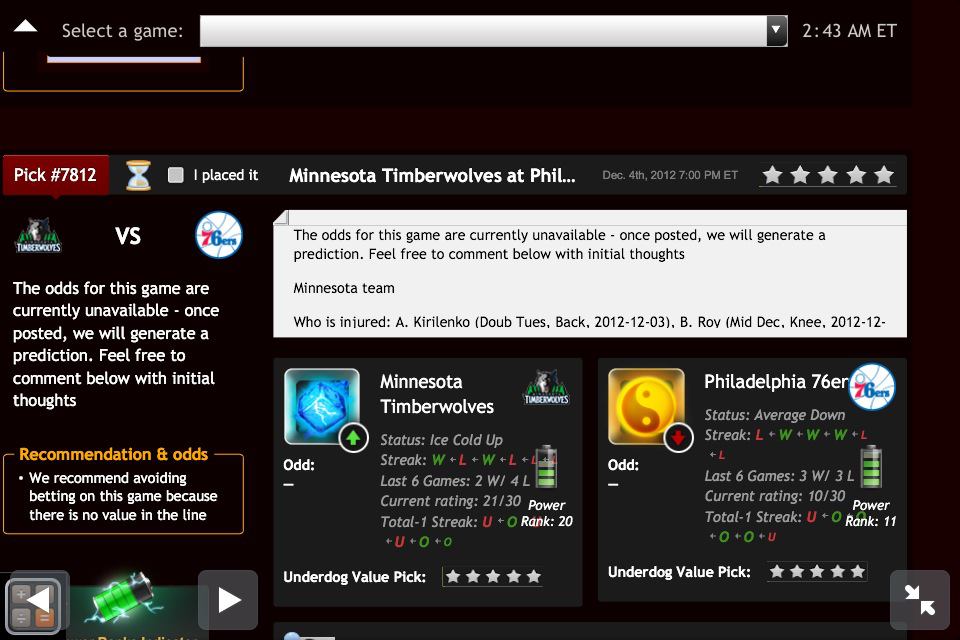 , find the poll for this game, and vote! First to ten
wins, and nobody besides me has more than one win!
Strategize, my friends. I will be explaining my pick, but I'm also in the lead. Do you want to go against me and hope for a loss, or follow me until the right time to make your move? Here we go:
The Minnesota Timberwolves are battling injuries this year, but they're a very talented, disciplined team. They've found a way to win without Brandon Roy, Ricky Rubio, and Kevin Love for most of the season. Kirilenko is doubtful, Love is battling the flu, and even if they play they might be half strength. This could be a tough one, but doesn't the flu just motivate everyone with flashbacks to Michael Jordan? Look for a 20/20 performance from Love.
The 76ers are also waiting through injuries with valor. Bynum's delicate knees are once again holding him back and after a set back he may not play again this season. Still, strong guard play and a balanced offense has carried the Sixers this year.
I like the Wolves. I think they'll play tough through injuries on the road and find a way to win. If theyre an underdog, there's value here. Still, the 76ers at home will be no easy contest. This is a tough one, low confidence of course, and a great game for our ML contest competition.
DONT FORGET TO VOTE!!! It's free, and who doesn't like free money?
Wolves 92 – Sixers 88
========
P.S. Upgrade to Zcode VIP Club and Unlock All Winning Picks. Instant Access.