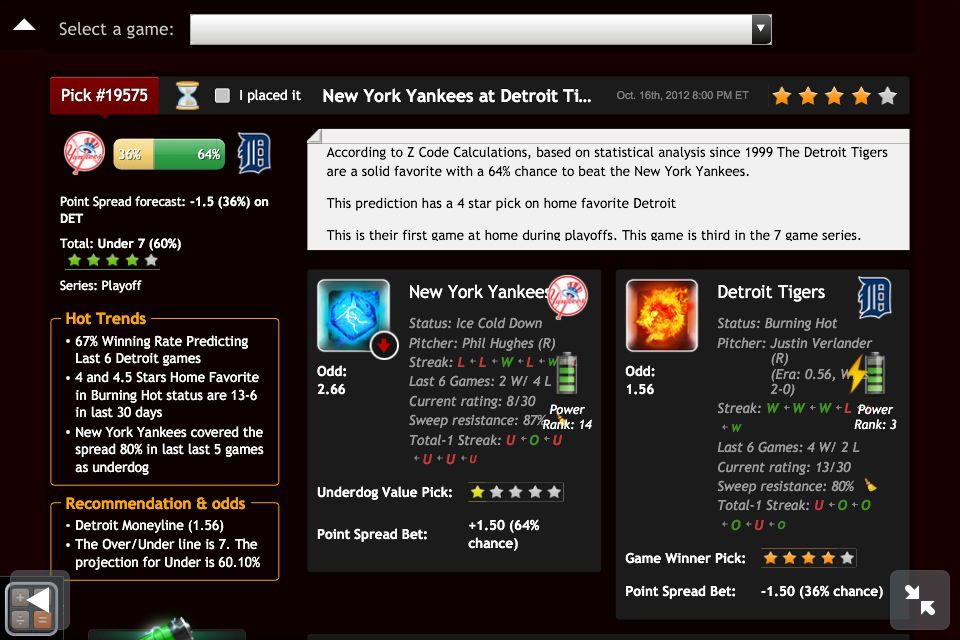 MLB Featured Game, MLB Playoffs Picks: New York Yankees at Detroit Tigers – ALCS GAME THREE, Phil Hughes Vs Justin Verlander
Can you shake that feeling deep down in your soul that the magic of the New York Yankees will suddenly kick in? That Robinson Cano can't possibly hit .064 in the playoffs? That Derek Jeter will magically heal and come back to deliver a pinch-hit, limp-off homer? As it stands A-Rod, Cano, Swisher, and Granderson are all hitting under .150 and the mighty New York Yankees are down
 two games to the Tigers with Justin Verlander looming twice (if necessary).
Still, if you're like me, you still believe in the Yankees for some ridiculous reason. Perhaps it's from growing up through the Yankees dynasty of the late 1990s. Maybe it's because Raul Ibanez has stolen my heart. I feel cheated by a blown call in the 8th, and I keep waiting for the Yankees to bounce back and win this series.
Z-Code is smarter than that. Removing emotion is what Z-Code does. Today's featured and only game is a strong 4-star signal on Cy Young / MVP contender, Justin Verlander to dominate another game. The odds of a Tigers win are set at 64%. That's enough for me to avoid the money line in spite of all my Yankee prayers.
At +170, I see limited value on the Yankees. If you think the Yankees will win today, you might as well bet the series line at +400. A victory over Verlander with CC looming in Game Four means +400 has incredible value if they Yankees win. The odds seem stacked against them, though.
The under has a strong 4-star signal from Z-Code with a 60% chance of hitting. The Yankees bats are dead and Phil Hughes is coming off an incredible performance in the ALDS. That's my bet.
Z-Code likes Verlander, and I can't blame them, but I simply cannot go against my Yankees. Something tells me there might be some magic left in this injured, slumping, disaster of a team.
The Under looks good, and I'll have my money on under 7.5 hoping Hughes can hold the Tigers under 4 or 5.
========
P.S. Upgrade to Zcode VIP Club and Unlock All Winning Picks. Instant Access.