NBA FEATURED GAME – November 27th 2012 – Toronto Raptors at Houston Rockets
Jeremy Lin got his revenge for the New York Knicks not matching the Houston Rockets' offer sheet. Though Lin is off to a horrible start, a blowout win against the New York Knicks just felt right. If Lin can parlay this into some momentum, he can make us a lot of money.
I love the Houston Rockets backcourt. James Harden and Jeremy Lin look good early. What's more, they've got a center to balance the team out. THey're a little thin, they're a little streaky, but this might be the start of a nice win streak.
Z-Code is so impressed by the latest wins of the Rockets that they've been bumped to burning hot status. On the other side of that is the Toronto Raptors. The Raptors have fallen apart late in games and could be about to break.
Z-Code gives a very high (for a spread pick) chance of covering 4.5 to the Rockets. They also like Houston to cover with 65% odds.
This is a medium confidence pick with Z-code support. If the Rockets can keep it going, they'll win easily at home.
Rockets 99 – Raptors 94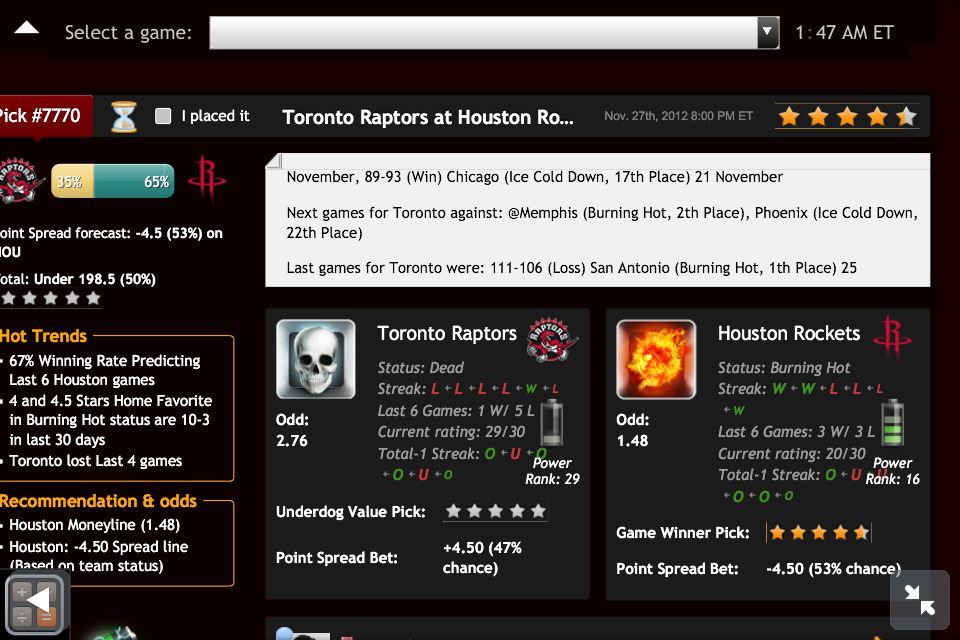 ========
P.S. Upgrade to Zcode VIP Club and Unlock All Winning Picks. Instant Access.