Zcode Grand Team Championship Game week 8 Results
TEAM CONTEST
Emotions guaranteed to the end! Teams showed up this time a little bit shaky, it's probably because of every small mistake may decide about final result. Thus we have amazing races in both conferences. Current situation is even more complicated than it was before this week. We still don't know who will win and we still don't know who will take last playoff spots! Four teams in the West Conference and two teams in East Conference still fight for conference titles! What a drama!
Black Legion 20 : 0 The Tycoon$
What a play by Nedyak(spnedyak)! He won personal pick and additional pick for his team. Great job captain! This way, with very good support from Ron(rdegaeta2628) Black Legion secured win in this match and took 4th spot in the conference. Now they are only two points behind the conference leader and still have a chance for conference title! The Tycoon$ are of course still in a race for playoff spot!
THE AVENGERZ 28 : 10 Track Masters
Track Masters became another victim of THE AVENGERZ tactical play. Masters showed almost all the cards in the first two days and made job a little bit easier for opponents. Anyway big respect for THE AVENGERZ because they didn't lose any single pick this week and with 210 goals scored this season they took like the strongest team at the moment.
Snow Leopards 18 : 31 System Winners
Well played by System Winners, they stopped Snow Leopards dream about top for spot. Winners hit 3 picks with high odds. Congratulations for Jfen(fenster.jeffrey), Rajesh(deepraj712) and Ovidio(ovidio), they are best offensive weapons for System Winners during this season
Destroyers 39 : 16 Blue Tigers
What a play by Destoyers! Great sportsmanship, great spirit! I love it! They woke up in the last moment and they still can make playoffs! They "second line"

found the momentum and simple over scored Blue Tigers in the last chance match in regular season. Congratulation to Martin(r.martin), Michael-stl(trevoirgreen), sean(seanspreen)!
British Bulldogs 0 : 0 Youngsters
That was very funny game! Both teams were so focused on tactic and following opponents moves that they "forgot" to score few points ;). 0:0 tie is not an impressive result but seriously, both made here huge work, unfortunately both were a little bit unlucky with selections. I have to admit that Bulldogs had match ball here, they missed last two picks only by 3 points (OVER 200) and Youngsters are probably more happy with 1 point from this game.
The Expos 20 : 0 Live To Win
The Expos did the job here, used Live To Win little slump and took solid and very important win. Great picks this time for a team posted Paul(mono17ie), Tonesmokeon(tonesmokeon) and Shug(Humykl). Huge answer @2.75 from Larry L.(larryrlarscheid) was not enough. I think The Expos this time also made happy Flash Gordon team ;).
Clairvoyants 10 : 4 Team Spartan
Not easy game, but very important victory for Clairvoyants. They increased chances for top 4 very significantly. Well played this time by Valdemar(nats79selin) and Dave ( Dundee )(dave_loader). With Ray(muriithikiaira) they are top guns of Clairvoyants in the regular season. Congratulations guys!
Blood Brothers 0 : 0 Necaxa
Necaxa was a little bit closer to victory here, but 0:0 tie is always fair in my opinion. Both teams may miss points from this game in the end of regular season, but both teams are still in a race for top 4 and top 8 spots. Good luck!
Flash Gordon 31 : 9 Ivy League Aces
That was dramatic game! TEAM FLASH GORDON……that was…….brilliant!!!! Buzzer beater!
They have sticked as a team till the last second and in the end they won! Congratulations to all of you!
Rubber Ducks 0 : 19 Bumble Bees
Bumble Bees with second win in last two matches! This time winning pick delivered Rnm(rnm196) Brian K.(brianekay) and Chris(chrisengelhardt1983). With another win in the week 9 they still have real chances for top 4 spot! Amazing work lately guys! 143 goals scored is also impressive result! Keep it going like this!
Congratulations to ALL TEAMS! Lets have great WEEK 9
KING CONTEST
We have new leader in King Contest! Prince Nedyak(spnedyak) took first spot! He wins with incredible odds lately, this time @2.32. Can you belive it? I can tell you a secret. I am not sure how exactly Nedyak selects picks, but I am sure he uses LR tool and public split to detect vegas profit. Works, hu? Brian K.(brianekay) also deserves to be mention here! He is on 2nd place now and he didn't lose a single pick so far! Similar streak has also Jiong(snowman1818) who sitting on 4th place. Biggest jumps up among top 10 players made this week Ovidio(ovidio), Koos(koosklooster) and Rajesh(deepraj712). Congratulations and good luck!
Click TO ZOOM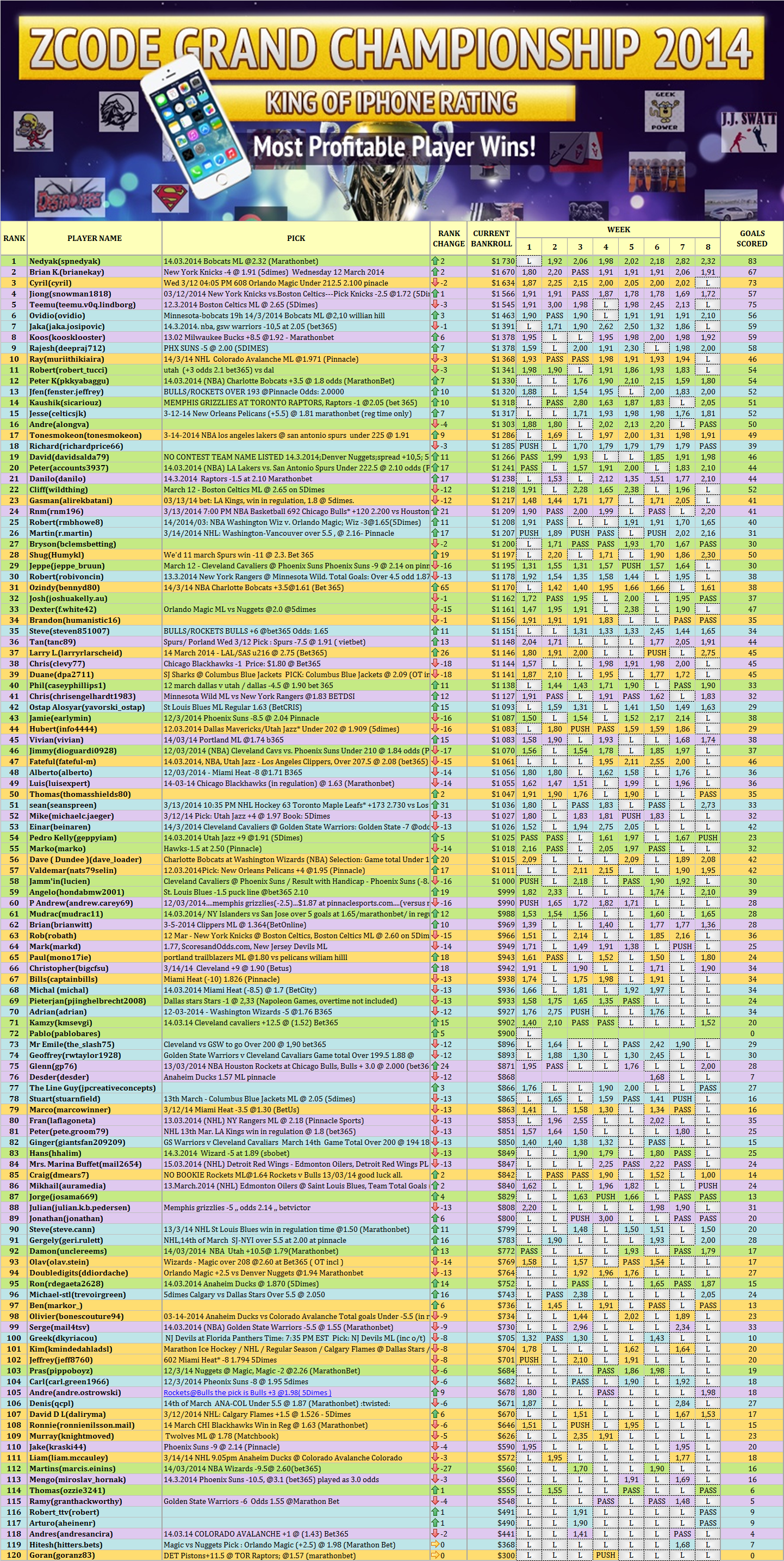 BENCH CONTEST
Missed a team? No problem! Join the bench! Get on top of the rating of Bench players and get selected on a team! Or win the cash prizes! Remember that we count here biggest profit streak! With 4-5 winning picks in a row you can take top spot in the classification! You can start any time!
Brian K.(brianekay) flies in the sky with his $10 757 profit streak! Simple amazing run! Look at this:
1,80 2,20 PASS 1,91 1,91 1,91 2,06 1,91
Behind leader hottest live streaks at the moment belong to:
Robert(rmbhowe8) $923
Dejan(avenija83) $687
Dragon(batchaev) $519
Tommy C(sentinaltjc-zcode) $300
Nghia(tonee_l) $319
Adam(adamjhagger4939) $288
Young(peterjb2013) $278
Doug (orf)(hjhholdings) $244
Juan(gadielacosta23) $234
Paolo(yelvertoncharlie) $223
Vivian(vivian) $192
Scott(scottl) $164
Click TO ZOOM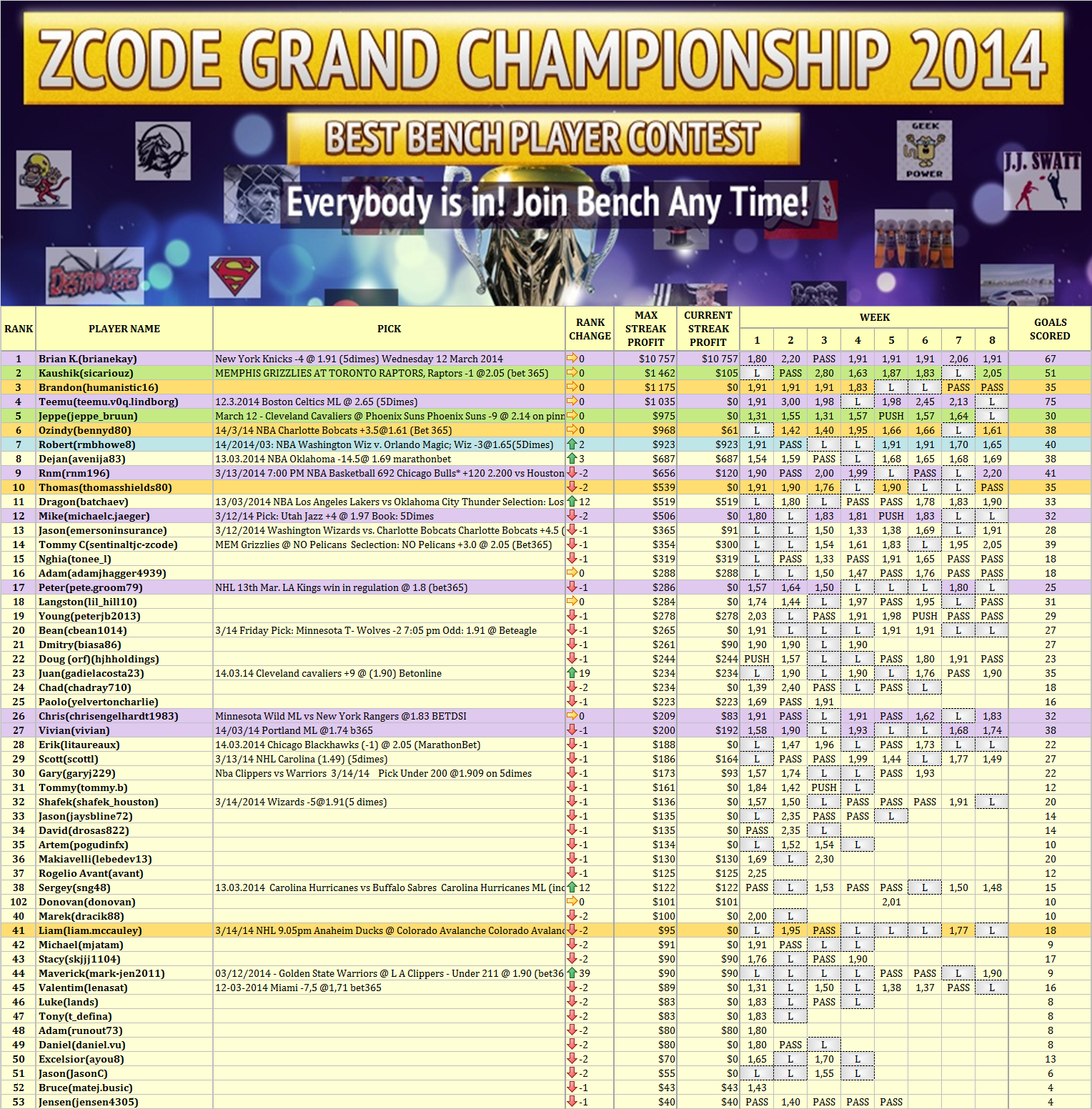 ========
P.S. Upgrade to Zcode VIP Club and Unlock All Winning Picks. Instant Access.