Zcode Grand Team Championship Game week 6 Results
TEAM CONTEST
Another fascinating week is behind us! I am really happy when I can read that you are getting more excited about our teams results and getting real fun with every new week. That is all about it! REMEMBER! No matter how your team perform so far! Mike prepared great conception and 8 best team from each conference proceed into additional games after regular season! We already passed two-thirds of regular season and every team can still qualify into post season games. Don't waste your chance! Now lets look how games went!
Snow Leopards 33 : 0 The Tycoon$
Snow Leopards took the opportunity and now they have the same amount of points as division leader. This week kitties found the balance and with 4 winning picks scored 33 points. Man of the match tittle goes to Jamie(earlymin) who after 3 OT won great pick @2.17. Next week Leopards will face again in divisional match against Black Legion. That will be huge fun!
Destroyers 0 : 34 THE AVENGERZ
THE AVENGERZ show great stability, in last 5 weeks they scored 22, 34, 18, 40, 34 goals. Really great team, with awesome strategies, skills and captain, however this time there was no need to use sophisticated tactic and they won game quite easily. Don't worry Destroyers! There is still 9 points to earn, and you are only 3 points behind playoffs! Stay focused, show a little bit more engagement and go for a post season games!
British Bulldogs 49 : 37 Black Legion
I can only quote a classic here: "OH BOY!". That was incredible drama! Black Legion was leading and controlling match after Wednesday, Thursday, but then British Bulldogs simple hit the jackpot! In Friday they went heavily on Buffalo Sabres/San Jose Sharks over 5.5 and scored 49 points! I am sure it can be a record of the season. Black Legion can feel bitter taste of bad luck, but guys! Look at the division table! What a drama! You can still make everything!
Youngsters 32 : 20 Track Masters
Another close game and another emotions till the late Friday or even morning for European players! Youngsters keep the momentum and won 3rd close game in a row. Not easy points, but it builds chemistry in this team. Great job by Jaka, his Lakers were in trouble but they played great 4th quarter and lady luck gave win for Youngsters team. Well played by both team!
Blue Tigers 26 : 23 System Winners
Very important points goes to Blue Tigers! They used not aggressive approach, won 4 of 6 picks and it gave a win. System Winners used different, more aggressive tactic and in the end they were one pick too short. They won 3 of 3 with higher odds, but it wasn't enough this time.
Blood Brothers 22 : 28 Live To Win
Blood Brothers gave really tough game to Live To Win, but Cyril and company bounced back in a great style after week 5. Now Live To Win are 3 points before Flash Gordon and Blood Brothers 2 points behind playoffs. Stay focused, show a little bit more engagement and go for a post season games!
Flash Gordon 28 : 0 Clairvoyants
Flash Gordon team members have mentality of winners, no doubts about it. They beat last unbeaten team in the league and now their target is to catch conference leader. Flash Gordon use very reasonable odds, they don't gamble, but they try to score solid amount of goals every week. They didn't have an empty round so far. They scored 29, 11, 11, 37, 22, 28. Very good shape!
Rubber Ducks 3 : 26 The Expos
Rubber Ducks couldn't keep momentum and The Expos got very important 3 points. With this win they are now 3rd power in conference and serious candidate for top 4. They are a little bit unstable with W T W L W L pattern, but I am sure they still aim for conference spot number 1!
Bumble Bees 36 : 7 Team Spartan
Bumble Bees got new energy after tough week 5! This win gives them new hope and chance even for top 4! All look good for them now, their captain is getting better and better, new players from the bench proved they are good enough to face against anyone and Desder brings good chemistry into a team. Keep it going like this! Team Spartan is only 1 point behind playoffs and everything is still possible for them!
Ivy League Aces 0 : 0 Necaxa
My lovely ties fans! Necaxa tied 3rd game in a row, Ivy League Aces last 2 games. My humble advice is to take a little bit lower odds, it's not easy to score when all members go with high odds. Both teams are solid and next weeks will show what is the target for both team. Top 4 is still possible. Good luck!
Congratulations to ALL TEAMS! Lets have great WEEK 7
KING CONTEST
Of course you all already know that Cyril won 6th pick in a row, but do you know that actually Cyril won 8th pick in a row including his additional picks for a team? All picks with odds around 2! I'm not kidding! UNBELIVEBLE! Luckily for a contest drama we have many really strong contenders, many of top guys won their picks in a week 6 and stayed close. Teemu(teemu.v0q.lindborg) for example took pick with odds @2.45 and now he is only 100$ behind Cyril what means it's 1 pick difference. I am sure Teemu will be Zcode superstar soon. Every day he shows on the wall hard work and commitment preparing his own systems. All he his efforts improves his skills and we all can see it! Congratulations buddy! Nedyak(spnedyak) is on 5th position, he hit 5th pick in a row and near Cyril he is on the hottest streak at the moment. I am impressed buddy! Take care, stay calm and be strong mate! At the moment we have 7 players with bankroll over 1400$, who next break this barrier? Come on!!!
Cyril(cyril) $1 632
Teemu(teemu.v0q.lindborg) $1 532
Brian K.(brianekay) $1 473
Jiong(snowman1818) $1 425
Nedyak(spnedyak) $1 416
Jaka(jaka.josipovic) $1 405
Andre(alongva) $1 403
Click TO ZOOM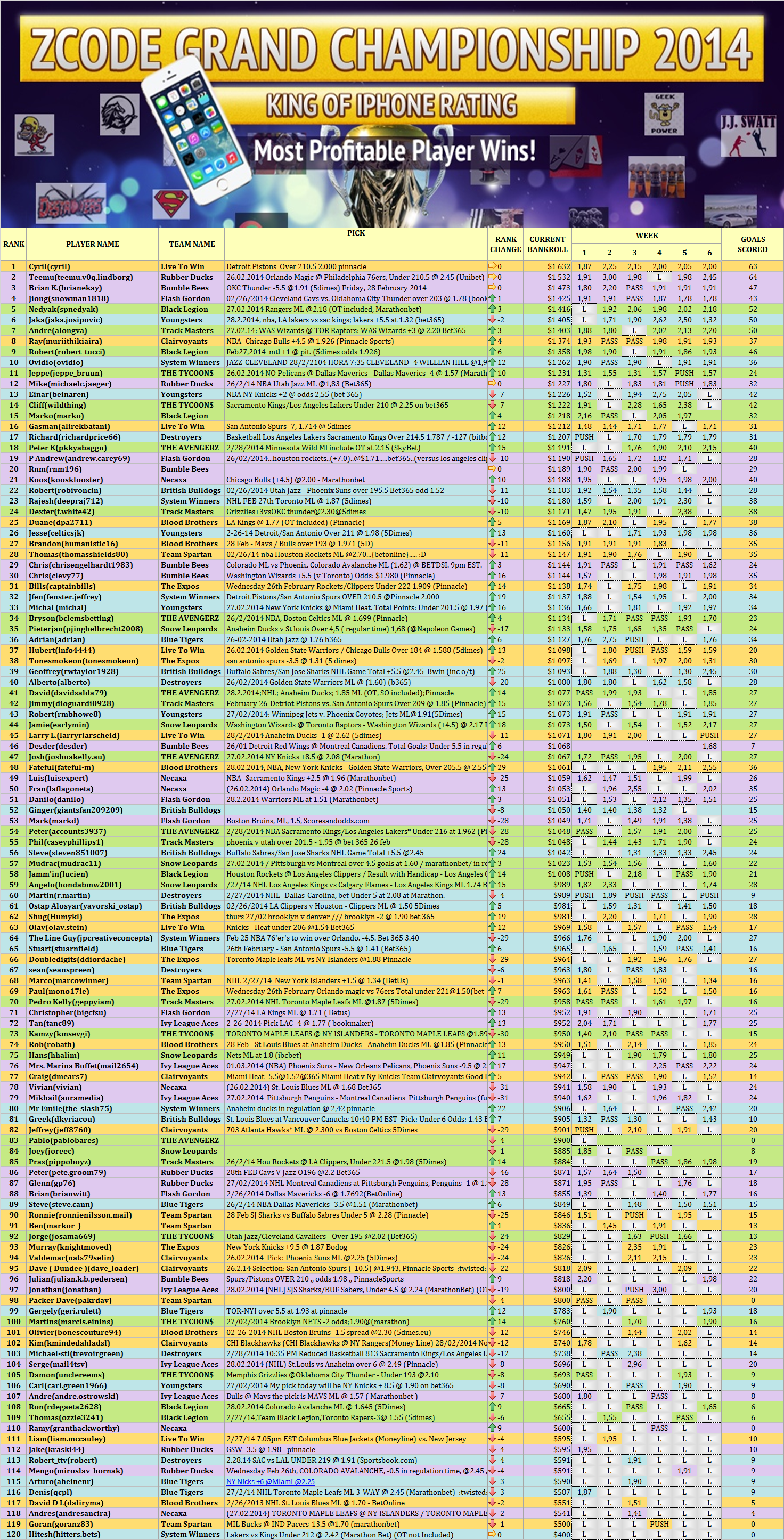 BENCH CONTEST
Missed a team? No problem! Join the bench! Get on top of the rating of Bench players and get selected on a team! Or win the cash prizes! Remember that we count here biggest profit streak! With 4-5 winning picks in a row you can take top spot in the classification! You can start any time!
I am really impressed how bench contest goes so far! We never had so many talented, skilled players at the bench! Many of them already joined teams. I am sure few next will join teams soon. Meanwhile Brian K.(brianekay) continues his awesome streak and now he is solid leader, but many guys behind perform very well. Kaushik(sicariouz) took second place in the rank with very good active streak. Third best active streak at the moment belongs to Ozindy(bennyd80). He prefers more conservative approach, but it gives him great starting position. Good luck in week 7!
Brian K.(brianekay) $2 659
Kaushik(sicariouz) $1 462
Brandon(humanistic16) $1 175
Teemu(teemu.v0q.lindborg) $1 035
Ozindy(bennyd80) $968
Rnm(rnm196) $656
Jeppe(jeppe_bruun) $556
Thomas(thomasshields80) $539
Mike(michaelc.jaeger) $506
Click TO ZOOM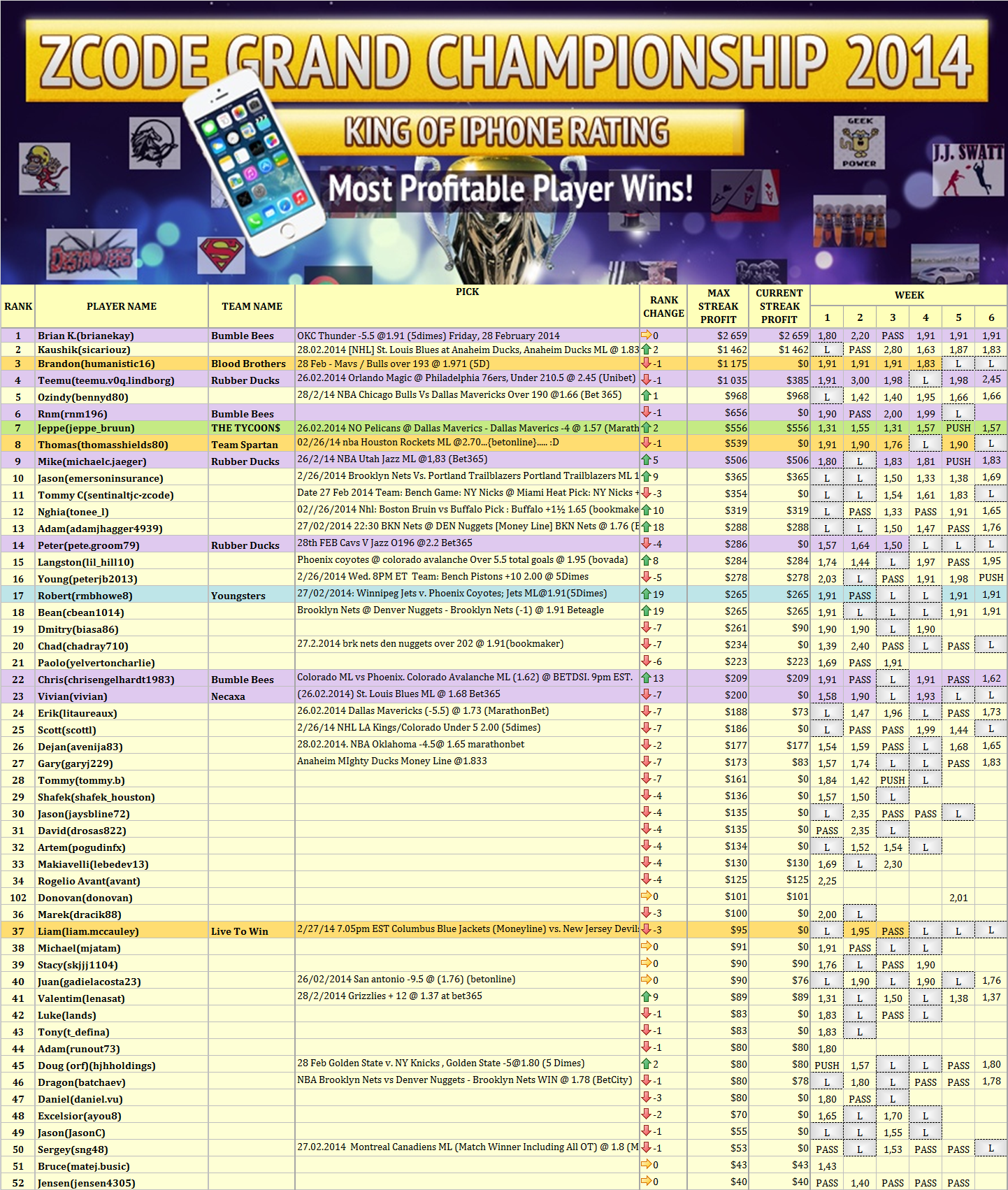 ========
P.S. Upgrade to Zcode VIP Club and Unlock All Winning Picks. Instant Access.