Zcode Grand Team Championship Game week 10 Results
TEAM CONTEST
First playoff week is behind us, but quarters are still live! No matter how week 10 went for you, it is still possible to bounce back in the second half of quarters (WEEK 11)!
Click TO ZOOM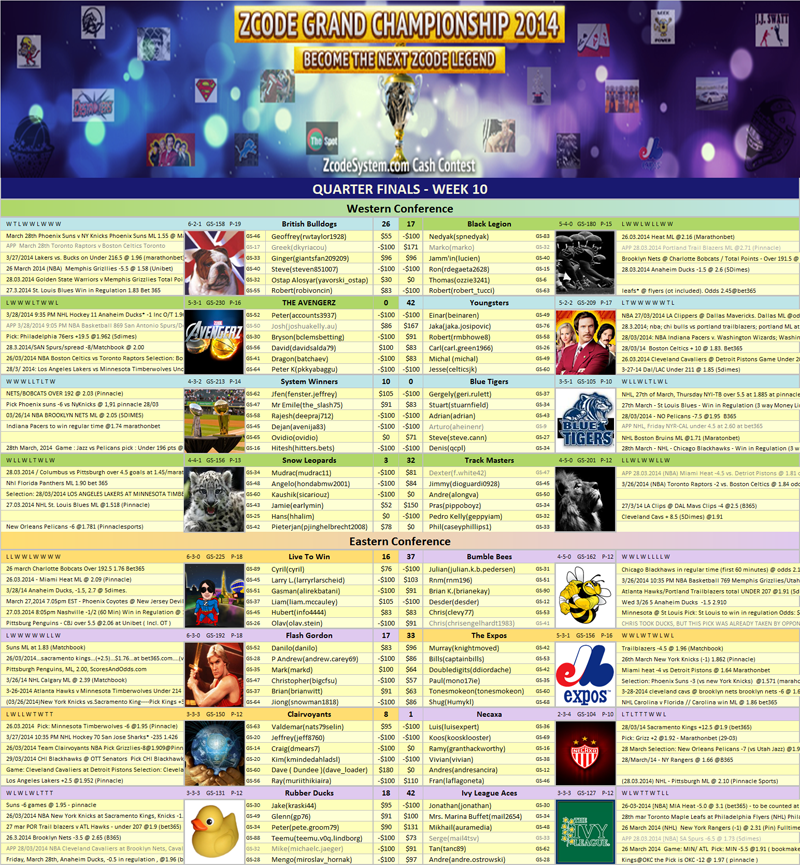 Grand Playoffs & Bronze Medal Playoffs Brackets
Click TO ZOOM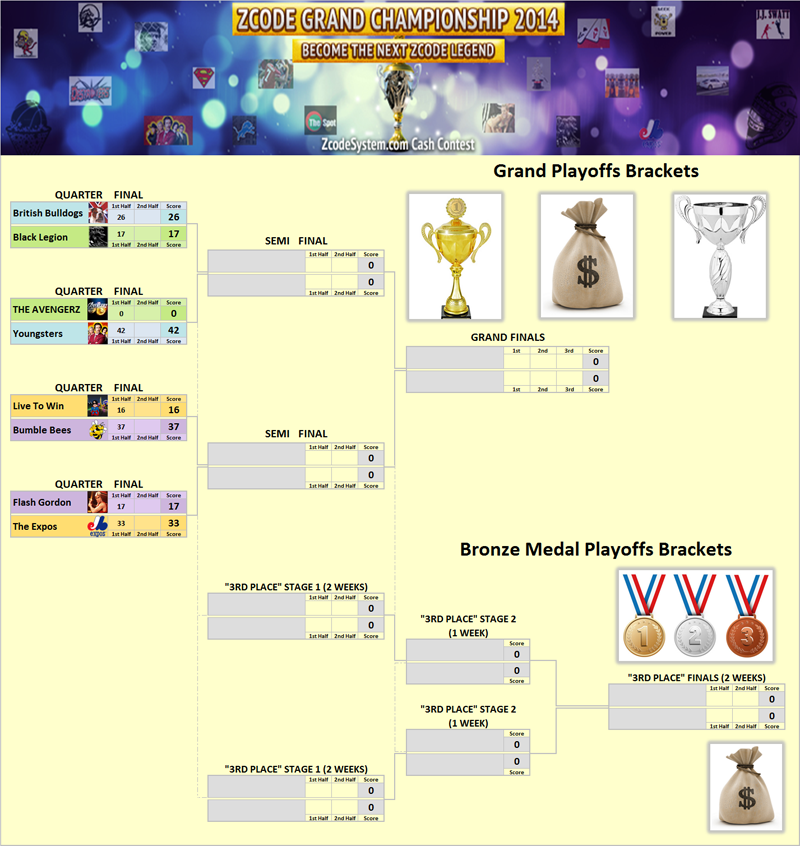 British Bulldogs 26 : 17 Black Legion
Bulldogs bite again! Perfect play by them with 4 winning picks. Well done Geoffrey(rwtaylor1928),
Ginger(giantsfan209209), Ostap Alosyar(yavorski_ostap), Robert(robivoncin). No crazy picks, no gambling, just steady scoring! Great approach! Very good job for Black Legion made Jamm'in(lucien) and of course… Nedyak(spnedyak)! He provided awesome additional pick for his team and this way this game is still pretty close!
THE AVENGERZ 0 : 42 Youngsters
What a play by Youngsters. What a great Friday for them! Youngsters went 3/3 in Friday. Great picks posted this time Jaka(jaka.josipovic), Robert(rmbhowe8), Carl(carl.green1966) and michal(michal). Youngsters always score a lot against THE AVENGERZ and this time they went into destruction mode again!
Live To Win 16 : 37 Bumble Bees
Bumble Bees may be the dark horse in playoffs! It not the same team as in the beginning of this contest. This time they were a little bit lucky in Friday, but in fact they have 21 points advantage now. Live To Win were very very close in Wed and Thu but lady luck left them in Friday. Will she come back next week?
Flash Gordon 17 : 33 The Expos
The Expos always plays great match against Flash Gordon. They beat them in regular season and now they started quarters in a great style again. It could be even a little bit worse for Flash Gordon Team, but Mark(markd) showed up with great pick in Friday and his team scored 17 goals. This way they still are in the game and may catch The Expos in second half. However it will be not easy considering how stable The Expos player are. Murray(knightmoved) Bills(captainbills) Doubledigits(ddiordache) Paul(mono17ie) Tonesmokeon(tonesmokeon) Shug(Humykl), every one of them provided a winning pick!
I'll Be Back Playoff Brackets
Click TO ZOOM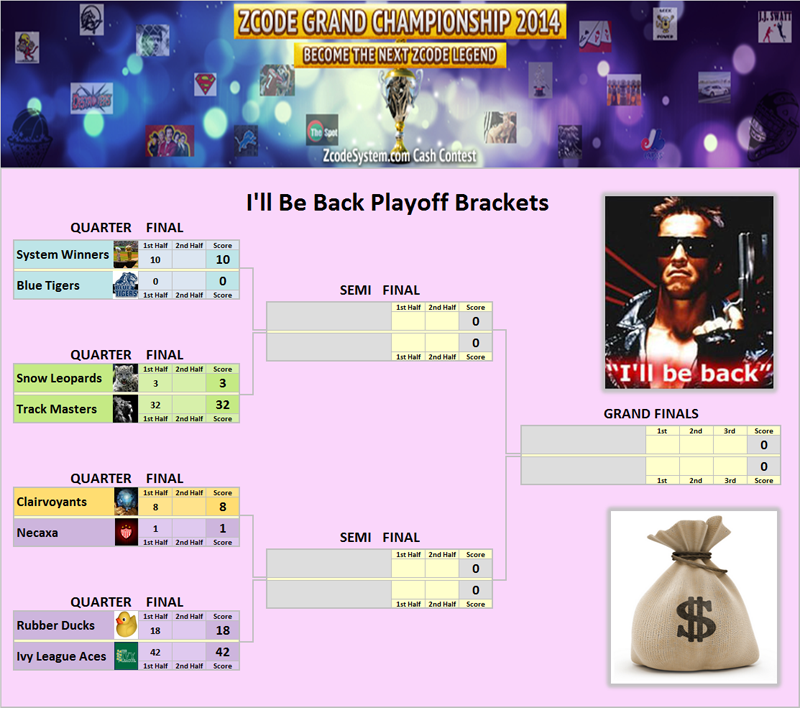 System Winners 10 : 0 Blue Tigers
Well played by Jfen(fenster.jeffrey) and Mr Emile(the_slash75). 10 points is solid advantage, but nothing decided yet, Blue Tigers can still bounce back!
Snow Leopards 3 : 32 Track Masters
What a picka from Pras(pippoboyz) and Jimmy(dioguardi0928)! Together they took care about business against Snow Leopards. Track Masters are is driver seat at the moment and Cats have to figure it out how to bounce back in second half!
Clairvoyants 8 : 1 Necaxa
This is most even match in quarters! Only 7 goals difference means slightly advantage for Clairvoyants but nothing significant!
Rubber Ducks 18 : 42 Ivy League Aces
Rubber Ducks were good but Ivy League Aces were better! As I sad few weeks ago Ivy League Aces are unpredictable. They can explode in every moment and then it not easy to beat them. However next week they can go in opposite direction and this is chance for Ducks! This week was dominated by Mrs. Marina Buffet(mail2654) Mikhail(auramedia) Tan(tanc89) and Andre(andre.ostrowski). Congratulations!
KING CONTEST
Brian K.(brianekay) and Cyril(cyril) used rivals stumble and obtained bigger advantage! With one more good pick Brian K.(brianekay) may double his bankroll, he is really close to make it! It was also great week for:
Jaka(jaka.josipovic)
Tonesmokeon(tonesmokeon)
Robert(rmbhowe8)
Shug(Humykl)
Robert(robivoncin)
Tan(tanc89)
Jfen(fenster.jeffrey)
They made biggest jumps in top 20 players in week 10!
Click TO ZOOM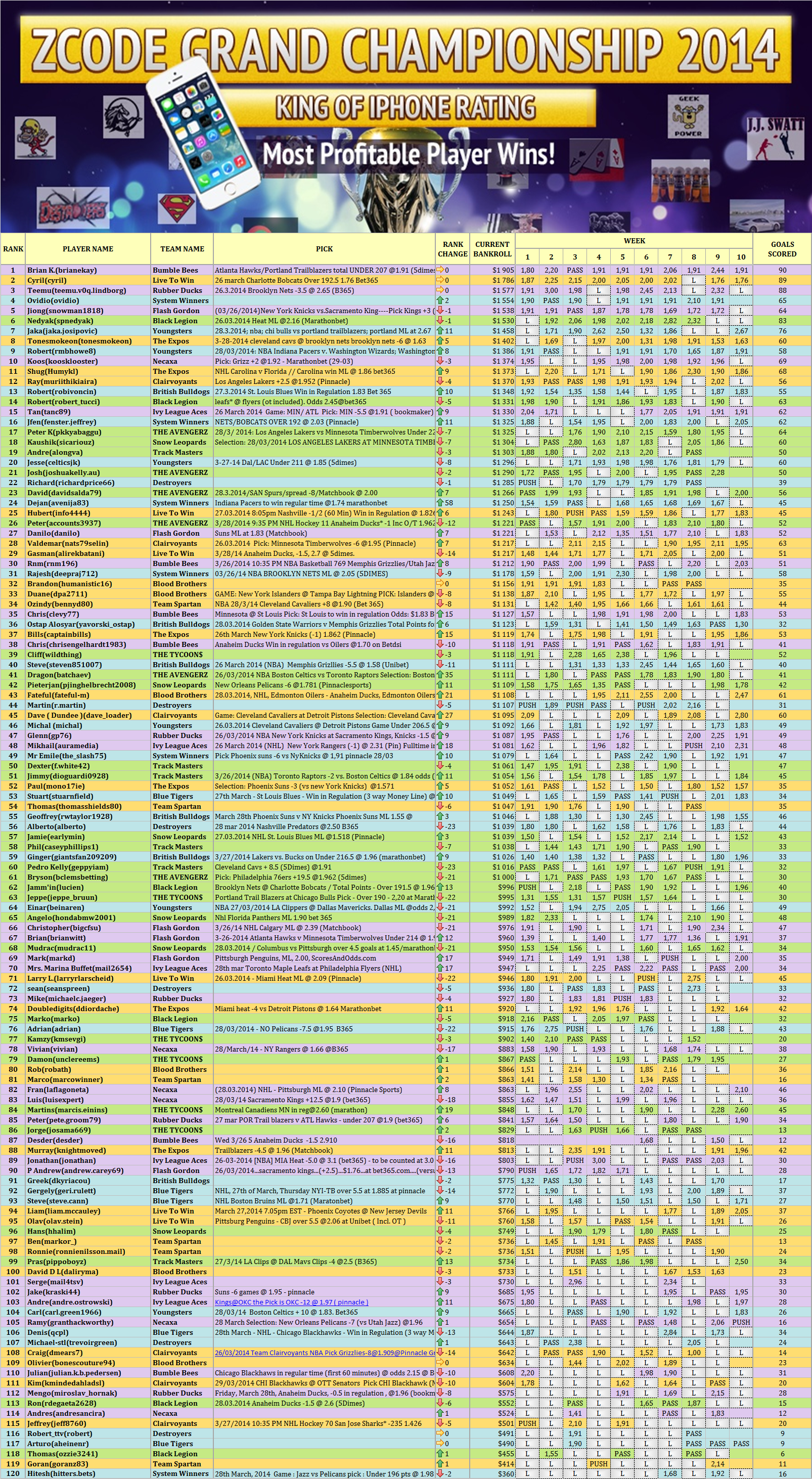 BENCH CONTEST
Missed a team? No problem! Join the bench! Get on top of the rating of Bench players and get selected on a team! Or win the cash prizes! Remember that we count here biggest profit streak! With 4-5 winning picks in a row you can take top spot in the classification! You can start any time!
Brian K.(brianekay) is like machine! $50 496 profit streak may be Zcode history record I guess! Very strong streak has also Robert(rmbhowe8). Solid second place for him! Very fast up goes Doug (orf)(hjhholdings). With one more good pick he will jump into 3rd place! Good luck!
Click TO ZOOM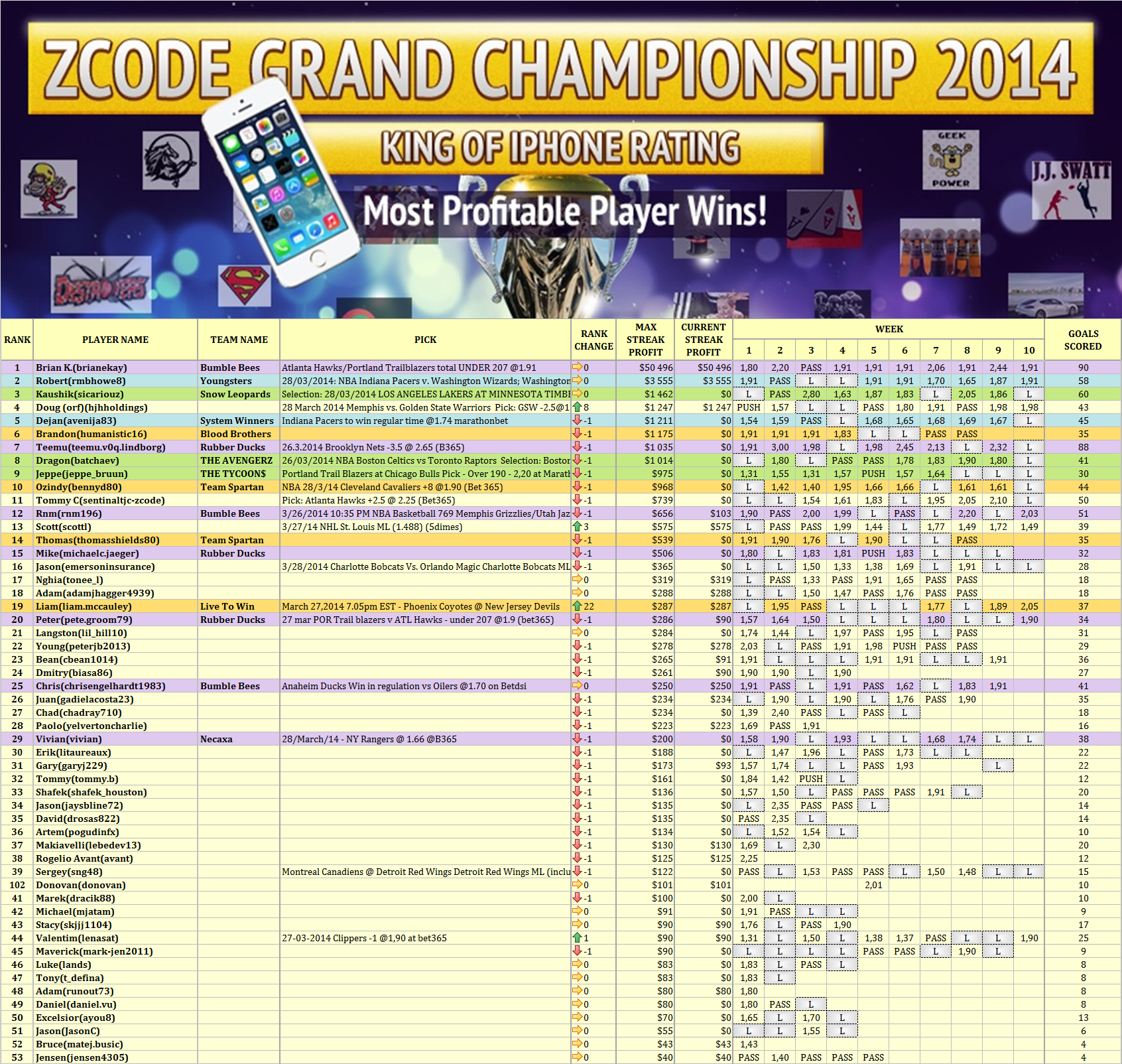 ========
P.S. Upgrade to Zcode VIP Club and Unlock All Winning Picks. Instant Access.