Live betting is one of the most exhilarating ways to bet on sports today. While some sports bettors see live betting as a gimmick that puts the odds in the favor of the sportsbook, there are some definite reasons to give it a try.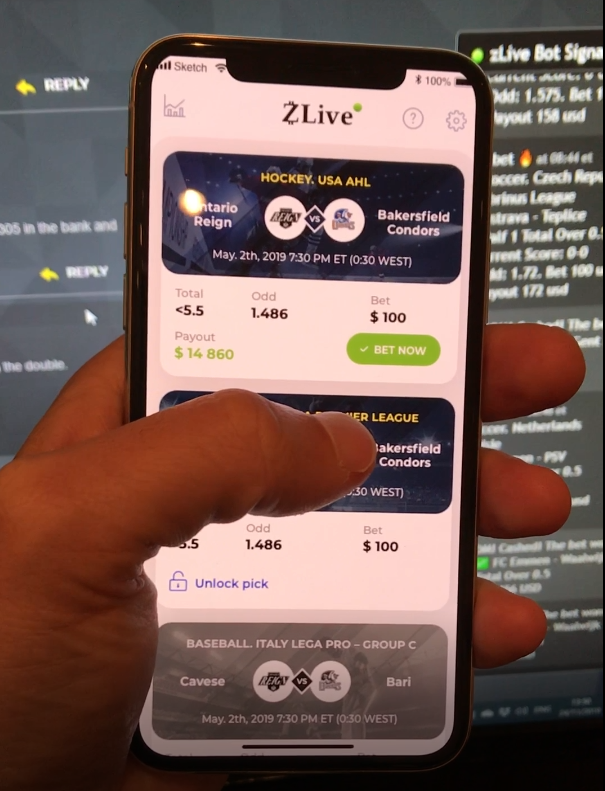 Also known as in-play betting, most leading sportsbooks offer live betting (are there any that don't?). The feature is used by a diverse range of sports bettors from casual punters to sharps who have built a strategy to using in-play betting to make big profits.
Live betting isn't just something you can jump into and be successful at right away. Like all sports betting, it takes time, research, and practice to master the craft of in-play betting.
Let's look at a few tips and strategies for live betting.
Live betting tips
There are some obvious live betting tips that should be adhered to by all bettors. This tips can win you profits and keep you from losing significant sums.
Don't bet to regain losses. You may assume live betting is a great way to regain money after a lost bet. It is tempting to lay down an in-play bet to win back lost money but it is a sure-fire way to lose even more.
Focus your in-play bets and don't make too many at one time. Overbetting can lead to the frustration and mistakes. Focus on quality bets not quantity
Whether it is basketball, soccer, ice hockey or another sport, perhaps the most important thing you can do is watch the game you plan to bet on in-play. If you wager on it blindly you are likely to lose.
You must do your typical betting research and know the teams, players, and coaches inside and out before making an in-play wager.
Reasons and strategies to use with live betting
Live betting is a great way to bet as you get to see what is occurring before making a wager. This is handy as you can learn how the game is unfolding before taking a punt.
In-play also allows you to find value in bets that didn't exist before the game began. For example, before a soccer match begins, you may find odds severely in one team's favor. However, after a few minutes of the match, those odds can even out or go in the other team's favor. The underdog team could score an early goal which changes the odds. This may give you more value to wager on the favorite, who could come back and win the fixture.
One of the best reasons to make in-play bets is due to the numerous markets available. Most online bookes offer in-play betting with a variety of markets. Looking at soccer once more, punters can wager on the win market, total goals, both teams to score, total cards, total corner kicks, total fouls, and much more.
The problem with live betting
One of the biggest problems with live betting is the desire it gives bettors to continue to make in-play bets without thinking them through. Because of the games being in-play, it can be addictive to wager on live bets. You should always prepare your in-play bets in the same away you do your usual wagers.
Profits can be made on in-play betting, but you must organize and manage them just like you would your other bets. If you do, you should find success.
The zLive bot was finally activated! Enjoy!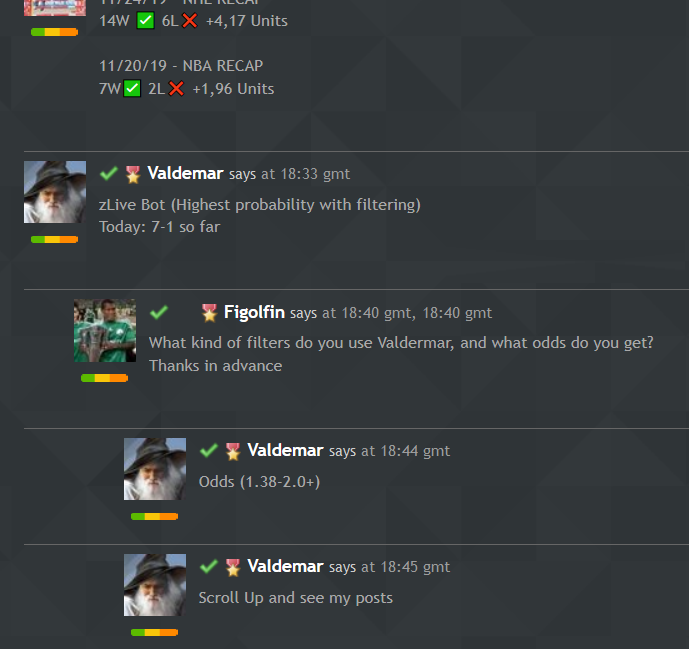 It's a new live betting strategy that predicts highly profitable bets on soccer, hockey and even baseball!
There are 2 ways to follow the bot:
1. Using the Zcode VIP club – simply login to your account, go to the WALL and on the right side you will see the new window called zLive Bot Signals – the bot is posting the picks in real time and grading them later as a win or loss.
You can set the bot to send the Browser push notifications and sound alerts so you don't miss the picks!
2. Using the dedicated zLive bot page. This page has all the picks posted in real time, as well as the past results and charts. The page is auto updating and sending the browser push notifications as well.
The new app will be developed in future.
Now, once you see the live bets appearing you can simply open your bookie account and place the bets quickly.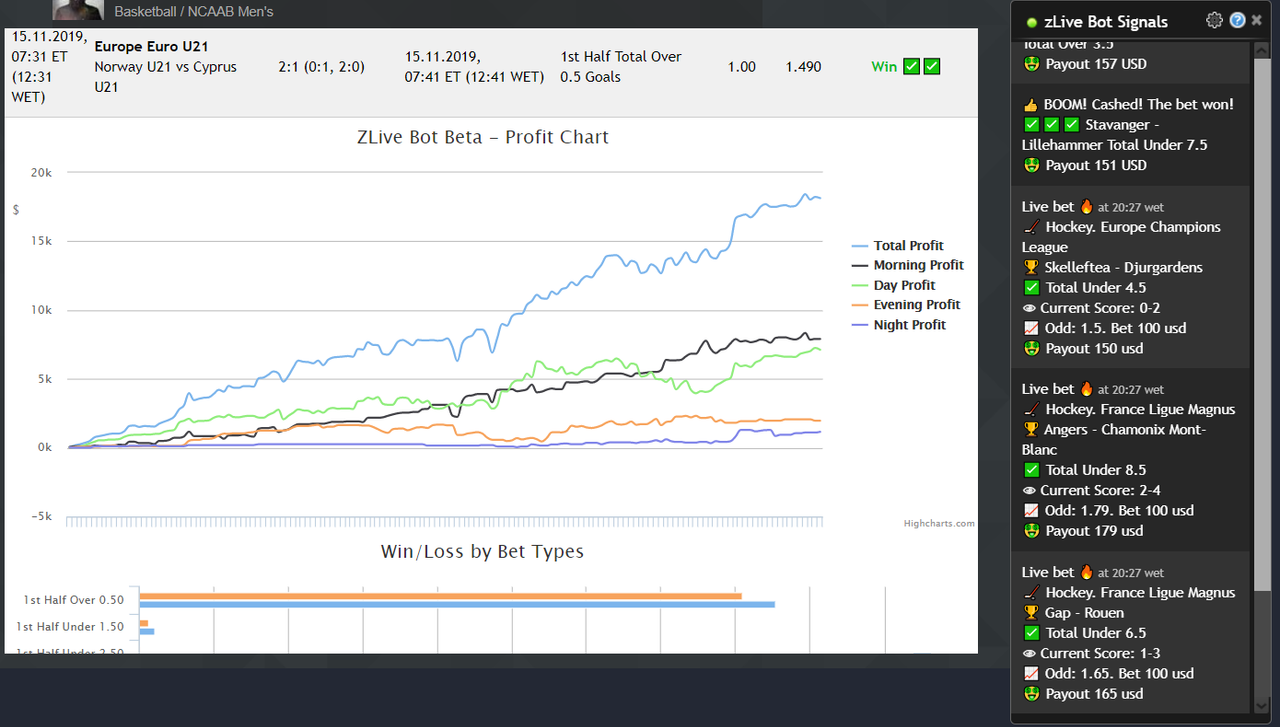 Usually, the bot is betting on totals such as "first Half over 0.5 goals" etc. It means our bet will win if they score at least one goal in a given half.
In case you wonder about the odds – our target odds are from 1.4 to 2.0. Remember the odds during the live games change every minute if not every second, that is nothing to worry about! If they scored too quickly and you did not have time to place a bet – simply pass on such bet, there are plenty of opportunities each day, passing a bet here and there does not change the whole picture.
The results have been amazing! Some days the win rate is as high as 86% and up to 79% on average. Very impressive results! Of course, the strategy is not a crystal ball and nobody can win 100% or guarantee future success. However, if you follow it consistently, the results should not disappoint you! The bot posts plenty of bets through the day, of course you don't have to follow them all, just pick the games that are convenient for you, watch games live and bet them live!
That's all for today guys, I hope you enjoy this next generation tool that will help you win BIG!
Remember to upgrade to VIP club to unlock all bets from zlive bot and other tools. See you inside!
-> Upgrade here to get access to VIP and all the tools including zLive bot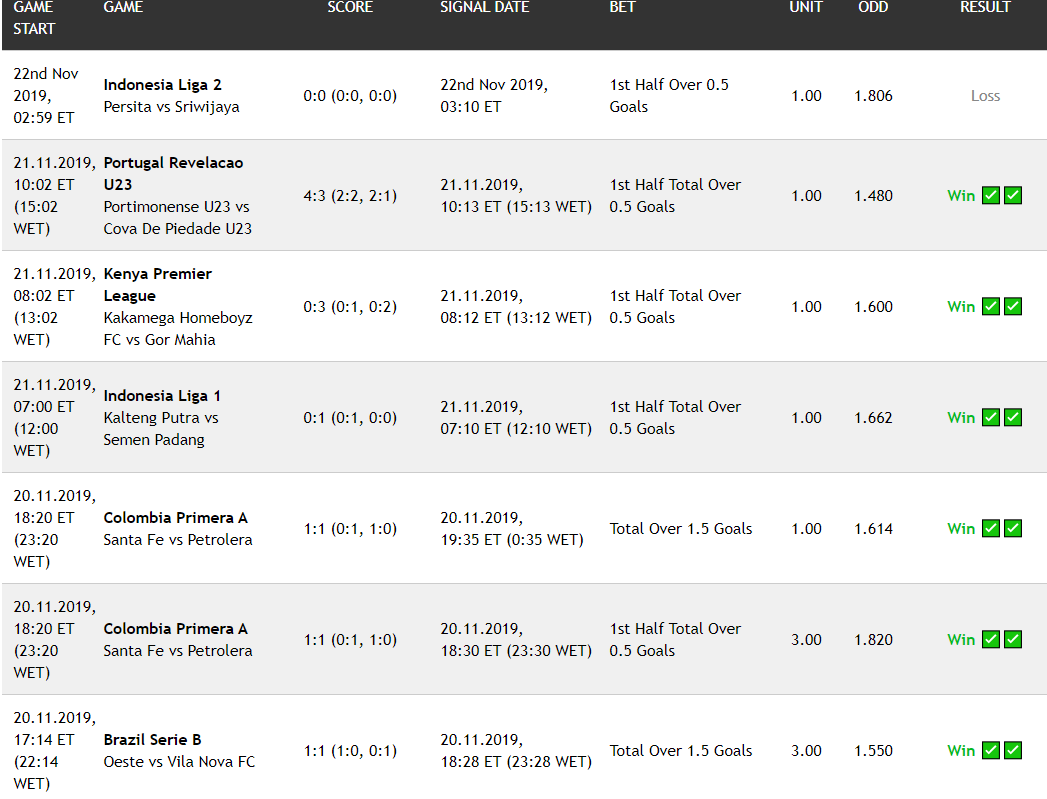 -> Upgrade here to get access to VIP and all the tools including zLive bot
========
P.S. Upgrade to Zcode VIP Club and Unlock All Winning Picks. Instant Access.