Stanley Cup Game Two: Boston Bruins at Chicago Blackhawks Pick and Predictions
It's anti-climactic. It's boring. It's terrible. It's also a way to stay in profit long-term and protect what has been a glorious playoff run. There's no signal here, and chasing is silly. We're a no bet in Game Two of the Stanley Cup.
My thoughts remain the same. This series will be a grind, and the Boston Bruins and Chicago Blackhawks are two evenly matched teams.
Rask had the win in the bag before a puck went in off his defenseman's skate and angled in behind him. The Bruins had a two-goal lead halfway through the third. Game One was theirs, and it slipped away. Who knows how that will impact Game Two.
Three overtimes proved these teams are evenly matched. Both goalies stepped up. Home ice was preserved.
Z-Code's +1.5 came through in Game One, but there's no value in the line for the puck line in Game Two. There's a ton of volatility after a marathon. Horton's injury is a factor. This game is just a total toss up.
No Z-Code prediction, a low confidence series bet to begin with… I'm not sure there's anything more to say. My thoughts remain the same, and my confidence remains very low.
Bruins 3 – Blackhawks 1
No play — low value under and Bruins ML play for me.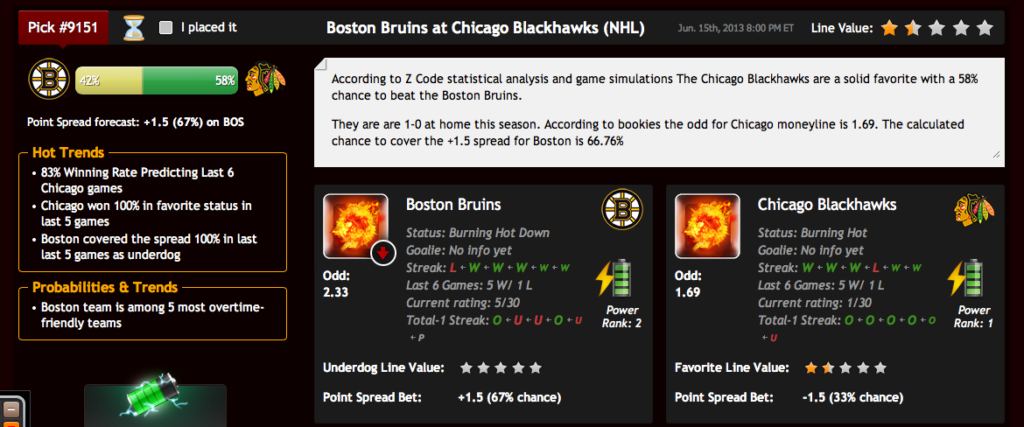 ========
P.S. Upgrade to Zcode VIP Club and Unlock All Winning Picks. Instant Access.