NHL Playoffs Picks and Predictions: Game Six – Chicago Blackhawks at Detroit Red Wings
After a perfect prediction last night on the Kings and Sharks, I'm not sure where we go from here. We hit the 96% recommended +1.5 line, we hit the Sharks ML, we hit the under, and we got the 2-1 score exactly right in our prediction below. A truly perfect pick.
Follow our Facebook page here for free picks: https://www.facebook.com/ZcodeNHLpicks
This game looks a bit more volatile, and Z-Code is nowhere near as friendly with its prediction.
Conflicting paramaters throughout the generated pick lead me to put much less faith in the 89% prediction for the Red Wings +1.5 than the 96% we had on the Kings last night. The problem with this output is how all over the place the computer is… and even though this particular parameter is strong, the rest are relatively weak. Still, it may have some value, and if Z-Code were to pick anything here, it's that.
For me, I sense some chaos brewing in this series:
Red Wings are phenomenal at home.
Blackhawks are a streaky, desperate team.
Blackhawks (I believe) are still the better roster.
Blackhawks responded incredibly well in Game Five.
Red Wings have value as home underdogs.
Red Wings have been great this series.
BLackhawks may be developing some momentum.
Both goalies have been superb.
It's hard to draw a conclusion here.
I'm on the Blackhawks because I like what they did in Game Five and can almost taste that Blackhawks in seven prediction we laid out at the beginning of the round… but this is a dangerous game.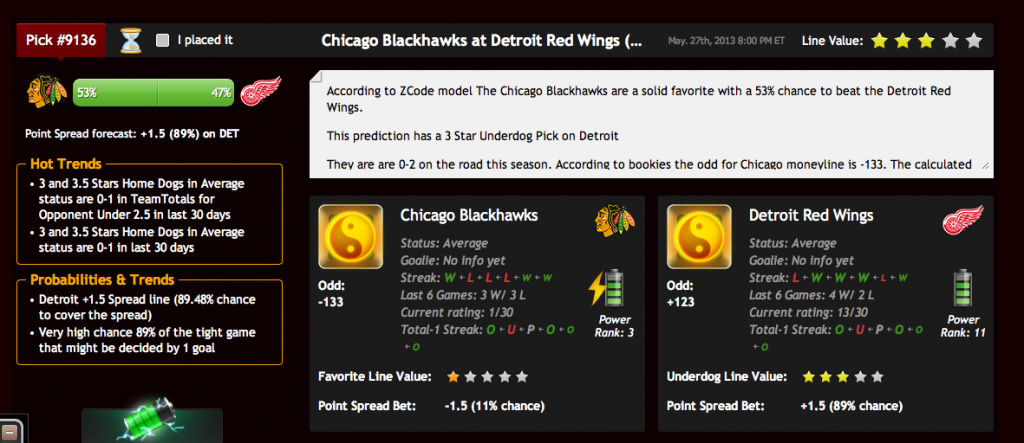 Blackhawks 3 – Red Wings 2
Blackhawks ML, Very Low Confidence
========
P.S. Upgrade to Zcode VIP Club and Unlock All Winning Picks. Instant Access.