NCAA Basketball Picks: Arizona at Arizona State
We are not gamblers. We do not gamble. We are calculating sports investors. We have long-term goals in mind. We win. We win with discretion. We do not "over bet". Just because Vegas has left us with only a few things to wager on today does not mean we have to pick the winners. If there is no value, we will not chase. Discretion, discretion, discretion!
We won our first college basketball game post in Z-Code history when Utah pulled off a convincing win against USC on the road, as predicted by the computer and our experts. This new feature promises to be a money-making machine, and members have been calling for this feature for months. It's finally here, and it looks to be working just fine.
Here, I see no value in any of the wagers today. There is no NBA basketball and no NHL hockey. College basketball only has a couple games. Vegas is isolating the public, and typically that means they'll be more profitable on a day like today.
Arizona fell from the ranks of the unbeaten leaving Syracuse the top spot in college basketball. Arizona State is their arch-rival, and this cross-town Arizona battle. I think Arizona State can steal this one, and I think the value is extremely limited. I don't necessarily like ASU's chances, but I don't feel confident that U of A will cover or even that they're a sure thing win.
The computer gives a 70/30 chance, but finds no real value in the -220 line. As a result, the computer seems to be in conflict, also affording ASU with some value at these odds. With a spread of 5 1/2 points, this doesn't seem worth a chase.
For fun, I might bet the Arizona money line. However, with the computer in conflict and so few games on the slate, it's probably best to stay away. I hate featuring a "don't bet today" suggestion, but that's what profitable investment systems have to be about; consistency and discretion!
Arizona 71 – ASU 65
But our formal suggestion is not to bet this game.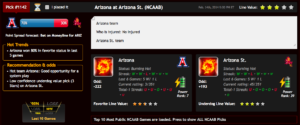 ========
P.S. Upgrade to Zcode VIP Club and Unlock All Winning Picks. Instant Access.