NCAA Basketball Championship Pick and Prediction: Kentucky Vs Uconn (+3)
The computer and I have made a lot of money on March Madness during the NCAA Men's Basketball bracket. Where we've agreed, we've made a great deal of profit. Here, we have a very interesting split in the parameters of my system. It's early, we're monitoring it closely, but there are some very curious public money trends shaping up.
The computer is on UConn. They give four stars of underdog value and like them to win the game straight up. I am leaning the other way. Public money is Connecticut, but tickets are fairly low for a National Championship game. This conflict makes me nervous.
Public money has successfully predicted both Final Four games and did well in the Elite Eight games as well. The line to me seems to be a trap on Kentucky, but the public is coming in on UConn, which means the shift in the line is a reaction and not a trap. This is a dangerous game.
Kentucky is more talented, but the Uconn defense has been phenomenal. They simply turn it on and take over games as they need to. The question for me is whether they'll be able to do this against the athletes of Kentucky. I don't think they will. I'm hoping that Vegas is baiting the public and I expect sharp money to come in hard on Kentucky. Right now, money points to taking Kentucky but it's not a very strong signal. The Computer is on UConn. It should be a close game.
The computer says UConn +3.
I say Kentucky ML.
Let's have some fun with this. Don't bet the house, but I think we can enjoy this spectacle of a game. Good luck, and don't blow a nice season of profits on one dangerous game!
Kentucky 77 – UConn 75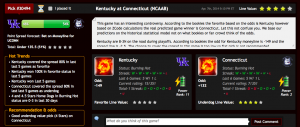 ========
P.S. Upgrade to Zcode VIP Club and Unlock All Winning Picks. Instant Access.