MLB Picks: New York Yankees at Chicago White Sox
Two plays in one here, as I like the Yankees in an ABC progression and the under in this game. I think the way New York is hitting, the under nine line looks good, expecting Kuroda to bounce back here. If not, we have Tanaka in a C bet if it gets that far, but statistically, even on the road, what are the odds the Yanks get swept here?
I think we have a nice statistical edge worth pursuing here. We start with a low confidence A bet, and chase through the end of the series in the event of a loss. I'm on New York here.
I think the Yankees are the better team, despite their injuries, and I think they will be able to work through this series. They aren't playing great baseball, but the White Sox are a poor team and the Yankees have an advantage throughout the rest of this series.
The under looks good too as neither team has much pop in the bats, as long as Kuroda bounds back of course. There's great value in the line for the Yankees, despite the weak signal from the computer indicating it's probably best just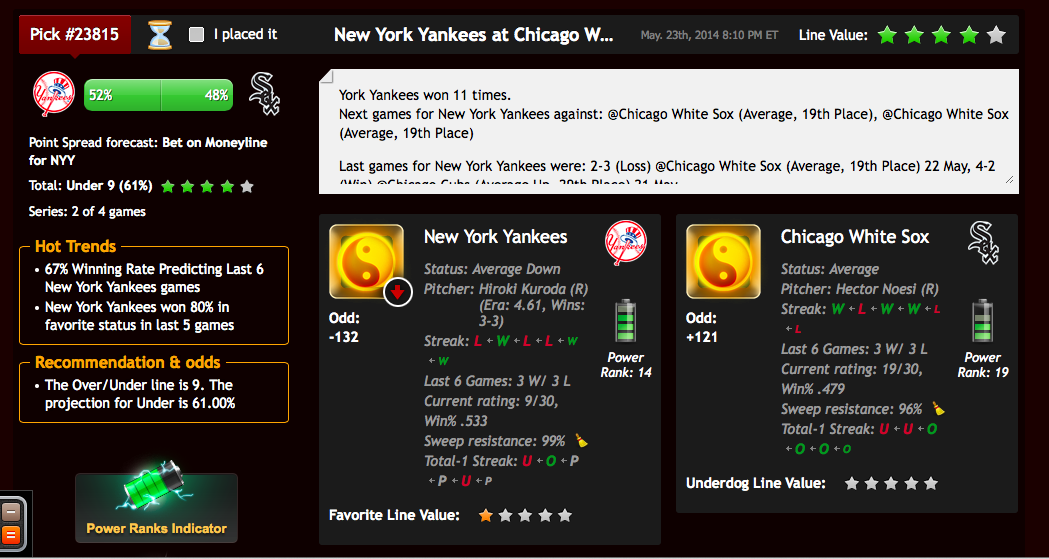 to stay away.
Yankees 5 – White Sox 3 A Bet
========
P.S. Upgrade to Zcode VIP Club and Unlock All Winning Picks. Instant Access.