New MLB POD Contest "The Next Big Win Streak": Happy Train
====VIP Members Edition====
4 BIG CASH PRIZES: For PRO and for Newbies! Everybody is in!
To keep newbies more motivated and not to lose interest after supermen like Andre, Jaka, Murray and Gergely build 20+ winning streaks to leave newbies no chance, we have a new type of prize: Happy Train prize!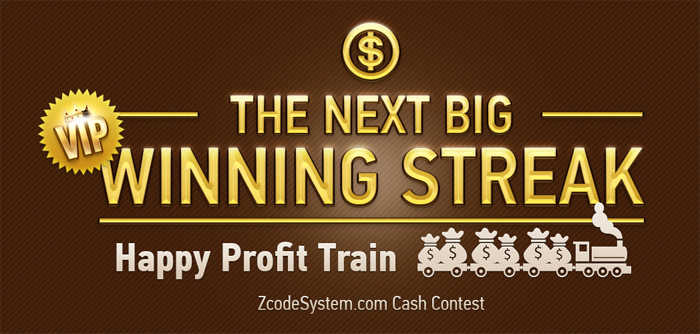 PRO PRIZE : BUILD CLASSIC LONGEST WINNING STREAK
PRIZE:


$500 USD CASH!!! Winner takes it ALL!
Goal: Build the longest profitable winning streak and get maximum profit.
This prize is for PRO supermen who can build long winning streaks. The guy with longest win streak wins! If two guys have same streak then the one with more profit wins!
The result is counted by multiplying winning odds like in open parlay. Min Odd = 1.2 Max odd = 4
For example if you won 3 in a row 1.3, 1.45 and 1.6 we count your
profit as 1.3×1.45×1.6 *100 = $302 profit
NEWBIE PRIZES : BUILD LONGEST HAPPY PROFIT TRAIN



PRIZE:


1St Place : $300 USD CASH!!!
2nd Place : $150 USD CASH!!!
3rd Place : $50 USD CASH!!!
Goal: Build your profit train by connecting winning streaks together! You can lose maximum 1 loss in a row. If you lose 2 in a row, your train is crashed and you have to start all over again! The goal is to build a long profitable train.
Good train looks like this:
WWWW – L – WW – L – WWWW – L – W – L – WWWWWW good train
each wagon profit is counted like open parlay. Then wagons are summarized into profit train total profit!
Bad train example:
WWWW – L – WW – LL – crashed train, start all over!
Rules:
Everyone is in!! Newbies welcome too!! Get involved, learn to be selective and WIN!
Maximum 1 pick per day. Moneyline, Totals, Any Spreads, Point Buying. All
allowed. But Odd must be from 1.2 and higher (from -500 American odds)
Only MLB basketball, no other sports.
Pick must be written clearly and the odd must be posted.
Unclear picks like "LA on the spread" will not be counted.
Proper way: "LA Angels+2.5 at 1.33 odd"
BOOKMAKER must be listed. Picks without listing bookmaker are no longer counted! This will ensure odds are real and easy to follow and check.
Post on this topic only. No posts on the walls counted or in other topics.
Pick must be posted BEFORE the game starts (DUH!!)
Don't worry about premoderation, it does not change the time of your post!
All picks are final! No Amendments or odd change allowed! If you edit your pick it will not be counted.
Results are counted daily by Danilo!
Final day: 8 June 2013!
Prize rules 1 prize per person:
One guy can't receive more than 1 prize. If he wins in several categories, the biggest prize is paid and second prize is paid to the next guy to keep it fair for all and avoid monopoly domination.
Note:
we have similar contest on facebook for non-members with smaller prize
To keep it fair for all, the rule is "not more than 1 prize per person".
If same guy wins both contests, he is awarded with biggest prize and
second next guy gets another prize!
LETS ROCK!
CONTEST IS LIVE!
========
P.S. Upgrade to Zcode VIP Club and Unlock All Winning Picks. Instant Access.