The Bundesliga heads into matchday 27 this coming weekend and Borussia Dortmund once again have the chance to claw back league leaders Bayern Munich. Can they do it on Bundesliga MD27?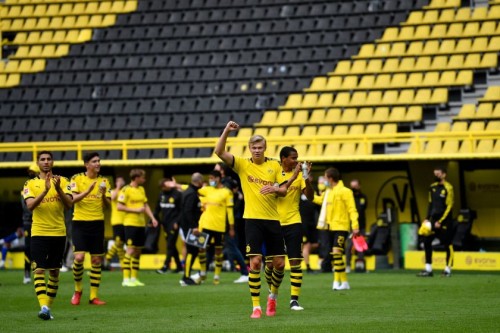 On Bundesliga MD 26, Zcode System accurately selected three matches in our blog (and on our YouTube video). If you put those three matches in your accumulator featuring Borussia Dortmund, Borussia Monchengladbach, and Hertha Berlin, then hopefully you saw a nice return.
Now, with Bundesliga MD27 on tap this weekend, let's get to our three picks this week.
Borussia Monchenglad vs. Bayer Leverkusen
This is just one of the big games this weekend and one that will see a lot of football fans watching it. Borussia Monchengladbach defeated Eintracht Frankfurt 3-1 and moved up to third place over the weekend. Now, they are six points back of Bayern Munich in the race for the league title. A loss and the fight is over. A win and potential Bayern Munich stumble at Frankfurt and the title fight is still on.
Gladbach still must play Bayern Munich this season. Therefore, if they can keep pace, they may be able to beat the league leaders down the line. Problem is, Bayer Leverkusen are in-form and coming off of a 4-1 win against Werder Bremen.

Bayer Leverkusen have lost three straight games against Gladbach. However, they are in incredible form led by Kai Havertz. My heart says Gladbach will get the win, but my head says draw.
Result: Draw
Wolfsburg vs. Borussia Dortmund
Second-place Borussia Dortmund steamrolled over Schalke last weekend 4-0. It was an impressive performance. Now, Dortmund must go to Wolfsburg to play a very good Wolves team that will fancy their chances of an upset. Dortmund mustn't overlook Wolfsburg. They play league leaders Bayern Munich next Tuesday night. If they can win on Saturday, then anything can happen on Tuesday night playing at home against Bayern.
Wolfsburg just eked out a 2-1 win over Augsburg at the weekend thanks to a second-half stoppage-time goal. The Wolves are unbeaten in six straight games, so there is a chance they can take points off of Dortmund. The yellow and black are just 6W-3D-4L on the road this campaign.

Dortmund are unbeaten in nine straight games against the Wolves. They could slip up if they aren't careful. However, Dortmund are the better team (probably the best in the league) and should win away to set up a massive fixture with Bayern on May 26.
Winner: Borussia Dortmund
Bayern Munich vs. Eintracht Frankfurt
Eintracht Frankfurt were awful versus Gladbach last weekend. They gave up a goal in the opening minute and never recovered. This is a team that could be sucked into a relegation fight come the end of the season if they aren't careful.
Bayern won away to Union Berlin on MD26. It wasn't anything special, just a professional victory by the league leaders. Frankfurt did shock Bayern earlier this season with a 5-1 win at home. However, Frankfurt have the league's worst away points total (seven from 36 points possible).

There could be a slip up as this is the type of game Frankfurt could get up for. Bayern have won their last five home matches versus Frankfurt.
Winner: Bayern Munich
Upgrade now and follow the winners!
========
P.S. Upgrade to Zcode VIP Club and Unlock All Winning Picks. Instant Access.