Have you ever found it difficult to pick the winner of a soccer match? Do you find yourself unsure if either team will win because it might end up in a 1-1 draw?
If you answered "Yes" then ZCode offers a great system contained within the " Soccer Buddy" tool called Both Teams to Score (BTTS).
Watch how it works here

Today we are discussing an excellent soccer strategy created by Zcode expect Uncle Tito.
Uncle Tito has explained this stragey in detail with examples on Zcode forum, so if you want to get more details, make sure to visit his topic.
Uncle Tito's BTTS strategy is using Soccer Buddy tool which is located along with all other Zcode tools.
Everyday Soccer Buddy posts between 6-8 games all of which are listed in columns by (1) time and date, (2) league and teams playing, (3) predicted score, (4) confidence in prediction showing percentage of chances of success and final score. This last one is where you will find the reference to the 80 percent number.
As each game ends you will see the final score posted in the furthest right hand column. If the game is a successful as predicted by Soccer Buddy the "Confidence in Prediction" portion of the column conveniently becomes highlighted in green. Eventually as the games click off and become finished only the remaining games for that day are shown.
However, if ever during the day one wants to see a game previously played that day, including the results, you will find at the top of the Soccer Buddy Page an oval style box called "Display all Games". Once this is clicked on all the games chosen by Soccer Buddy for that day will be displayed again both those that win and those that did not. This time when they are displayed they are shown with the final correct score displayed as well as the percentage of success portion of the box highlighted in green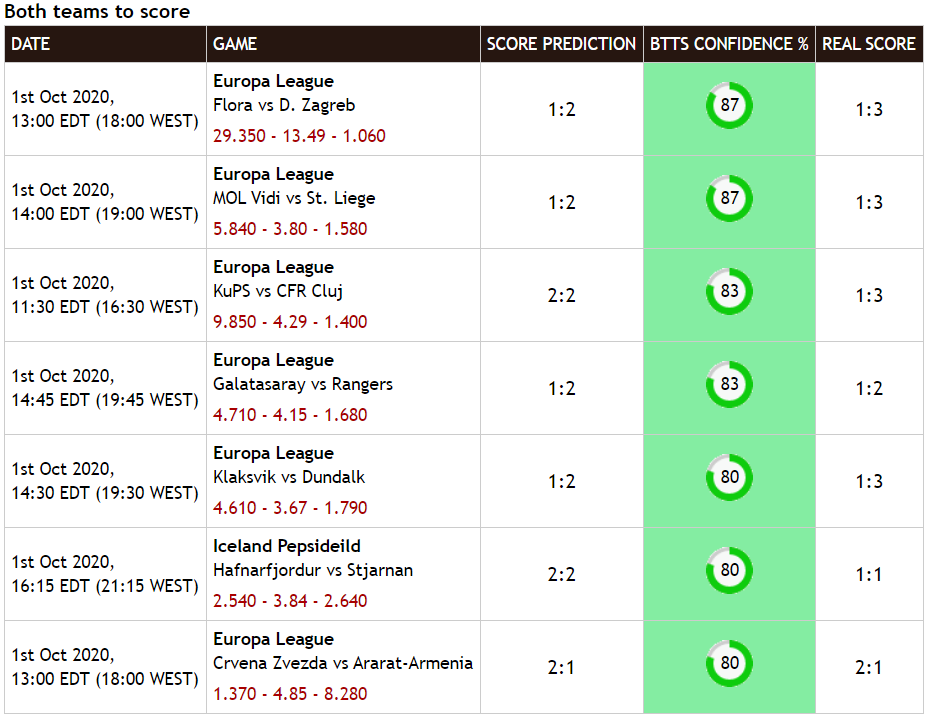 So here is how Uncle Tito's BTTS system works
As the term suggests, BTTS allows you to 'hedge' your bet slightly by betting that, not only will the favourite score, but the underdog will also score during the game.
Here is a quick overview of the methods and benefits of placing a BTTS investment:
* You bet pregame on both teams to score during the match.
* BTTS Soccer Buddy is flexible easy to use bet.
* Generally good odds are available with decent profit potential (see, Zcode forum topics on which are the best Books to use)
* Works for live betting as well. In fact the odds get better with time. However, when one goal is scored before BTTS , the odds make the match unplayable because the odds make it cost prohibitive.
* Great betting option if both teams are equally strong.
* An excellent betting option if both teams are fairly evenly matched.
* No longer have to be concerned with who wins the match outright, just as long as both teams score at least one goal at any time during the match.
We usually like to choose  "Confidence in Prediction" of over 80 %
The money management we use is a simple ABC progression. Once we get a win, we stop for the day! Very simple
We usually pick the matches are 1/2 hour or 1 hour apart. If there are two games at the same time I always take the one with the highest percentage of confidence in the prediction.
Additional BTTS system was offered by Zcode Expert Dlw on the forum.
He is looking for target odds of  1.90 (-110) . Here is how he plays it.
1) If pregame odds are 1.9 or greater I make the trade. If not I go the next step.
2) I wait until the game goes live, if the odds get to 1.9 or greater I make the trade.
3) If one team scores before the odds get to 1.9 then I watch the odds for the team that
hasn't scored to go over .5 goal. If I can get 1.9 I make that trade. I'm not afraid to
go well into the game if I have to to get the 1.9 odds for that team to score.
You can bet it flat or try  Scotty's grid system which is very successful. You can learn more about it on forum.
The bottom line, there are many ways to take advantage of and profit from the Soccer Buddy BTTS
ratings. The more systems and the more ways to make money is good for all of us! Enjoy and see you inside Zcode VIP club!
Check Soccer Buddy Tool here https://zcodesystem.com/soccerbuddy/#ScoredTable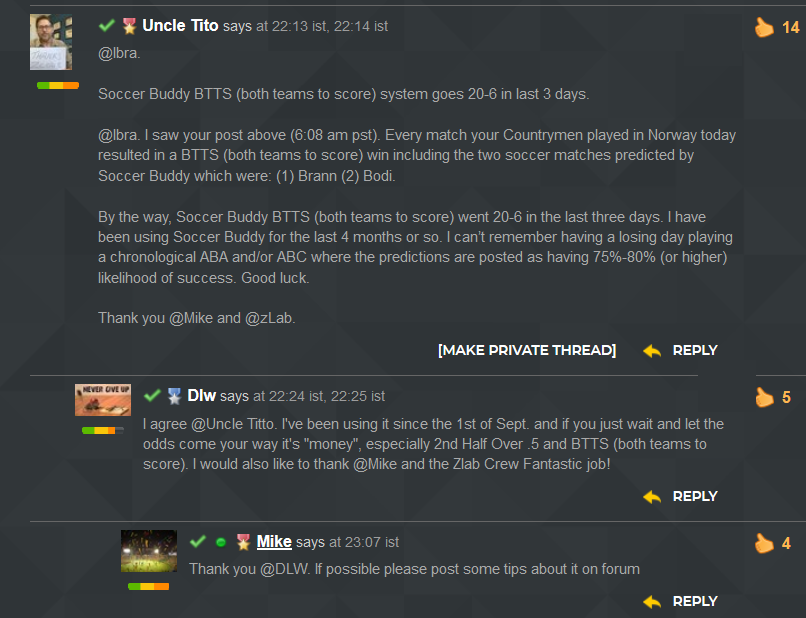 ========
P.S. Upgrade to Zcode VIP Club and Unlock All Winning Picks. Instant Access.