ZCODE CASH CHAMPIONSHIP – MLB 2014 ROUND 6 RECAP
What a great round for many top players including leader! P Andrew made difficult task and remains at the top! There is also very interesting points classification after 2 stages. Contest is going very well and I am sure you have a lot of fun with it! To the rank I added new columns called BEST STREAK AND BEST ACTIVE STREAKS where you can check how long winning streak has every player. It is just for fun. At the end of the graphic you can also find information about profits and points gained in every stage. Let's make now traditional recap after 6th round!
P Andrew(andrew.carey69) – Andrew plays sophisticated tactic… he picks opposite bet to his most logical selection… I am sure it is a great simplification, Andrew simply knows his stuff!
Fateful(fateful-m) +6 UP – Fateful started another winning streak, added a bomb to his bet in round 6 and BANG… 6 places up, just behind Andrew's back!
Nicholas(christlives97) - Nicholas provided another great bet and closed stage 2 with 6th best profit result. Nicholas is very stable contender he scored in both stages and the only problem for him may be that he already used all bombs and nuke. Anyway dozens of contenders would like to have such a beautiful bankroll as Nicholas has!
Dundee(dave_loader) +44 – oh yeah! Be warned! Dundee is pissed! ;). 44 positions up after great nuke @2.85 and Dundee is back in the game! If only Dundee find momentum and extend his winning streaks…
POINTS CLASSIFICATION
I think it's very interesting part of the contest. A lot of contenders had similar results. You can find here very good players who simply started without luck, but after 3 rounds they are back on the right track and gained a lot of points at stage 2 in points contest. Check ranks below to check scores. I would like to mention few of many very good players:
Karel(debaras666) – best contender during rounds 4-6. Karel made huge profit 929$ using one bomb and nuke. This way he easily covered loses in first rounds and now Karel is one of the best contenders in every rank!
Billyboy(billy.willis1) – Billy is a pattern of perfect contender! He is huge fighter and he never gives up! For such a great approach he is awarded with 90 points for rounds 4-6 and he is now 5th contender in points classification! Well done mate! Keep pushing, you are also back in the profit!
Belly(yundragon) – Belly is at the moment the leader in points classification! He/she was 3rd at stage 1, 22nd at stage 2 so gained 90 + 23 points. 103 is biggest score at the moment! Well done!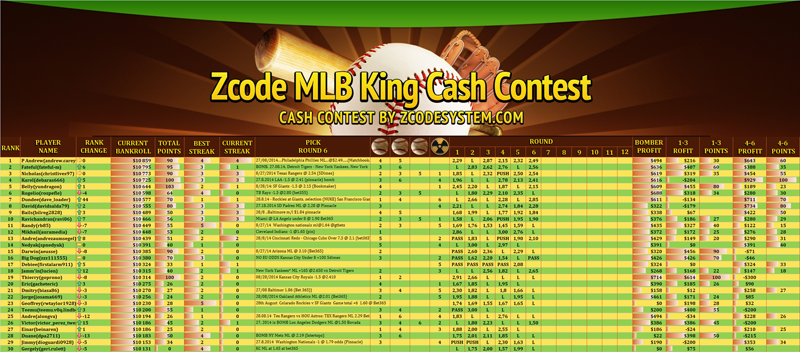 ZCODE CASH CHAMPIONSHIP – MLB 2014 is LIVE! here!
Read the rules and join! Everybody is IN!
Become the next MLB Legend!
And Win CASH and Surprising prizes

!

========

P.S. Upgrade to Zcode VIP Club and Unlock All Winning Picks. Instant Access.