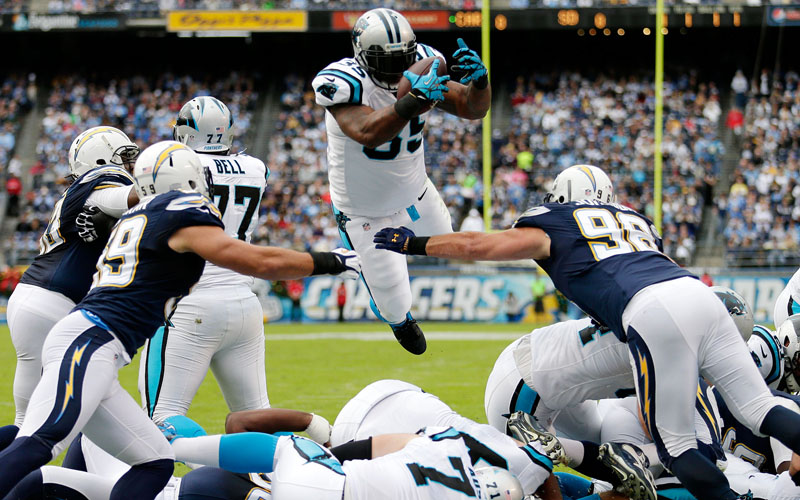 ROUND 1 RECAP
Hello contenders! I am impressed by your really great response! You placed 127  PODs, that is historical record! Hot start for the contest! That was not easy NFL week for bettors, with ups and downs, comebacks and collapses in many matches. Statistically biggest profit in the contest gave Chargers, Seahawks and Panthers. What a game it was in Caroline, from hell to the heaven! On the opposite side are Saints and Bengals who took away profit from contenders. Overall break even round which is quite good in tough week, but like always we have really great starters. In top 10 bankrolls we have 3 nukers, 6 bombers and 1 high odds winner. Let's see who is one step closer to get new iPhone 6! Look at the round 1 heroes!
Doctor(jcashanthony)   $10 270  – I noticed earlier on the zcode wall, he is very god NFL capper and he confirmed in round 1 with fantastic nuke on Panthers. Too early to talk about it, but Doctor may be very dangerous contender considering his NFL knowledge which he actually has.
Jake(kraski44)   $10 220 – Tennis Master wants to have some fun with NFL and he has great start in the contest. Very good bomb on underdog and Texans delivered 220$ of profit!
Marcel(marcel.kunka)  $10 218 – Hard to say something about Marcel, quite new zcoder or maybe not so active, but now I will keep my eye on Marcel for sure! Easy win for him in round 1 with Chargers and 3rd result for now!
Domen(kocevar.d)         $10 213 – Domen is also quite new for me, but now I will watch him to tell you more about him after round 2! Known or unknown yet for me it doesn't mean anything, only results counts and Domen flies high after brave nuke on Eagles at 1.71
Nedyak(spnedyak)        $10 197 – what can I say here!? Different day, but same story! Nedyak, one of the winners in previous contests, like in every single contest starts strong. I can tell you a story… Last contest Nedyak finished in 4th position, just behind podium and prizes pool. He was so pissed that later he doubled the volume of his biceps in the gym. Strong man and even stronger contender!
Danilo(danilo)   $10 190 – wooohooo! So great to see last contest Champ in such a great shape! Slovenian Dominator changed tactic and started strong this time from the beginning! We will see how big profit he can make in 12 rounds!
Fateful(fateful-m)          $10 185 – Fateful is biggest odds winner in the first round. Probably it was not easy time for him during Panthers game, but in the end they covered -6.5 for him and Fateful cashed big!
Next round starts in Friday and I will announce it earlier. There will be tons of games with NHL on board also! Don't worry if you had no luck in the first round. You can easily try to recover losses with bombs and nuke or ask for bankroll reset, but remember that you can ask for bankroll reset only once in the contest!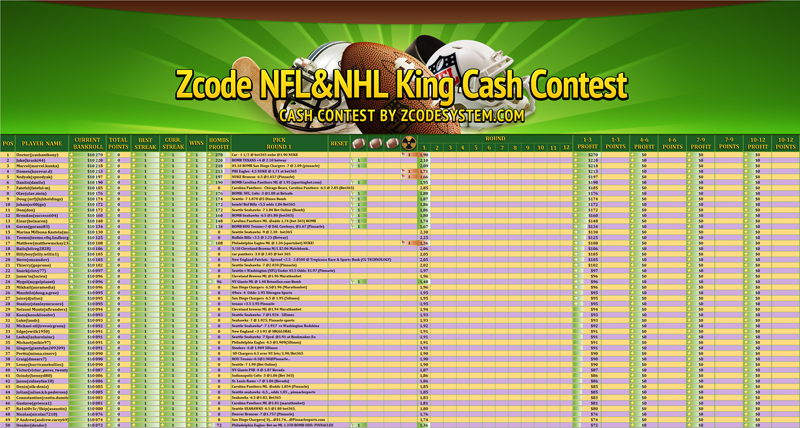 ZCODE CASH CHAMPIONSHIP – NFL&NHL 2014 is LIVE! here!
Read the rules and join! Everybody is IN!
Become the next Zcode Legend!
And Win CASH and Surprising prizes

!

========

P.S. Upgrade to Zcode VIP Club and Unlock All Winning Picks. Instant Access.