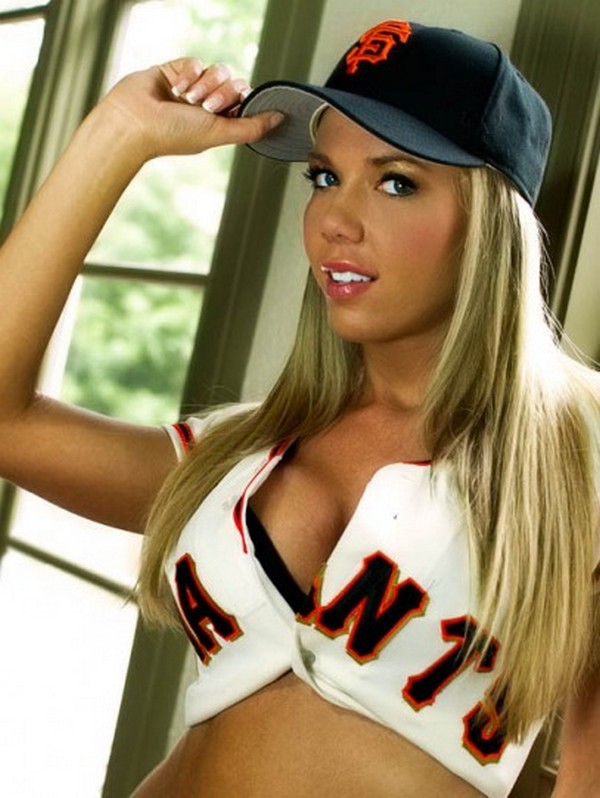 ZCODE CASH CHAMPIONSHIP – MLB 2014 ROUND 1 RECAP
All right! Round 1 is behind us and you rocks! I am really happy how many contenders started and I really hope some new guys will join in next rounds! With bombs and nukes you can easily recover round 1! This time most profitable pick in the contest were Kansas City Royals, Reds and Dodgers in Sunday! They paid really good! On the opposite pole we had Tigers who blew solid margin! Well, they are rather a kittens at the moment…
Let's leave MLB teams and check our contenders performance! I am really happy that I can see many "old faces" from previous contests including our MLB champ Murray who found time for contest despite his personal duties. Respect! Of course Murray started with solid victory. Rockies and D'backs couldn't screw his UNDER play even in additional innings! It's also very, very cool that I can see many new contenders and many of them started with very good picks! For example among top 10 players after round we can find well known names like Mihkail, Pras Jake, Eric and new names (at least for me :)) like Belly, Thierry, Billy, Peter H., Nichols, Peite. This is awesome! So let's see who get biggest profit during first round…
Belly(yundragon) $10 435 - King of the hunting title for round 1 goes to Belly(yundragon)! Awesome nuke missile @2.45 gave massive profit 435$. Well done! Best possible opening!
Thierry(goprono) $10 382 – Thierry took highest odds among TOP 10 players, combined it with explosives materials and… BANG! Reds delivered big for him in sweep situation and gave massive profit in the contest!
Mikhail(auramedia) $10 372 – oh yeah! No need to introduce Mikhail (this name sounds great in every language lol!). Mikhail also trusted in Royals and they paid for him! 3rd place at the moment!
Pras(pippoboyz) $10 340 – Pras! Since I manage contest Pras is always in! I love my faithful fans lol ;)! This time he picked Braves with spread and BANG! Full package delivered!
Billy(jbutcherine) $10 306 – 5th place at the moment belongs to Billy! You can even win with Astros when you know when to pull the trigger! Billy is the last man in round 1 who broke 300$ of profit! Congratulations!
Guys from places 6th to 10th made profit:
Jake(kraski44) $10 272
Peter Huang(hpat.apk) $10 258
Nicholas(christlives97) $10 255
Peite(hpat.apk) $10 248
Eric(gacheteric) $10 200

Congratulations! Congratulations also to all other contenders, keep pushing! Keep pushing! If someone wants to start you can also make it starting round 2!
I would like also to say thank you to all people who help me on forum serving tips for all new contenders. I can't be always on time so thank you Geoffrey aka traveler, Valdemar aka bearded man and all others who helps on contest forum! Wish best of luck for all of you!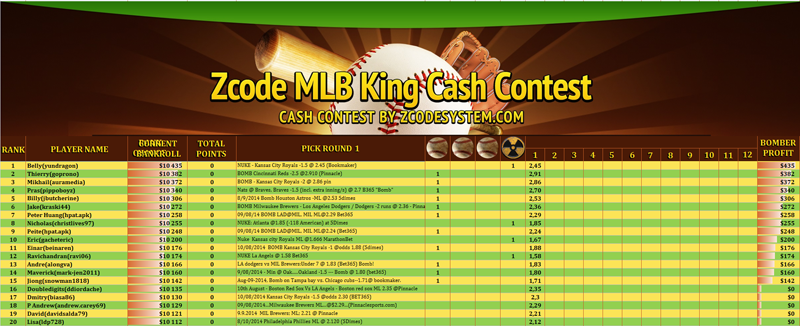 ZCODE CASH CHAMPIONSHIP – MLB 2014 is LIVE! here!
Read the rules and join! Everybody is IN!
Become the next MLB Legend!
And Win CASH and Surprising prizes

!

========

P.S. Upgrade to Zcode VIP Club and Unlock All Winning Picks. Instant Access.