"5 Days – 5 Bets" Contest. Regular season 1 Results.
IMPORTANT: First 16 guys who qualified for playoffs please make sure to send me email today to vipbetatest@xcodesystem.com to confirm your commitment to playoff so I can inform you of the playoff rules! Playoffs will start soon in an easy 2-day rounds where the best 16 guys compete against each other for the final GRAND prize $300! The start will be announced soon!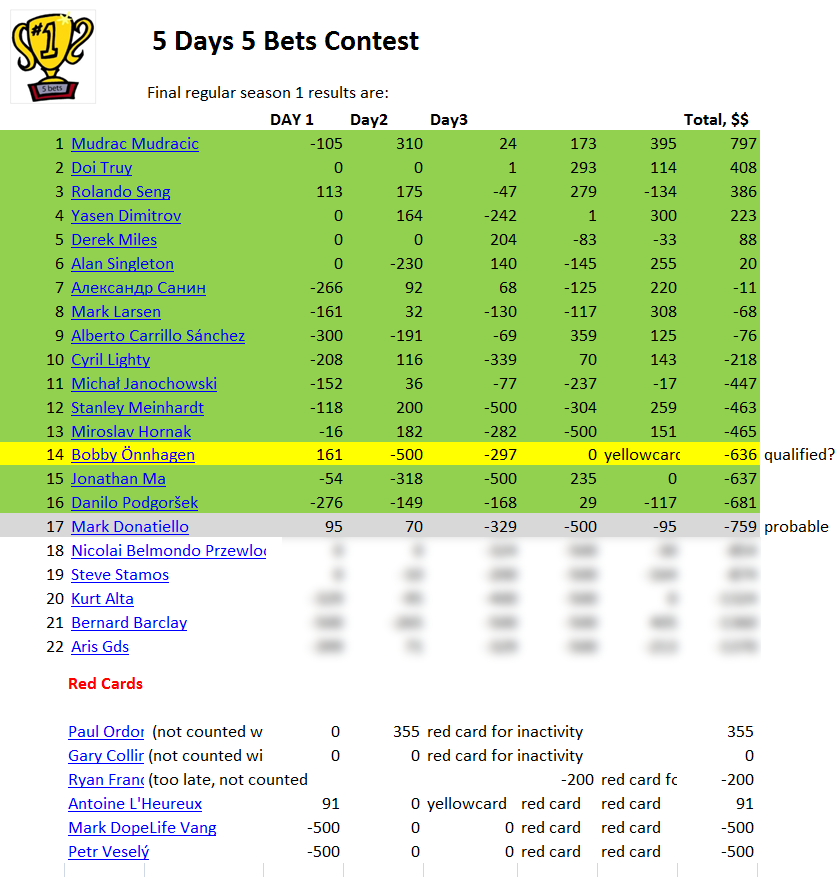 Wow the final day was truly exciting. Lets see the final standings!!
Most guys finished 5 day in a good profit.
Strong push of the day:
1. Mudrac Mudracic was truly outstanding whole season.  He went with amazing 5-0 record in the final day. What I love about Mudrac is that he was not gambling or taking those crazy odds to hit a jackpot but used his knowledge of the games to grow his bankroll slowly and steadily despite of the crazy February. I am sure everyone agrees he deserved a 1st place in the regular season and a $100 prize.
1. Rolando with his oscillator got 4 games out of his 7 bets right including a controversial Florida and Calgary win with great odds but got really unlucky by manually selecting wrong 5 bets so we counted him only at 2-3 and a small loss pushed him to the 3rd place.
2. Very strong performance of Mark Larsen again.
3. The BIGGEST JUMP of the day was made by Bernard who recorded an outstanding +405 $ day record profit for the day and lost his last place.
4. Very frustrating week for Mark Donatiello who once again got unlucky with Devils. He is currently holding 17th place but can still qualify for playoff if some of the higher guys do not show a commitment.
5. Michał Janochowski still struggles but barely made the playoffs. Hope this will boost his confidence to turn things around.
6. Alexander Sanin and Yasen Dimitrov recorded a nice final push
7. Doi Truy – good job. Despite of the slow late start with $1 on 3rd day you have showed a solid performance and well deserved 2nd place
8. Danilo – needs to trust his Tired theory more and get rid of useless side bets. Barely made playoffs. Remember you dont have to make all 5 bets, you can have UP TO 5 bets.
9. Aris Gds got the last place. Don't give up, hope you had an important experience in analysing games and next time in March you show better results!
10. Nicolai Belmondo Przewlocka good last day but that was too late. Next time in March start from the beginning!
Other guys – great job and I will see top 16 of you in Playoffs!!!
Remember, this contest was a "test run" to see the flaws of the rules and possible problems, reception and to hear peoples' feadback. We'll repeat the contest BIG TIME in early March with high prizes, Pokals and all the stuff!! If you did not win, remember to get back in March!
Playoffs will start in a few days after I receive all commitment emails.
Playoff format is very easy.  Each round lasts 2 days. You can inform me and miss one or 2 days no problem, we all have offline life but then the 3rd day is added so each participant has the results of 2 days not one. If you miss 3 days in a row the victory will be awarded to your opponent automatically who proceeds to the next round to defined the ULTIMATE CHAMPION and get a GRAND PRIZE $300!!
For the followers – More great picks, more interesting write ups and more exciting battles to come!!! Stay tunned.
p.s. if you are in 16 top make sure to vipbetatest@xcodesystem.com to confirm your commitment for the playoff.
========
P.S. Upgrade to Zcode VIP Club and Unlock All Winning Picks. Instant Access.