Today I am very excited to show you a sneak peek of the new amazing features that are coming to Zcode this year.
AS you know 2019 is a special year for Zcode. It's a year when we are finally going to introduce major improvements, it's a year when we could finally get our old experts team back together again and it's a really special time for our zcode family of sports investors. You will see several major upgrades and improvements for the first time in 8 years!
The time has changed so have the tools and it's time to get zcode to the next level. Let me quickly cover several major improvements that we are going to introduce this year.
Watch the sneak peek video:

First of all — The new Wall 2.0. The expert wall is where all the magic happens. It's a daily collection of wisdom, tips and winning picks of our experts. The wall updates in real time and lets the experts share their plays and the followers ask their questions. The new Wall 2.0 will have a new tree structure, similar to the comments you have on facebook which will allow someone to ask the question to the specific post without creating a new comment. This will make the wall more structured and easier to follow. For example someone posted a question you can quickly give a response instead of creating a whole new topic on the wall.
Another great feature will be support of the images and emjoies in the posts. This will allow experts to share betting slips or other helpful images like screenshot of the live stats or scores.
It goes without saying that we will also introduce new modern design, cleaner layout and mobile friendly interface.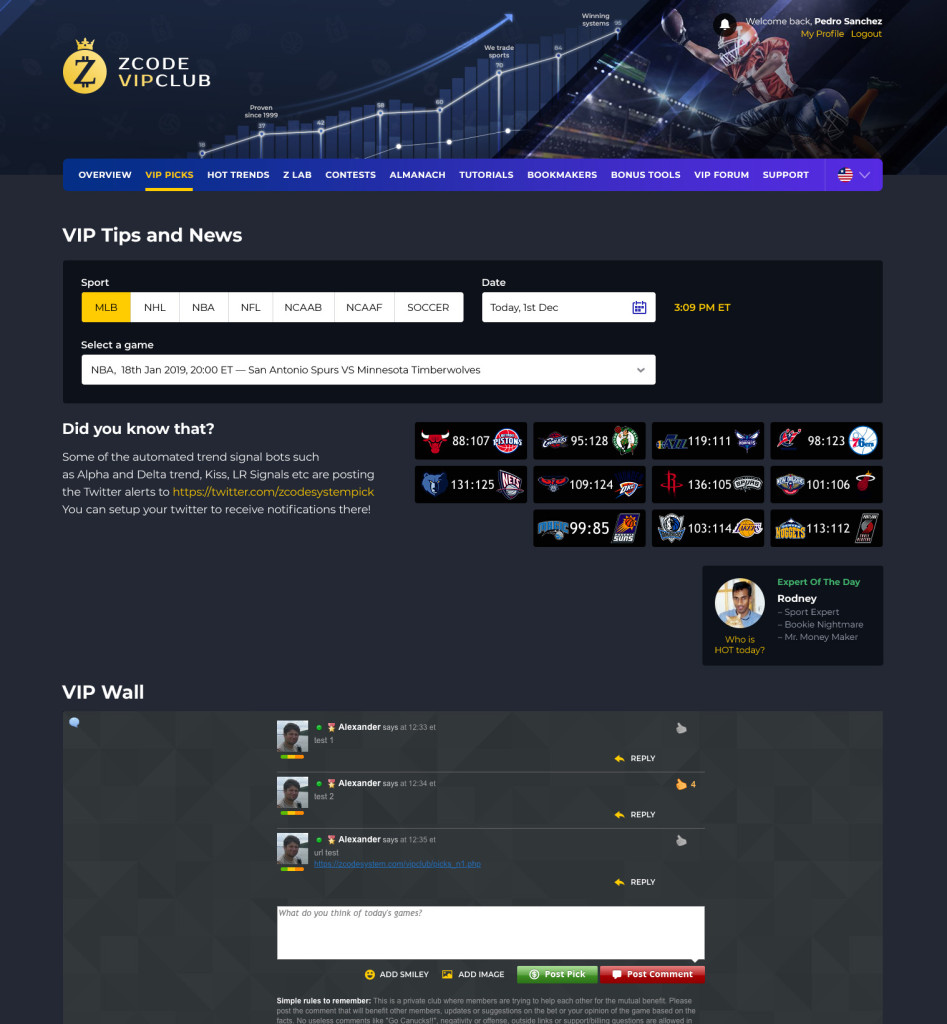 Second cool feature – New notification system.  With so much information going on in Zcode I know sometimes it is getting a bit overwhelming. To solve this and make it easier to follow the experts and automated systems we are introducing the all-new Notification system. This will work similar to the one you got used on facebook.
It will finally help you organize Zcode experience into a easy-to-access window of notifications. For example
Someone you follow posted a forum picks?
Someone replied to your thread?
Someone asked you a question or mentioned you on the wall?
An expert you follow posted a pick?
An automated system you follow posted a new selection?
Finally everything will be in one place, updated in real time at your finger tips!
I am very excited about this feature!
3. The next awesome feature is daily automated cash contests with quick payouts. This will be a quick "First to 10 wins" or shorter kind of contest where both newbies and experts can test their skill and luck predicting the outcome of the game and get quick payouts!
4. Next – we are planning major Improvements from Zlab and Sports trader. as you know Zlab is always working behind the scenes to bring up new features, automated systems and new tools. We cant reveal too much now but we have several cool surprises prepared for you this year so stay tuned!
It also goes without saying that we also updated our GUIDE, video tutorials, brought back our Podcast and Zcode Youtube weekly show with Drew!
That's all for today guys and if you are still not a vip member and missing out on all the action, make sure to join us for successful 2019 profit run!
See you inside!
P.S. Still not a member and missing all the action? Join us here and unlock all picks!
========
P.S. Upgrade to Zcode VIP Club and Unlock All Winning Picks. Instant Access.