NHL Picks: Pittsburgh Penguins at New York Rangers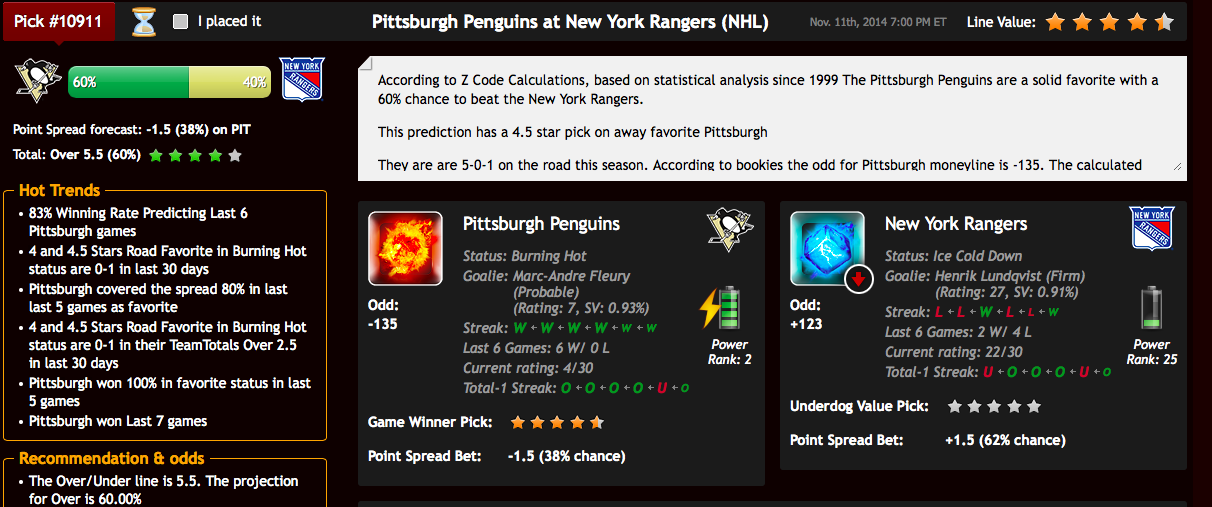 My hesitation here stems from betting on the road team in MSG in a divisional rivalry, but all other parameters fit my system and there remains some value in the line. As such, even though this is the New York Rangers at the Garden, and even though I sometimes hate the Pittsburgh Penguins, we move forward.
That said, -135 here looks beautiful. The New York Rangers have been sloppy and are dealing quite poorly with a few injuries. The goaltending has been suspect and they've lost four of five. Meanwhile, the Pittsburgh Penguins have been on fire, extending an impressive win streak to this game in MSG. They're scoring, and most importantly, they're playing solid defense when they need to.
Momentum is with the better team, and there's value in the line. I think there's a big enough gap between these teams to jump in despite being on the road in a divisional rivalry game, but we won't go crazy. We'll bet only enough to take advantage of the line on a great day with a lot of options for good hockey. Our forum has five plays today, and this is just one of them.
Z-Code agrees, giving 60% odds to the road team to win this and some value in the line. For me, with a 60/40 split, this line has value up until -150 where a 60/40 percentage breaks even. If you agree with computer assessment, this game has some serious value right now at it's opening line of -130.
Penguins 4 – Rangers 2
========
P.S. Upgrade to Zcode VIP Club and Unlock All Winning Picks. Instant Access.