NHL Picks: Contest Game – New York Islanders at Florida Panthers
I angered some people with my "two bad teams" comment in the picks game, and it looks like the Islanders responded as well. They've won four in a row, but they're on the road against a streaky Panthers team.
Florida has a goalie who can win games for them in Tim Thomas. He's a tough guy to win against, and the Panthers have been steady lately.
The Islanders are on fire. Offensively, everything is clicking. They can still be a liability defensively, but the way they're scoring it doesn't seem to matter.
The question here is, do you trust Tim Thomas to finally quiet the streaking Isles or do you trust the New York offense to keep scoring?
I'm on the Panthers, Z-Code is on the Isles, and we suggest not betting this one but participating in our contest instead!  Simply comment on our Facebook post at the top of the page to participate. https://www.facebook.com/ZcodeNHLpicks
Panthers 3 – Islanders 2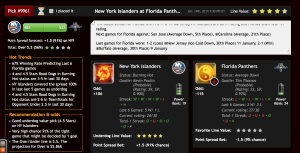 ========
P.S. Upgrade to Zcode VIP Club and Unlock All Winning Picks. Instant Access.