Thursday Night Football NFL Picks: Washington Redskins at New York Giants (-3)
This is a tricky matchup between two evenly matched divisional rival on a short week. The Washington Redskins are coming off an exciting win against a far superior St. Louis Rams team. The New York Giants blew another late lead with bad time management and poor quarterback decision-making. Granted, this loss was not as bad as deliberately trying to not score a game-winning touchdown, but it was nearly just as bad a disaster and the Giants are reeling.
Seriously, I cannot understand how Eli Manning can tell his running back not to score because of time management and then throw the ball away and stop the clock for Tony Romo and the Dallas Cowboys to secure a comeback win. I am amazed at how stupid and NFL players can be.
But Thursday Night Football begins a new week, and I expect desperation from the 0-2 New York Giants at home. This game presents exciting matchups ands it should be a battle. Here's why I like the Giants:
1. Washington Redskins passing game: With bad quarterback play, their top wide receiver injured, and the New York Giants secondary playing so well, I do not see how the Washington Redskins will move the ball through the air. This one dimensional attack will lead to the giants stacking the box and shutting down the impressive running game that the Redskins have relied on so far.… And numbers will allow the Giants to control this game.
2. the New York Giants standard of play: the Giants have a looked strong this year, they just haven't found ways to win. At home, on a short week, they will finish off and inferior Washington Redskins team.
3. Short week: Thursday night football always favors the home team. The shorter week of preparation allows for crowd noise and hometown familiarities to impact the game in a big way. They are divisional rivals, so this may not be as important this week, but typically this edge cannot be ignored.
So – a one-dimensional attack that won't move the ball through the air, strong giants play so far, and home field edge means my money is on the New York Giants tonight. The computer gives a slight edge to NY as well (51% spread, 56% ml) so everything aligns for a small wager on primetime.
Giants 24 – Redskins 20 (-3, -2.5, ml, teaser +3.5, teaser is the biggest play of the night)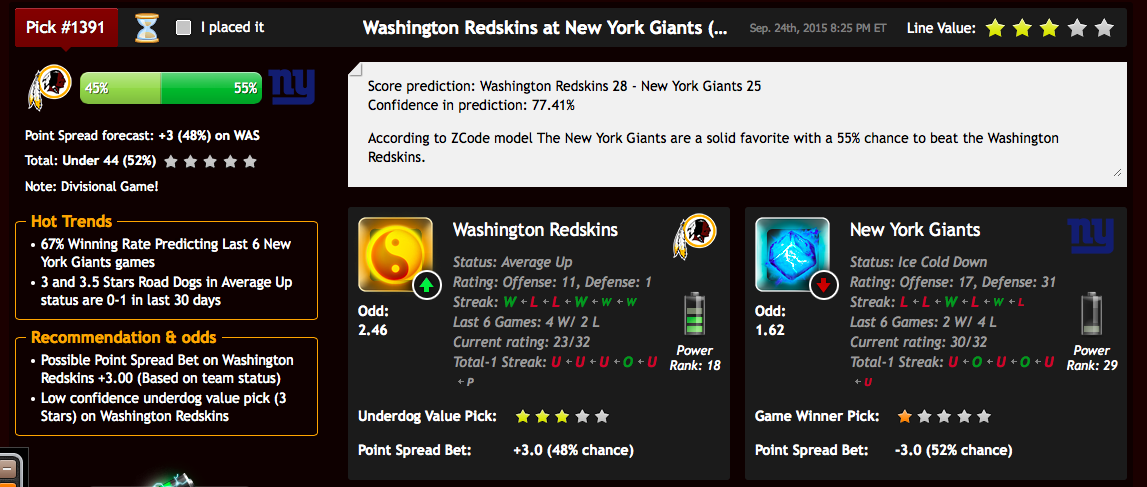 ========
P.S. Upgrade to Zcode VIP Club and Unlock All Winning Picks. Instant Access.