MLB Picks: San Francisco Giants at Los Angeles Dodgers
We were right to stay away from this series, as this game represents a very dangerous sweep situation where the Dodgers have been heavily favored in each game and looked to be the better team all along. These intense divisional rivalries sometimes yield results like that, and sweeps are somewhat common with teams this familiar with so much hate involved. This should be an exciting one.
The way I see it, the Dodgers have "C bet" statistical edges here at home in one of the best rivalries in sports. While we were not on a chase progression, I did not see the Dodgers getting swept. I also think they have an advantage if this game is viewed in isolation. They're the better lineup, they have a better pitcher on the mound, and they're home. At -150 this seems like good value to me, especially with "sweep resistance" involved.
The computer disagrees – strongly. While it's young for the computer algorithm and there is a lack of data, this is a strong signal on the Giants. They've been beating up on the Dodgers, and I understand where they're coming from. I respectfully disagree and issue a low-confidence challenge to the almighty computer.
Dodgers 5 – Giants 2
DONT FORGET TO PARTICIPATE IN OUR PICKS COMPETITION, PINNED TO THE TOP OF OUR MLB FACEBOOK PAGE!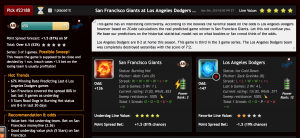 ========
P.S. Upgrade to Zcode VIP Club and Unlock All Winning Picks. Instant Access.