The Major League Baseball season was cut down from 162 games to 60 games for the coronavirus influenced shortened season. MLB's opening night is July 23 with a pair of exciting games.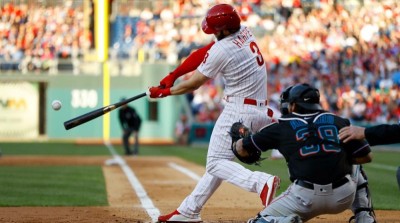 The first two days of the MLB season will see the following games as reported by CBS Sports:
Thursday, July 23 (Opening Night)
New York Yankees at Washington Nationals, 7 p.m.
San Francisco Giants at Los Angeles Dodgers, 10 p.m.
Friday, July 24 (Opening Day)
Atlanta Braves at New York Mets, 4:10 p.m.
Detroit Tigers at Cincinnati Reds, 6:10 p.m.
Toronto Blue Jays at Tampa Bay Rays, 6:40 p.m.
Miami Marlins at Philadelphia Phillies, 7:05 p.m.
Milwaukee Brewers at Chicago Cubs, 7:10 p.m.
Kansas City Royals at Cleveland Indians, 7:10 p.m.
Baltimore Orioles at Boston Red Sox, 7:30 p.m.
Colorado Rockies at Texas Rangers, 8:05 p.m.
Minnesota Twins at Chicago White Sox, 8:10 p.m.
Pittsburgh Pirates at St. Louis Cardinals, 8:15 p.m.
Seattle Mariners at Houston Astros, 9:10 p.m.
Arizona Diamondbacks at San Diego Padres, 9:10 p.m.
San Francisco Giants at Los Angeles Dodgers, 9:40 p.m.
Los Angeles Angels at Oakland Athletics, 10:10 p.m.
Each team will play a regional schedule with games taking place against divisional rivals in their respective league and teams in the same division from the opposite league.
Strength of schedule
The 2020 season will be unique as teams will be in a sprint rather than a marathon to reach the postseason. Every game will matter as teams fight for the postseason. Betting on baseball will be heavily influenced by the strength and weakness of schedules teams have over the course of the shortened campaign.
The strength of schedule for these teams are based on the win percentages of last season.
Easiest strength of schedule
Twins: .449
Indians: .451
Cardinals: .475
White Sox: .477
Dodgers: .482
Rays: .482
Hardest strength of schedule
Marlins: .534
Angels: .534
Orioles: .532
Mariners: .531
Rockies: .523
Rangers: .518
Problems with MLB 2020 season
The MLB 2020 season has already had issues since preseason camps were reopened. Coronavirus testing has not gone well and teams have had to cancel practice sessions. Testing delays and MLB not getting samples tested quickly enough have led teams to be upset with the league. Friction has been created between the clubs and MLB, which could result in further issues.
Among the bad PR MLB has already experienced, a number of players have tested positive for coronavirus including Atlanta's Freddie Freeman, Colorado's Charlie Blackmon, Kansas City's Salvador Perez, San Diego's Tommy Pham, Texas' Joey Gallo and the Yankees' D.J. LeMahieu.
In addition, a growing group of players have opted out of playing the two-month season. Nick Markakis, former Cy Young Award winners David Price of the Los Angeles Dodgers and Felix Hernandez of the Braves, plus veterans Ian Desmond of the Colorado Rockies, Mike Leake of the Arizona Diamondbacks and Ryan Zimmerman of the Nationals all chose not to play the 60-game season.
Betting on baseball
The MLB 2020 season is one of the most unique of all-time. Even when the games start, MLB may not resemble the league we are familiar with. Paying attention to trends and focusing on strength of schedule could be key areas in the fight for the postseason.
What else is HOT?
Elite soccer is LIVE
Due to the transfer of all major football leagues and competitions, we have elite football for every day of the week! The Premier League, Serie A and La Liga will continue throughout July with games for a week and every weekend.
NBA starting soon
July is a big month for both NBA fans and players! Everyone has been preparing for the first round of the NBA games for more than 4 months, and the games will take place on July 30. The rest of the season will take place at Disney World in Orlando, and with the odds available now, betting markets are busier than ever.
Ready to unlock ALL sports and all picks? Click here
========
P.S. Upgrade to Zcode VIP Club and Unlock All Winning Picks. Instant Access.