Thanksgiving weekend in the United States will see a massive boxing match between two legends of the squared circle. "Iron" Mike Tyson will step into the ring for the first time in 15 years when he fights in an exhibition match versus Roy Jones Jr.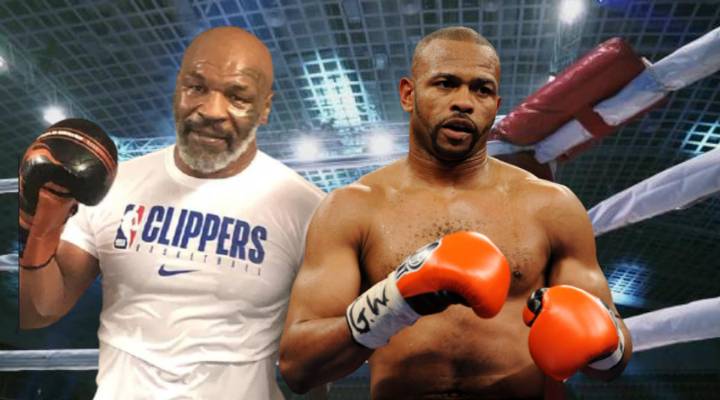 The fight was put together over the summer when sports were on hiatus due to COVID-19. What seems far away is now about to happen as Tyson and Jones will touch gloves on Saturday, November 28.
Tyson vs. Jones Jr.: What is happening? 
Tyson and Jones Jr. will meet in Los Angeles at the Staples Center in an eight-round exhibition fight. Following on from the financial success of Conor McGregor and Floyd Mayweather, it is actually curious that no other fighters have booked a high-profile fight such as this. The financial windfall both fighters could see is significant. In addition, the high-profile prizefight should see a large amount of money wagered by punters.
The fight was supposed to happen in September but was delayed. Now, with more time to build it up, fans and bettors should flock to their TV or computer screens to watch.
Tyson vs. Jones Jr.: The history
If you grew up in the late 1980s and early 1990s, Tyson was the baddest man on the planet. Today, Tyson is more of a fun figure thanks to his roles in films and on TV. During his heyday, Tyson was the youngest heavyweight champion in boxing history.
When he lost to Buster Douglas in Tokyo in February 1990, Tyson suffered his first defeat in 38 fights. From there, Tyson spiralled out of control both personally and professionally. Tyson would later go to prison and make headlines for biting off a piece of Evander Holyfield's ear.
According to Ring Magazine, Jones was the best boxer of the 1990s. While Tyson's last pro fight was in 2005, a bout in which he quit mid-fight versus Kevin McBride, Jones fought up until 2018.
Jones had a combination of power and speed, which helped him capture the light heavyweight and cruiserweight titles. His speed will keep Tyson at bay on Saturday night. If Tyson can catch Jones — and that is a big 'if' — he will hammer the smaller figher. Jones' speed will be key.
Tyson vs. Jones Jr.: Sportsbook odds
Tyson goes into the exhibition fight at odds of -220 to win against Jones. The lighter weight fighter is +155 to defeat Tyson and claim a massive victory. An eight-round draw between Tyson and Jones is at odds of +900.
Tyson vs. Jones Jr.: What is the full fight card?
If you are not sure whether to spend $50 on the pay-per-view broadcast of the fight in the United States, then perhaps the undercard will help you make a decision. There will be a full fight card on the night and not just the exhibition bout between Tyson and Jones.
Main card
Mike Tyson (50-6) vs. Roy Jones Jr. (66-9)
Jake Paul (1-0) vs. Nate Robinson (0-0)
Badou Jack (22-3-3) vs. Blake McKernan (13-0)
Hasim Rahman Jr (9-0) vs. Rashad Coulter (1-0)
Undercard
Jamaine Ortiz (13-0) vs. Nahir Albright (8-1) — WBC USNBC Silver Lightweight title
Irvin Gonzalez Jr. (14-2) vs. Edward Vasquez (8-0) — WBC USNBC Featherweight title
Juiseppe Cusumano (18-3) vs. Nick Jones (9-3) — WBC USNBC Heavyweight title
Tyson vs. Jones Jr: Prediction
Tyson's training videos show him as a powerful puncher still capable of knocking out opponents. The big question is whether or not he has the stamina and speed to beat the smaller Jones. Tyson is three years older than Jones and last fought competitively 15 years ago. There is a big difference in fighting in the gym to train and stepping between the ropes for a proper fight.
Although this is called an 'exhibition', both fighters will want to have a good showing. Who knows, the winner may try a proper comeback.
So, who wins? I believe we will see a draw between these men as it goes the distance. If Tyson can catch Jones, he will pound him, but I don't think "Iron" Mike can keep up with the quicker, lighter, younger fighter.
Result: Draw
Upgrade now to VIP club to follow all the picks
========
P.S. Upgrade to Zcode VIP Club and Unlock All Winning Picks. Instant Access.