While the sports landscape has been on pause around the globe, for the most part, one sport has soldiered on nearly unscathed. That sport is horse racing and in select countries — including the United States — it has continued without fans present due to the COVID-19 pandemic.
Horse racing in the United Kingdom and Ireland have been put on hold but could be back soon. France will restart their horse racing season in May after announcing last week that things will slowly get back to normal in the sport.
Hopes of Ireland restarting horse racing have increased with the news that it would take just 10 days to start-up races once more following the COVID-19 ban. Horse racing has continued in Australia as well with high-quality races run daily. Even the legendary Royal Ascot could run as planned in June in England.
While there has been a strong push for sports bettors to focus on esports in the wake of major events being canceled, horse racing is one sport overlooked by punters. Horse racing is one of the oldest sports in the world to wager on and can be one of the more lucrative sports to bet on.
If you are not familiar with horse race betting, it can be quite difficult to wrap your head around it (that is why the Zcode System community is here). There are a variety of systems that can be used to bet on horse racing including the Ten Year Trends method and Odds Profiling. In addition, reading a horse's form can be difficult if you don't know what to look out for.
So, let us touch on a few things here.
Understanding form
According to the Zcode Horse Racing Bible (an ebook that can help you make smart racing picks), a race card will show a "horse's last six results (if applicable) reading from left to right, with the right-hand side outlining the most recent. One thing that savvy punters have learned is that the bare figures don't come close to revealing the full story."
A variety of factors goes into a horse's form including weight, race class, the going (conditions), and jockey. According to experts, a so-so jockey cannot make a big difference to a good horse, but a great jockey can make a good horse a great one. So, be aware of who the jockeys and trainers are for each horse.
Just remember that before you bet on a horse, that form can be read in a variety of ways. If you want a horse to look good and justify your bet, like any sport, you can find stats (form) to back your bet.
According to the Horse Racing Bible, "Evaluating form is the interpretation of a horse's past results and data, and translating that interpretation into an understanding of the quality of the horse."
After researching the positive and negative features of form for every horse in a race, you can compare their form. "Directly comparing the form of one horse with another horse that it has raced against is, of course, the easiest comparison you can get." One of the keys to remember, according to the Horse Racing Bible is: "if a horse has beaten another horse then it has run faster. So, if the race is being run under similar conditions, it is likely that the same result will occur."
Of course, that will not happen every time, but it is likely to occur. Now, why don't you apply some of this knowledge to some horse races?
Where are horse races still occurring?
Horse races are still taking place in the US. Racecourses in Florida are running and bets can be made on the ponies running at Gulfstream and Tampa Bay Downs. Unbelievably, with sports betting limited right now, the horse races at Nebraska's tiny Fonner Park have become bet on and watched by people all over the world.
Races in Australia and New Zealand are still being run as well. So, be sure to find the races being run on your favorite online sportsbook, research the horses' form and have a punt on the exciting action at the racecourses.
Upgrade now and follow the winners!
Here is the chart of the Stamos best races posted on zcode forum: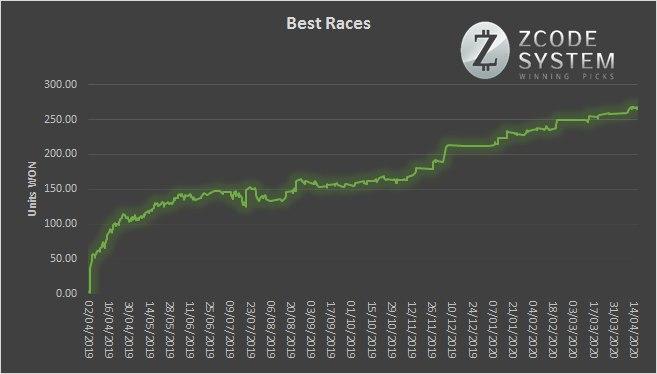 Learn more about Anthony in our podcast here
P.S. This is just the beginning. Don't miss all the action, get on board today!
Join ZcodeSystem.com now and get started with Horse Racing picks! Click here to upgrade to VIP
You can follow Anthony, STAMOS, Brendan, Dan horse racing picks and other experts inside VIP club!
========
P.S. Upgrade to Zcode VIP Club and Unlock All Winning Picks. Instant Access.