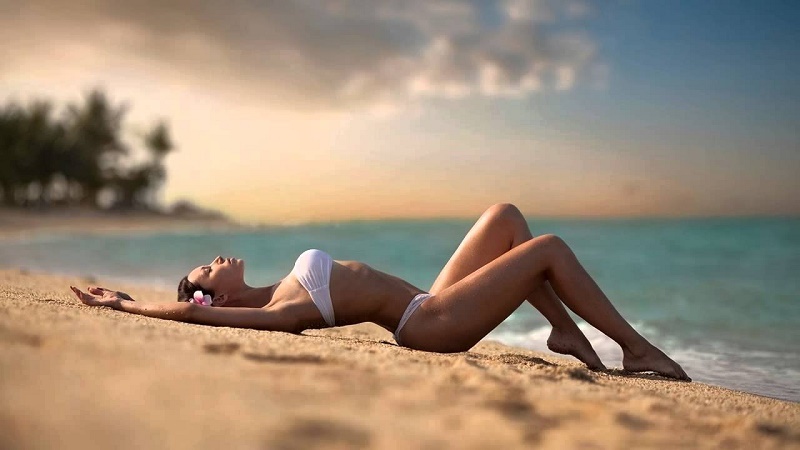 Starring:
Jan(jan.maack),
Robert(robert_tucci),
Kyle(kylenaga),
Kent(kent_landin)

It was really amazing round with brilliant Friday which brought tons of profit for contenders. Almost everyone finished in profit on Friday! Current leader, Jan(jan.maack) keeps rocking too and extended his winning streak to 7 which gives him fantastic profit in second stage and significant advantage over other players at the moment. However MVP title in round 5 goes to Robert(robert_tucci) who made biggest profit in this round equal 672$. It's worth to note also Kyle(kylenaga) and Kent(kent_landin) who won 3 picks in round 5 and chasing best winning streaks in the contest. In a front of us is crucial round 6 which ends second stage and new bonuses will be delivered for best 32 profitable players in rounds 4-6. Keep pushing!
TOP 10 PLAYERS IN THE ROUND 5
1 Robert(robert_tucci) $672 – another fantastic round for Robert! It's easy to see a pattern in Robert's performance and he was obviously due for a big winning round in round 5. Hope he will break pattern in round 6 and will get second winning round in a row. Fantastic results Robert, congratulations!
2 Jan(jan.maack) $510 - UNSTOPABLE! Jan started contest with a loss, but then he rebuilt very fast and now he is at 7 wins streak! Jan leads also in second stage with $940, but Danilo(danilo), Kyle(kylenaga) and few other folks are still chasing current stage 2 leader!
3 Kyle(kylenaga) $468 – Kyle joined to the contest in round 4 and started just like Jan with a loss, but after that he notices only winning picks. This way Kyle became one of the best players in the contest with almost $800 of profit in just 2 rounds! Fantastic job Kyle! Congrats!
4 Jimmy(dioguardi0928) $432 – Jimmy is back on track and hopefully he will form long winning streak this time. Round 6 is crucial for Jimmy, with good profit he may qualify into top 32 best players in stage two and get second bonus in the contest. Keep pushing Jimmy!
5 Gergely(geri.rulett) $400 – Gergely continues his explosive tactic and finally got a big win and he has similar situation to Jimmy's. Round 6 is must win for Gergs to get another bonus and to improve his situation in the rank. Good luck buddy!
6 Kent(kent_landin) $374
7 Angelo(hondabmw2001) $273
8 Danilo(danilo) $263
9 Tan(tanc89) $261
10 Randy(rb85) $252
TOP 10 PLAYERS IN THE MAIN CONTEST AFTER ROUND 5
1 Jan(jan.maack) 0 $11 742 – UNSTOPABLE! Jan feels European Championships like nobody else and riding it hard! Three fantastic bets in round 5 give another $510 to the bankroll and Jan is very close to break magical $12 000 bankroll. It may happen easily in round 6! Congratulations Jan! Great results! I can't wait your next soccer selections.
2 Tan(tanc89) +2 $11 184 – Tan balances on the line second round in a row, but he is always on the right side of the barricade and finishes rounds in profit. This time after push Tan got big, 3 units win and get Michal's place in the rank. Congratulations!

3 Edis(edis.sejfula) 0 $11 131 – Edis missed blasting round just by a hair's breadth! First fantastic win @ 2.48, but then second pick ate part of this profit. Oh, same scenario happened to Edis in round 4. Pity! Edis just needs a little bit longer winning streaks to make profits devastating for other players! Keep pushing Edis!
4 Michal(michal) -2 $11 122 – no luck for me this time, there was no real reason to switch into soccer and I paid for that, then went too greedy in recovery mode on MLB and finished with a push and whole round overall with small loss. Anyway I am still aiming for a bonus in stage 2! Watch out!
5 Robert(robert_tucci) +16 $11 035 – oh yes! MVP in round 5 is back among top players. Another perfect round for Robert makes him number 1 in round 5, number 8 in stage 2 and number 5 in the main rank! Brilliant results and fantastic profits. Congratulations!
6 Anssi(anssi.t.toivonen) -1 $10 961
7 Danilo(danilo) +8 $10 815
8 Kyle(kylenaga) +15 $10 788
9 Randy(rb85) +8 $10 766
10 Rider(mbtrilla) -2 $10 724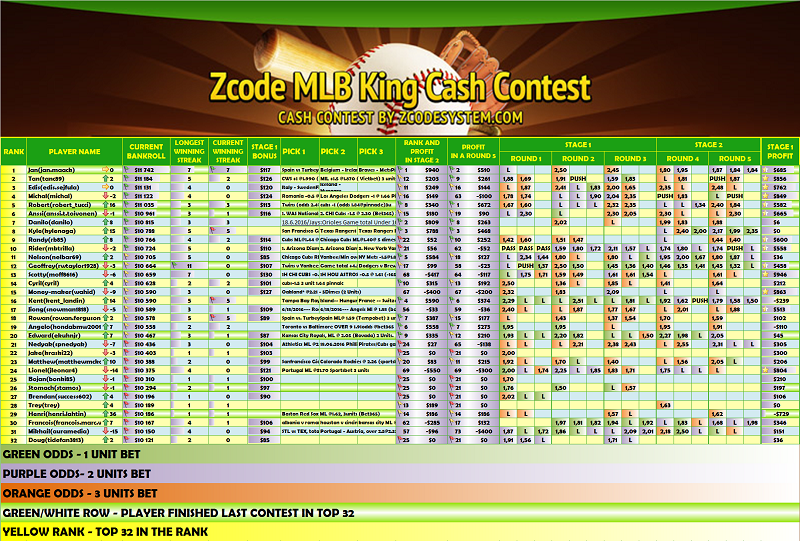 Prizes
King Platinum Prize – 1st place
$350 USD + Legendary Zcode T-shirt
King Gold Prize – 2nd place
$200 USD + Legendary Zcode T-shirt
King Silver Prize – 3rd place
$100 USD + Legendary Zcode T-shirt
Special Prize – Best Bankroll Booster 1st place
$150 USD + Legendary Zcode T-shirt
Special Prize – Longest winning streak 1st place
$150 USD + Legendary Zcode T-shirt
CASH CHAMPIONSHIP – MLB & SOCCER KING 2016 is LIVE! here!
Read the rules and join! Everybody is IN!
Become the next Zcode Legend!
And Win CASH prizes and T-shirts

!

========

P.S. Upgrade to Zcode VIP Club and Unlock All Winning Picks. Instant Access.