NCAA Football Championship Game Predictions: Alabama vs Clemson
I hate Alabama and after a hate-filled wager in the Sugar Bowl against Oklahoma two years ago proved to be one of my sharpest ML wins ever, why not keep it going? I'm on Clemson tonight to win the NCAA College Football Championship, or at least cover the touchdown.
It takes a special kind of boring for an entire state to identify with their college this much, let alone a so-called city. "Roll Tide" has become acatch-all phrase for everything in Alabama, probably because these hillbilly bastards can barely spell their own names. How's work on your dad's farm? Roll Tide. That new flavor of SKOAL is fantastic. Roll Tide. What's 27 + 9? Roll Tide.
I think it's neat that Alabama has been able to build a college football juggernaut, but honestly I'm also getting kind of tired of it. Ever since the Tide beat LSU for a championship after losing "the game of the century" during the regular season before the NCAA football playoffs were a thing, I've quietly thought Bama didn't deserve any of this.
Clemson has flown quietly under the radar en route to an undefeated season and the top seed. They can put up points in bunches, and they have absolutely nothing to lose here. They beat up on Oklahoma and proved what they're capable of. If they can stop the run and turn this into a shootout, despite the talent advantage in red, I think the Tigers can steal one.
Alabama is basically a professional football team. Other than quarterback, for whatever reason, there are pro prospects at just about every position year in and year out. Obviously, I do not think it's sound policy to bet against Alabama every week. This is a low confidence wager, but with strong computer support in the big game, I'm on Clemson +7 with a small ML bet.
Clemson 31 – Alabama 28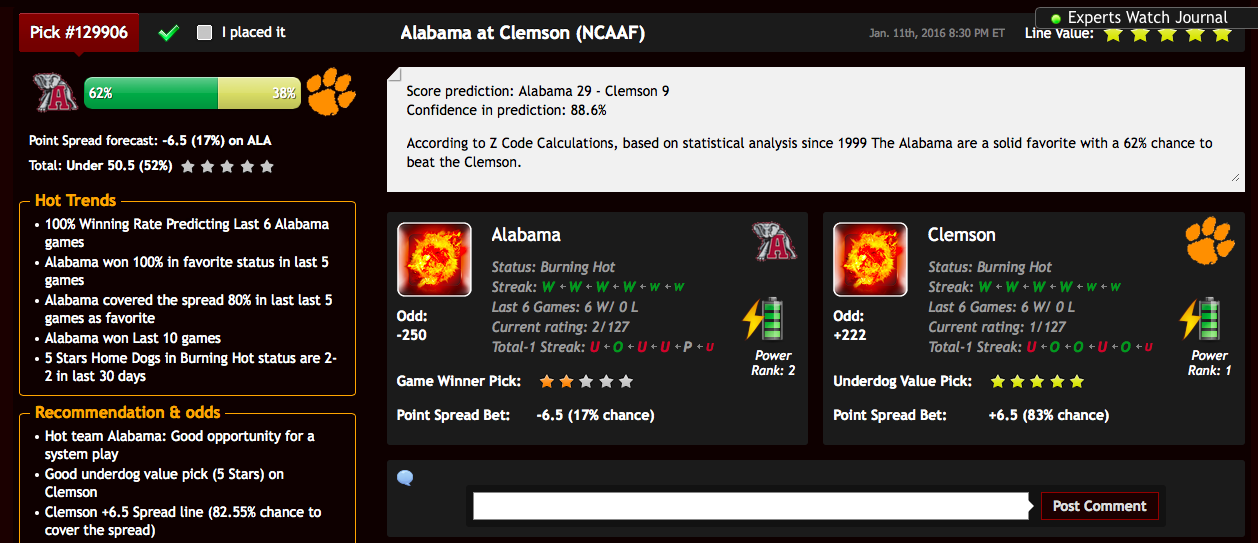 ========
P.S. Upgrade to Zcode VIP Club and Unlock All Winning Picks. Instant Access.