The NFL 2020 season kicks off on September 11th as the reigning Super Bowl champions, the Kansas City Chiefs play the Houston Texans. The new season is going to be like one never seen before due to the COVID-19 pandemic, which means the Super Bowl 2021 is likely to be very different as well.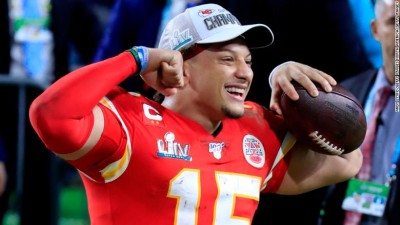 NFL training camps opened this week and teams are now preparing for the long, hard 16-game campaign. The Kansas Chiefs head into the new season with the top odds to win Super Bowl 2021, according to leading sportsbooks.
The Chiefs defeated the San Francisco 49ers in last season's showpiece game, 31-20. It capped off an incredible season as quarterback Patrick Mahomes laid down a marker as the best signal-caller in the NFL right now. The Chiefs could be in store for a similar period of dominance the New England Patriots enjoyed under the leadership of Tom Brady and Bill Belichick. Of course, it is too early to say the Chiefs are the new Pats, but if they can repeat their success from last year, then perhaps we can.
In July, the Chiefs tied Mahomes down to the largest contract in NFL history. The deal is a 10-year, $503 million contract. It isn't just the largest NFL contract ever, but the biggest in all of sports. Mahomes' contract will keep him in Kansas City until he is 34-years-old and his prime years will be spent as a Chief.
Will the NFL 2020 season even happen?
As you already know, the NFL preseason has been canceled this season due to the COVID-19 pandemic. There is fear that the NFL 2020 season could be canceled as well. Cleveland Browns wide receiver Odell Beckham Jr. has stated that the season shouldn't be played. Beckham has claimed that NFL team owners don't see us as humans". Even with just a few weeks until the first snap, things seem to be up in the air.
Some players have already opted out of the upcoming NFL season. ESPN outlined some of the men that have already chosen to sit out the campaign. More could opt out of the season as well.
According to the Sporting News, there has been movement on fans attending games live in-stadium. Not all teams will have the same protocols. For example, the Arizona Cardinals will play behind closed doors for their first two home games of the season. In comparison, the Dallas Cowboys plan to host "some" fans for home games.
So, can any NFL team defeat the Chiefs and win Super Bowl 2021? Here is a look at the odds provided by leading sportsbook Bet365.
NFL Super Bowl 2021 odds: (odds as of August 29, 2020)
KC Chiefs +600
BAL Ravens +600
SF 49s +800
NO Saints +1100
TB Buccaneers +1400
NE Patriots +1600
DAL Cowboys +1600
IND Colts +2000
SEA Seahawks +2000
PHI Eagles +2000
BUF Bills +2000
MIN Vikings +2200
PIT Steelers +2500
GB Packers +2500
TEN Titans +2500
CLE Browns +3000
LA Chargers +3000
LA Rams +3000
ATL Falcons +3300
ARZ Cardinals +3300
CHI Bears +3500
DEN Broncos +4000
HOU Texans +4500
LV Raiders +5500
DET Lions +6000
NY Jets +7000
MIA Dolphins +7500
CAR Panthers +8000
NY Giants +8000
CIN Bengals +12500
WAS Football Team +12500
JAX Jaguars +15000
 Upgrade now to VIP club and unlock all picks and predictions
========
P.S. Upgrade to Zcode VIP Club and Unlock All Winning Picks. Instant Access.