ROUND 4 RECAP – Valdemar(nats79selin) takes biggest profit!
We've just hit probably the best round in this competition so far! This round results show also how dynamic this contest is and there is no such thing like safe advantage over other players. It seemed that Gustavo(gvies***) was a superior, but it took just one round to change leadership in the contest. Fantastic round noted Nabil(101152***) and immediately sat in the driver seat. What a move!
However number one contender title in round 4 belongs to Valdemar(nats79selin) who cashed $609 by providing two amazing picks with decent odds. Congratulations!
I am very happy also that a few contenders used bankroll reset opportunity and they are already in the profit in the rank. I am sure it will be only climbing up since now!
Please check below details about results and be ready for round 5 which starts on Friday! Good luck!
TOP 10 PLAYERS IN THE ROUND 4
1 Valdemar(nats79selin) $609 – fantastic round for our old good fellow Valdemar(nats79selin). He finally broke the pattern and noted perfect round with $609 of profit. Immediately it puts Valdemar(nats79selin) among top 5 contenders with fantastic bankroll $10 773. Congratulations!
2 Ari(aad***) $585 – Ari puts contest things back on the right track as well. First stage was not very good for him, but currently he is one of the hottest contenders with excellent four picks winning streak! Second result in round 4 gives for now 2 position in the rank with bankroll $10 585. Well done!
3 Jiong(snowman1818) $579 – Jiong has behind him more or less the same scenario like guys above. Mediocre opening in the contest, but very good finish in stage 1 and extraordinary opening in stage 2 give 6th position in the rank with $10 687 in the bank and 3 winning picks streak which is still alive! Keep it going Jiong(snowman1818)!
4 Nabil(101152***) $540
5 Razputin(glennrc***) $394
6 Vincent(olanrewajuv) $345
7 Jenda(ja.n***) $314
8 Mark(mns6***) $204
9 Jimmy(dioguardi0928) $178
10 Rogelio(rmons***) $172
TOP 10 PLAYERS IN THE RANK
1 Nabil(101152***) +3 $11 296 - Nabil(101152***) overtook the leadership in the contest after fantastic round 4. Just keep in mind buddy that number of picks and number of units in a single round are limited. However you are squeezing this contest like a lemon so far and $11 296 in the bank is extremely impressive result. Congratulations! Impressive!
2 Gustavo(gvies***) -1 $11 090 – it was first negative round in this contest for Gustavo(gvies***), but to be honest there is nothing to be really worried about. Damage is not big and I am sure Gustavo(gvies***) will continue his efficient approach in next rounds and will put things back on the right track very soon. Good luck buddy!
3 Jenda(ja.n***) +5 $10 863 - Jenda(ja.n***) is a little bit silent contest hero. Just check his statisticss and you will realize how extremely effective he is. To prove that just let me mention that Jenda(ja.n***) is currently on incredible 6 picks winning streak which is by far the best result in this rank. Of course all other parameters are aligned so Jenda(ja.n***) can boast with $10 863 in the bank which is 3rd result at the moment. Congratulations!
4 Rogelio(rmons***) +2 $10 832
5 Valdemar(nats79selin) +8 $10 773
6 Jiong(snowman1818) +11 $10 687
7 Robert(robert_tucci) -5 $10 599
8 Ari(aad***) +28 $10 585
9 Peter(petek***) -2 $10 442
10 Razputin(glennrc***) +45 $10 394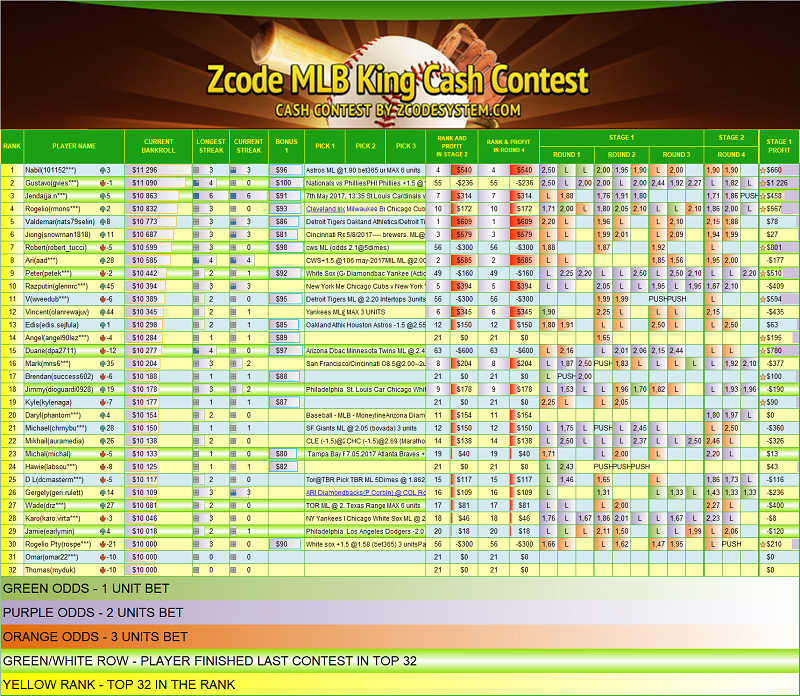 Platinum Prize – 1st place
$500 USD

Gold Prize – 2nd place
$200 USD

Silver Prize – 3rd place
$150 USD

Special Prize – Longest winning streak 1st place
$100 USD

Special Prize – Best ROI% 1st place 
$100 USD

Special Prize – Best player in rounds 1-3
$50 USD

Special Prize – Best player in rounds 4-6
$50 USD
ZCODE CASH CHAMPIONSHIP – MLB KING 2017 LIVE! here!
Read the rules and join! Everybody is IN!
Become the next Zcode Legend!
And Win CASH prizes!
========

P.S. Upgrade to Zcode VIP Club and Unlock All Winning Picks. Instant Access.