The English Premier League rolls into week 3 of the season. Manchester City, Liverpool, and Chelsea have already laid down markers for the year. Meanwhile, Manchester United and Arsenal have shown frailties. Can Manchester United rebound from last weekend's loss? It will have to do it against red-hot Tottenham Hotspur.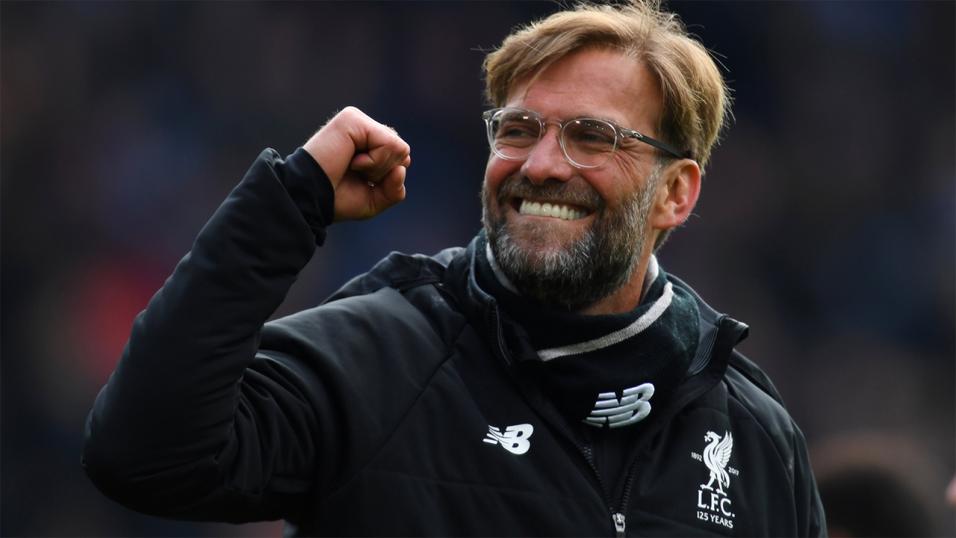 EPL Soccer predictions: Saturday, August 25
Wolverhampton Wanderers vs. Manchester City
Manchester City has thrashed Arsenal and Huddersfield so far this season. Pep Guardiola's team has a +7 goal difference and striker Sergio Aguero has scored three goals. Manchester City will win and Aguero will score.
Result: Manchester City win
Arsenal vs. West Ham
Neither team has won this term, but Arsenal has shown far more positives than West Ham. The Gunners will get off the mark with a with, but it won't be as big as the ZCode System's scores predictor suggests.
Result: Arsenal win
Bournemouth vs. Everton
Bournemouth has been a real surprise package this season. The Cherries have won twice beating a bad Cardiff and poor West Ham. Don't get too excited, because Bournemouth will regress to its level. Everton looks fantastic. The team's acquisition of Richarlison was spot on and Everton should continue to pick up points. While ZCode System's scores predictor says Bournemouth will win, it isn't going to happen.
Result: Everton win
Southampton vs. Leicester
Southampton has gained one point from six this term. The team doesn't look great in front of goal as just one has found the back of the net so far. Leicester has a more attractive team and the chemistry is better. This fixture will end in a draw between two sides unable to score rather than the predicted Southampton win.
Result: Draw
Huddersfield vs. Cardiff City
Huddersfield isn't as bad as its -8 goal difference suggests. The Terriers had to play Chelsea and Manchester City in back-to-back weeks. Huddersfield was never going to win those games. Now, the Terriers have a shot to get three points. The last time Cardiff played away, the team was soundly beaten 2-0. Another loss will go Cardiff's way on Saturday.
Result: Huddersfield win
Liverpool vs. Brighton
Liverpool thrashed West Ham in week 1. The Reds then eked out a 2-0 win over Crystal Palace last weekend. Brighton shouldn't pose much of a threat at Anfield and Liverpool will move to nine points from nine.
Result: Liverpool win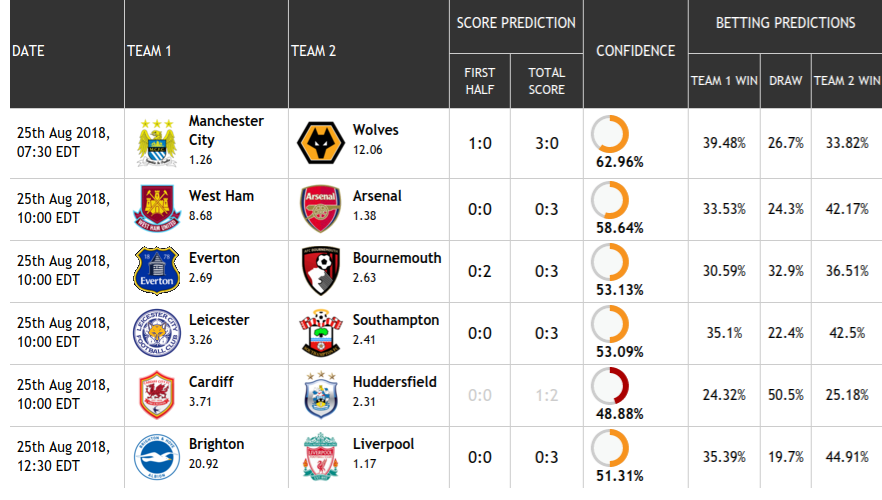 EPL soccer predictions: Sunday, August 26
Watford vs. Crystal Palace
Watford has surprised many with its early season play. The Hornets have won six points from six, tallied a +4 goal difference, and the defense has allowed just one goal. Crystal Palace is very difficult to beat. A draw is highly possible in this fixture.
Result: Draw
Fulham vs. Burnley
Fulham had such a great attack last term in the EFL Championship, but so far, it has failed to get going. The team's summer transfers have done little. The good news is Burnley has its eyes on the Europa League qualifying stages. The Clarets won't offer much against Fulham and the West London team will get its first win of the season.
Result: Fulham
EPL soccer predictions: Monday, August 27
Manchester United vs. Tottenham Hotspur
No one knows which team will show up for Manchester United. Will it be the side that won sloppily on opening day or will it be the team that lost embarrassingly to Brighton last weekend. Tottenham, on the other hand, has looked great and could pull off the win. Tottenham doesn't win at Old Trafford, however. So, expect Manchester United to find a slim win in this one.
Result: Manchester United win

========
P.S. Upgrade to Zcode VIP Club and Unlock All Winning Picks. Instant Access.