Betting NFL Week 17: Zcode's Picks for the Last Week of Regular Season Football
Here are Z-Code's picks for betting the last games of the regular NFL season for 2016. Good Luck!
Chiefs at Chargers
The Chiefs are currently 11-4 and have clenched a playoff spot despite being one game behind the Raiders for the division. However, should they win and Oakland lose, they would steal the division and home field advantage. With Oakland in a tough-ish matchup against Denver, this is a hugely important game to KC. The Chargers have won only one of their last 6 incuding granting a win to the previously winless Cleveland Browns last weekend. They have spiralled out of control over the last 6-7 weeks and we don't expect any sort of last stand for pride here against a tough KC team. Expect the Chiefs to dominate throughout and give the Chargers excellent draft position next year.
chiefs -3
Saints at Falcons
The Falcons have dominated the NFC South losing only one divisional game all season. They sealed control of the division and a playoff spot with their win last week. However, this matchup against the Saints is still very important. A win here will guarantee them the second seed for the NFC and grant them a first round bye as well as home field advantage. This will be huge considering a loss could give both these things to Seattle who is a far better team at home than on the road. The Falcons need a win here and the Saints are the perfect team to give it to them. These teams play each other twice a year every year and nearly every game the home team wins and covers. Expect tomorrow's matchup to follow suit. The Falcons have a dominant offense and, compared the the Saints', a powerful defense. They should cover a touchdown easily.
falcons -6.5
Patriots at Dolphins
The Patriots are playing for home field advantage and the Dolphins have locked in thier wild card ticket. Expect Brady and the Pats to demolish a banged up Dolphins team that will be more interested in rest than a meaningless win. Pats to cover here easily.
patriots -9.5
Browns at Steelers
The Steelers can beat this team with its backups. Deangelo Williams will have 100 on the ground and 100 in the air. Pitt will win and cover here.
steelers -5.5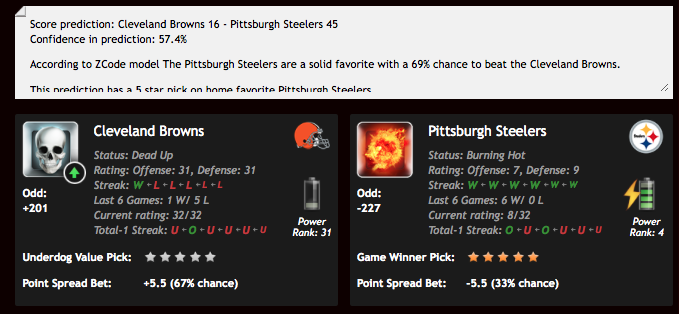 ========
P.S. Upgrade to Zcode VIP Club and Unlock All Winning Picks. Instant Access.