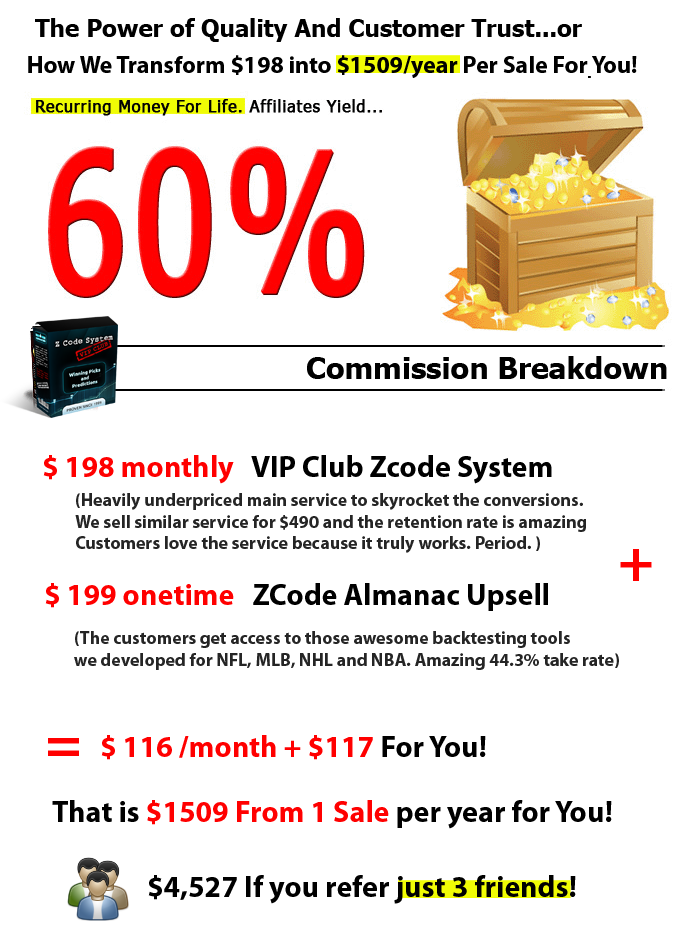 Become A ZCode Affiliate In 3 Easy Steps
Z Code Selling Funnel includes 2 products: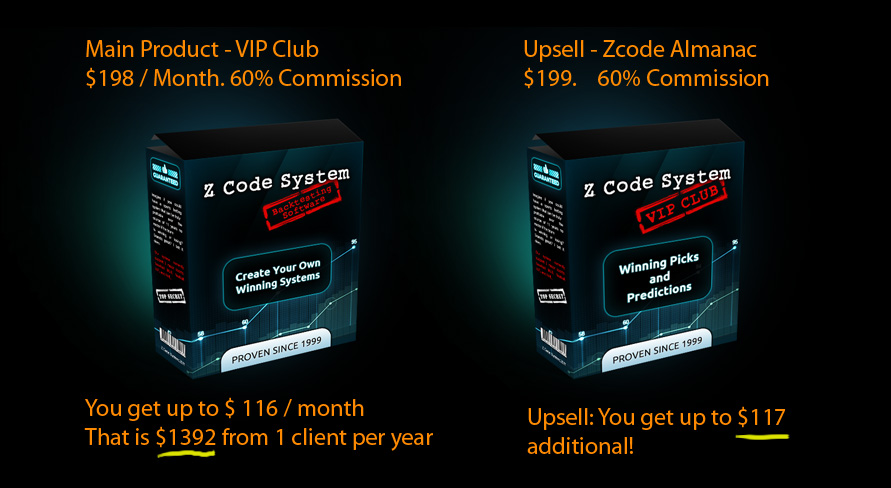 How to do aff review site that convert sales like crazy?
Being a successful vendor in sports betting (currently nr 1 in clickbank marketplace in sportsbetting) I can tell you few secrets that make our top affiliate so successful.
If you google "Zcode system review" or "Zcode system scam" you will find their top affiliate blogs.
Adding "review" or "scam" to product is a sure way to get easy traffic from Google when people look for the product itself and might check the reviews before buying.
Here are what most successful review blogs are doing:
Make a honest review. Buy or get a review copy first, show the knowledge that you have used the product yourself and WON yourself. Prove that product works that's why you honestly promote it.
Make a video review. Nobody likes to read long texts, make a quick video like here http://wiseguycovers.com/zcode-system-review/ showing how you used the product. If you are too shy to be on camera, get an actor spokeperson on fiverr.com for $5 :)
Make a "What is inside" so called "unpackaging" video showing what they get.
List PROs and CONs honestly, if you praise too much people will think it's fake
Make sure you are also building a list, add signup boxes, optins, exit splashes.
If you are a newbie to coding use Fiverr.com to get cheap coder to install wordpress review blog for you!
Make sure your review site is SEO friendly and has proper mobile optimization and keywords installed
Cloack your affiliate links under redirects, nobody likes to feel like they are taken advantage of.
Put some zcode widgets and predictions widgets on the blog to provide extra value.
Sometimes you can give direct link to checkout page if you want to bypass the salespage. But in this case your blog must have a strong call to action to force people buy.
Provide extra bonuses and gifts if people buy by your link
Add comments to review and pre-fill it from comments so it's not looking empty. Some negative honest comments is better than "cheesy" fake comments.
Remember people love revealing "SCAM" and other shocking terms. So make sure start your blog like "INVESTIGATION" as "is it a scam or a real deal" kind of review.
Add some pages with real helpful value for people, for example teaching how to use Line Reversals, Oscillators or other free bonus tools. For example http://zcodereview.net/zcode-system-line-reversals/
Make sure to provide good support, people like to buy from people who CARE and provide support.
And have fun and great sales!
Remember to push hard and sell well :)
Last Words And Our Promise To You.
Me (Steve), Mike & Alberto are comitted to make this not one of the best but the VERY best launch you have ever participated in. Сoming out of the forex industry, we are aware of the the overflooding of the market and every decreasing conversions.. that`s why we really go the extra mile to develop new ideas and projects that take the community by suprise.
ZCODE is an amazing archievement.. We couldn`t be any prouder and you will see the polish and care that have gone into devleoping this product, reflect in your comissions.
If you have any questions or need help with promotion dont hesitate to chat us up on skype : steve25m or email affiliate@zcodesystem.com
We will assist you all the way in building a recurring moneystream that feeds you trough the summer (and possibly the next winter)
Sincerely,
Steve, Mike & Alberto
PS: Skype Contact: steve25m